GOP Attorneys General Sue Biden Admin for Pausing Oil and Gas Leases
Republican attorneys general in over a dozen states are legally challenging the Biden administration's moratorium on new oil and natural gas leases on public lands and waters.
A coalition of 13 states, led by Louisiana Attorney General Jeff Landry, has filed a lawsuit saying the decision made by President Joe Biden "contravenes congressional commands."
Wisconsin has filed a separate lawsuit also challenging Biden's executive order, which was one of several headline-grabbing initiatives that showed his administration's intent to tackle climate change and transition the U.S. toward clean energy.
Soon after taking office, Biden also directed the secretary of the Interior Department to examine existing permits for fossil fuel development and ordered the federal government to conserve 30 percent of public lands and water by 2030.
But Landry said that executive order 14008, combined with "similar steps" against existing leases, demonstrated "a reckless abuse of presidential power that threatens American families' livelihoods and our national interests."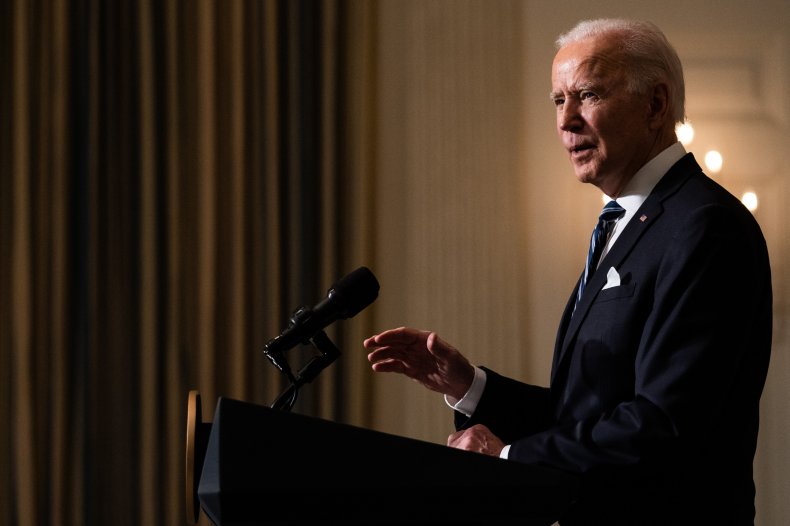 The lawsuit says that under the Outer Continental Shelf Lands Act and Mineral Leasing Act, executive agencies were obliged "to further the expeditious and safe development of the abundant energy."
It said that the Department of the Interior has complied with this for decades by issuing leases to develop oil and natural gas on public lands and offshore waters.
"Executive Order 14008 glistens with irony. It purports to protect the environment, but it constitutes what is likely the single-largest divestment of revenue for environmental protection projects in American history," the lawsuit states.
In a media statement shared with Newsweek, Landry said: "By executive fiat, Joe Biden and his administration have single-handedly driven the price of energy up—costing the American people where it hurts most, in their pocketbooks."
Landry added that Biden's executive orders "abandon middle-class jobs" and has put the U.S.'s energy security "in the hands of foreign countries."
The other states that joined the Louisiana lawsuit filed were; Alabama, Alaska, Arkansas, Georgia, Mississippi, Missouri, Montana, Nebraska, Oklahoma, Texas, Utah, and West Virginia. They all have GOP attorneys general. The Interior Department declined to comment when contacted by Newsweek.
Biden's decisions signal his determination to curb greenhouse gasses from fossil fuels that fuel global warming.
The Biden administration also faces a lawsuit issued by the attorneys general of 21 states against the executive order to revoke the permit for the Keystone XL pipeline, which would have carried oil from western Canada to the U.S. Gulf Coast.
Meanwhile, leaders from the energy industry will join government and environmental officials in an online forum on Thursday to discuss plans for the future of oil drilling on U.S. lands and waters.
The graphic below provided by Statista outlines U.S. crude oil production compared with the rest of the world.