Aubrey Huff Thinks Donald Trump Will Win by Greatest Election Landslide since Ronald Reagan
President Donald Trump arrives into election day trailing in nationwide polls, but former MLB star Aubrey Huff expects a landslide win for the Republican incumbent.
Huff, who has been an outspoken supporter of Trump, believes the president will carry all but three states and win 487 electoral votes, almost twice as many the 270 required to claim an overall majority.
"This is my serious prediction. Biggest shocker is California flipping red," the two-time World Series winner tweeted on Monday night along with a map of the U.S. Electoral College in which every state bar Washington, Oregon, New York and Washington, D.C. was colored in red.
To put Huff's claim into perspective, no candidate has won more than 400 electoral votes since George W.H. Bush secured 426 in 1988 and should Trump win 487 electoral votes, the figure would represent the fourth-largest tally in the history of U.S. elections.
Franklin D. Roosevelt won 523 electoral votes as he secured his second term in 1936, while Richard Nixon won 520 electoral votes as was re-elected in 1972 and Ronald Reagan swept to power in 1980 after securing 489 electoral votes.
Four years ago, Trump lost the popular vote but won the race to the White House after receiving 304 electoral votes.
FiveThirthyEight's final national forecast has the Democratic presidential candidate Joe Biden on track to win 348 votes to Trump's 190 and gives Biden a 90 percent chance of becoming the next U.S. president.
For Huff's forecast to come to pass, Trump would have to pull off a series of upsets, including winning in the Democrat strongholds of California, Illinois, Connecticut, Maine and Delaware. It is worth noting that Trump secured one electoral college vote in Maine to Hillary Clinton's three.
George H.W. Bush remains the last Republican to win in California in the race for the White House, receiving 51.1 percent of votes in 1988.
In each of the seven presidential elections held in the intervening 32 years, the state has voted for the Democratic candidates who on average have received 55.4 percent of votes.
In the last three presidential elections, support for the Democratic Party in California has grown even bigger. Barack Obama took the state with 61 percent of votes in 2008 and 60.2 percent as he won a second term four years later, while in 2016 Hillary Clinton won 61.7 percent of votes compared to Trump's 31.6 percent.
Similarly, Illinois, Connecticut and Maine have all voted for the Democratic candidate in each presidential election dating all the way back to 1992.
According to an average compiled by FiveThirtyEight, Biden leads Trump by 29.2 points and 16 points in California and Illinois respectively, while his lead in Connecticut and Delaware stands at 26.3 and 24.3 points respectively.
On a national scale, the statistical website has Biden ahead by just over nine percentage points, with about 52 percent backing the Democratic nominee and 43 percent supporting the president.
Huff, however, urged fellow Trump voters to disregard the polls, suggesting they were not reliable and specifically designed to give Democrats a pretext to challenge the legitimacy of Trump's victory.
"The fake media polls have the left convinced that Joe Biden is going to win," he added in a separate tweet.
"So that when he loses massively they'll scream voter fraud. Perfect excuse to loot & riot. The media is the real enemy of America."
Huff has long been an outspoken Trump supporter and in November last year he posted a picture on Twitter of him holding a shooting target with holes, suggesting he was teaching his boys how to use a gun in the "unlikely event" Bernie Sanders defeated Trump in the presidential elections—Sanders eventually withdrew from the Democratic Party primaries in April, before endorsing Biden.
Last week, he praised former Green Bay Packers quarterback Brett Favre for endorsing Trump and suggested that the majority of MLB players and staff would agree with the sentiment.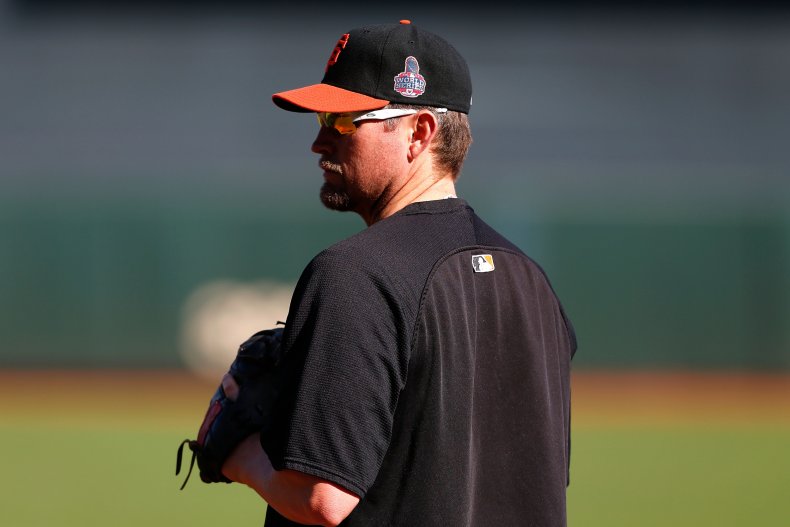 Update 11/3/20, 10:45 a.m. ET: This article was updated to add information about the distribution of the electoral college votes in Maine in 2016.