Aubrey Huff Calls Kenosha Shooter Kyle Rittenhouse 'A National Treasure'
Former MLB star Aubrey Huff has called Kenosha shooter Kyle Rittenhouse "a national treasure" after the teenager was arrested in connection with the killing of two people during protests Tuesday night.
Huff, a two-time World Series champion with the San Francisco Giants, tweeted Thursday: "#KyleRittenhouse is a national treasure."
A number of responses criticized the athlete, with some branding him "disgusting." One tweet reads: "You're a true piece of s*** and the only reason you say this stuff on Twitter is because you know you'd get taxed on the streets. Enjoy your following, son. One day Twitter will be gone and he will have nothing except a ring from a team that pretends you don't exist."
While another added: "This is one of the most disgusting posts and threads I've seen."
Another person responded with: "Just when you think Aubrey huff cant get any worse here he goes again."
Following the police shooting of Jacob Blake in Kenosha, Wisconsin this week, Rittenhouse, 17, was arrested on Wednesday on murder charges related to the Tuesday night shootings.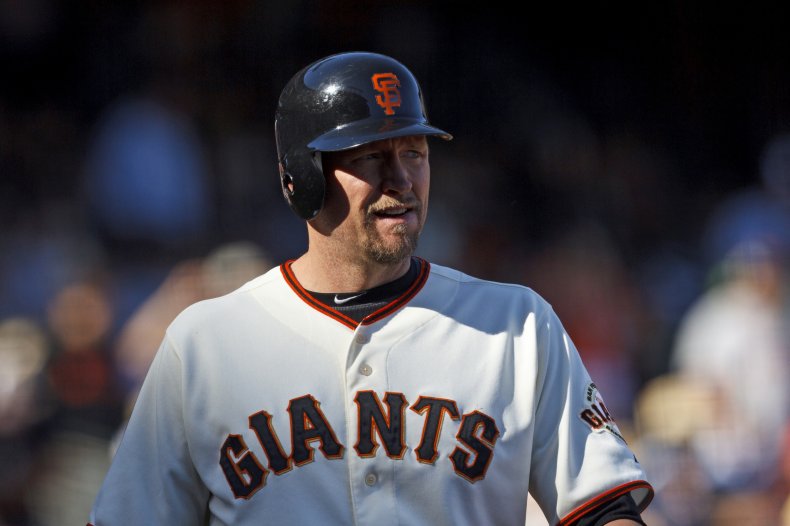 Groups of armed counter-protesters, described as militia members or vigilantes focused on preventing property damage, had arrived to confront the demonstration prior to the shootings.
Rittenhouse was taken into custody Wednesday morning, according to police in Antioch, Illinois.
Per CNN, Kenosha Police Chief Daniel Miskinis confirmed that a 17-year-old Antioch (20 miles south-west of Kenosha) resident has been charged in a shooting incident and said that the individual "was involved in the use of firearms to resolve whatever conflict was in place."
Fox News host Tucker Carlson has also come under scrutiny for defending Rittenhouse. Speaking on his show Wednesday night he said: "Kenosha has devolved into anarchy because the authorities in charge of the city abandoned it. People in charge from the governor of Wisconsin on down refused to enforce the law. They stood back and they watched Kenosha burn."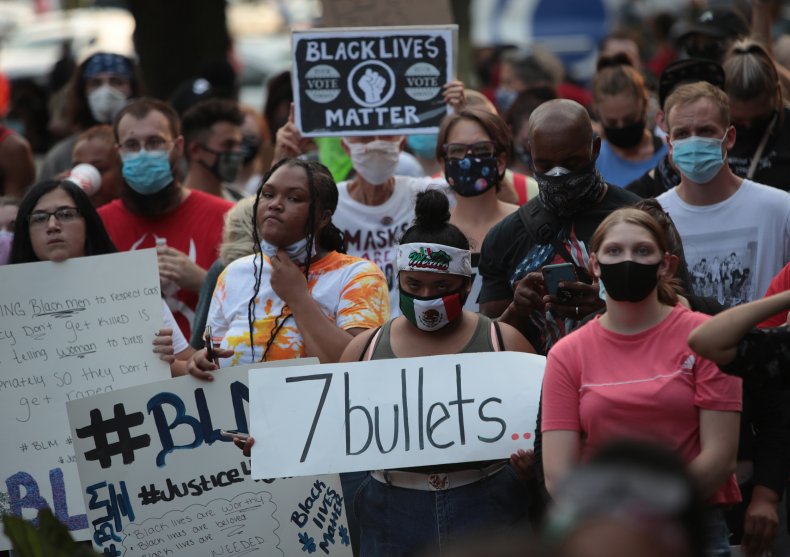 He added: "So are we really surprised that looting and arson accelerated to murder? How shocked are we that 17-year-olds with rifles decided they had to maintain order when no one else would?"
Black Leaders in Wisconsin have called for the so-called "militias" to be banned following the fatal shooting of two Black Lives Matter protesters.
National Urban League President and CEO Marc Morial joined with the heads of three Wisconsin-based affiliates of the group on Wednesday to call for an end to the violence against protestors.
They urged the Kenosha Police Department to take "appropriate measures" against the "so-called 'militias'—who are infiltrating the peaceful protests." They also called on protesters to cease their activities.
Huff made headlines for another controversial tweet earlier this month when he criticized LeBron James for carrying a purse. His tweet backfired, however, when Twitter users reminded him that he famously wore his wife's underwear at one stage of his career.