Aubrey Plaza's SAG Appearance Raises Eyebrows After 'White Lotus' Win
Aubrey Plaza has drawn attention from viewers of the SAG Awards on Sunday night for her perceived annoyance during The White Lotus cast's acceptance speech at Fairmont Century Plaza in Los Angeles.
The actor, 38, was standing with her co-stars onstage when she allegedly appeared annoyed and was believed to angrily mouth a phrase.
Viewers were surprised by Plaza's perceived demeanor at the event, and shared their thoughts on social media.
Here is everything that you need to know.
What Did Aubrey Plaza Say at the SAG Awards?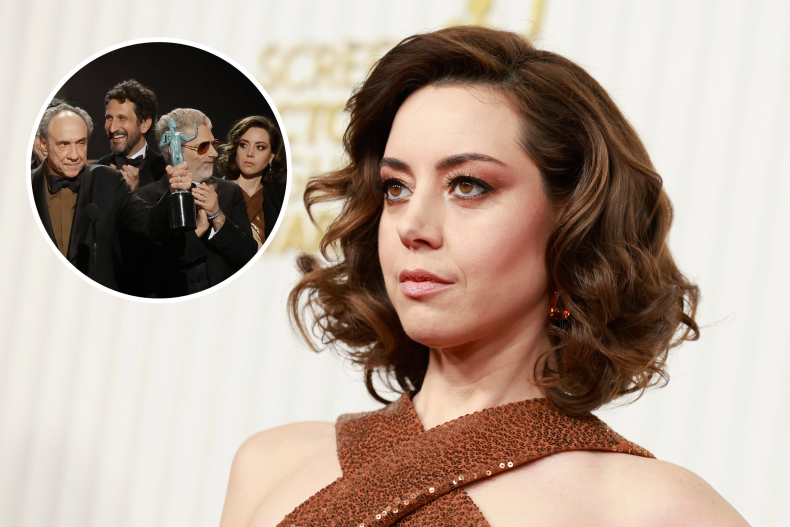 The White Lotus Season 2 cast were triumphant at the SAG Awards when they won the Best Ensemble in a Drama Series prize at the 2023 event.
F. Murray Abraham, who played Bert Di Grasso in the second season, gave the cast's acceptance speech, and he ended it by sharing a prayer for the victims of the earthquakes in Turkey and Syria, as well as for those fighting in the conflict between Ukraine and Russia before shouting "union forever."
While Abraham was saying this Plaza appeared annoyed, and after he shouted "union forever" she allegedly said "Jesus Christ."
Earlier in the acceptance speech, Jon Gries was seen speaking to Plaza about her dress and she promptly adjusted the bust to avoid a wardrobe malfunction. It is not clear if her reaction at the end of the speech was related to this, or to Abraham's exclamation.
Newsweek has contacted Plaza's representatives for further comment.
Aubrey Plaza's SAG Appearance Raises Eyebrows
Some viewers watching the SAG Awards shared their thoughts on Plaza's reaction on stage at the event via Twitter.
One viewer commented on Plaza's onstage demeanor by saying: "Ok soooo what is going on with Aubrey Plaza and the rest of the White Lotus cast? She looked like she haaaaated being up there and immediately ran off stage while everyone in the cast was congratulating and hugging each other."
Another person said: "why is aubrey plaza acting weird at the sag awards?"
A different viewer added: "Did anyone notice Aubrey Plaza? She seemed REALLY p***** off... there was something real odd about her on stage with the White Lotus team. She even exited the stage quick and alone rather than staying with the cast."
One viewer believed that the actor had said something else after Abraham ended the speech: "Aubrey Plaza straight up said 's**** f*****'"