Aubrey Plaza and Director Husband Jeff Baena Are Co-Worker #CoupleGoals
Theirs is a love like you see in movies.
Asked by Newsweek last week about what it's like to work with his wife, Aubrey Plaza, Spin Me Round director and co-writer Jeff Baena said, "At this point, I think we kind of have it worked out—we've done it four times." In addition to Spin Me Round, Plaza has starred in Baena's 2017 film The Little Hours, 2016's Joshy and 2014's Life After Beth.
"My first movie was a big learning experience on all fronts, and so working with her was a benefit because we have a shorthand and a close relationship," he told Newsweek. "As I've made more and more stuff, I've come to appreciate everything that she brings. She's insanely talented and so smart and obviously really good at producing. And she's writing. There are very few people who can wear as many hats as her, as elegantly as she does."
He continued, "I think everything she does is amazing and generally people point her out in whatever project she's in as being the best part, so she's like insanely talented and I'm very lucky to have her in my life."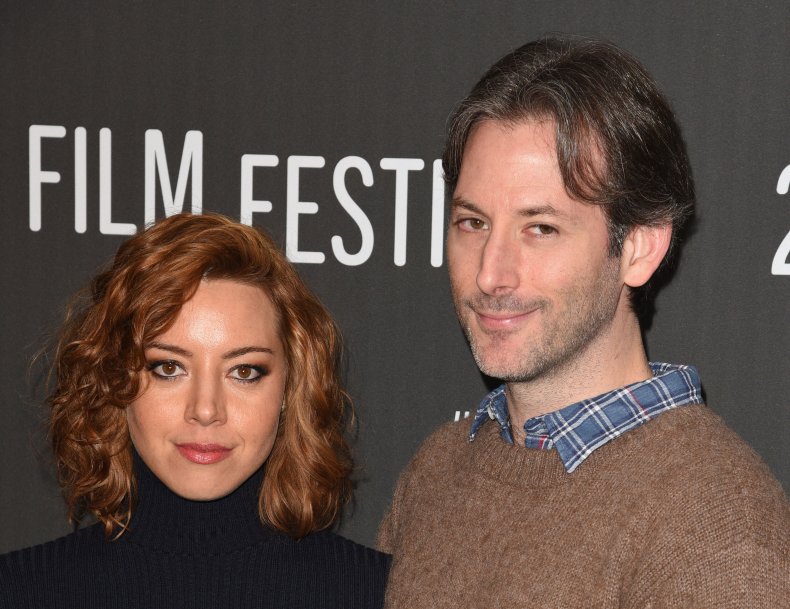 In Baena's latest film, Plaza plays the mysterious Kat, a chaotic, worldly and troublemaking assistant to the CEO of a second-rate American-Italian restaurant chain, and it's true, she's a scene stealer.
Earlier in the week, while talking to Newsweek about Emily the Criminal, a crime drama out on August 12 that Plaza produced and stars in, the actress said of working with her husband, "It's the best, but to be totally honest, it can be really hard. We're married; it's complicated. Historically, the director-actress dynamic is complicated, so when you throw in a marriage there, my brain goes to Cassavetes."
Director John Cassavetes famously collaborated with his wife, actress Gena Rowlands, in many films, including 1974's A Woman Under the Influence, for which Rowlands won a Golden Globe for her portrayal of Magel Longhetti, a housewife on the verge of a breakdown.
Says Plaza, "It's a really hard thing to, first of all, be married in this business and to be in the same business and then to work together is another level of challenge, but we have done it a couple times now and we work well together. It changes movie to movie how we approach it. But we've made it this far."
Plaza and Baena first met in 2011, and in May 2021, Plaza referred to him as "my darling husband" in an Instagram post. She later told Ellen DeGeneres in December of that year that a combination of pandemic boredom and a desire to celebrate their 10th anniversary led to the nuptials.
In her interview with Newsweek, Plaza echoed many of Baena's sentiments about collaborating with someone who knows you so intimately.
"He knows me more than anybody, so he can get things out of me that other people can't," she said. "We have an unconscious communication happening at all times, so it's interesting as an actress. But I'll say we're very professional with each other.
"When we're on set, we're on set. And I'm a very intense person on set because I take everything really seriously. Even if it's a comedy, I'm very committed to what I'm doing. So looking back, there are times when Jeff will see me and think I'm upset and he'll say, Why are you upset? He'll think I'm mad at him. That's what happens when you're in a relationship, you take everything personally. I'll be like, 'I'm not upset at you, darling, I'm getting ready to do a scene where I'm upset.' So those things happen and they can be funny. Sometimes they're not funny.
"You're so vulnerable when you're working with your partner," she added. "That's the person you want approval from the most, and that's the person who can hurt you the most. You have to really take care of each other to make it work."
Spin Me Round is in theaters, and on Paramount+ and VOD on August 19.
Emily the Criminal hit theaters on August 12.