Audi Gives 'Wheel of Fortune' Contestant Charlene Rubush a Car After Fan Outrage
A Wheel of Fortune contestant who missed out on winning an Audi during an episode this week looks set to get brand-new wheels after all.
Charlene Rubush received an outpouring of support from outraged fans after she was denied the prize in the Bonus Round—despite correctly solving the puzzle—in a show that aired earlier this week.
For the category "What are you doing?," Rubush added her own choice of letters to the customary R, S, T, L, N and E that came with the puzzle, before incorrectly guessing that the answer was: "Choosing the right card."
As the end of the 10-second countdown loomed, Rubush made another attempt and correctly answered: "Choosing the right…word."
What should have been a celebratory moment was met with a subdued response, as host Pat Sajak explained that she couldn't be awarded the prize because she had paused before saying "word."
"You know, this one's tough because you said all the right words, including the word 'word,' but as you know it's got to be more or less continuous," he said.
"We'll allow for a little pause, but not four or five seconds," he added. "I'm sorry, you did a good job in getting it, but we can't give you the prize and it was an Audi."
Viewers took to Twitter to express their dissatisfaction at the decision, with former Jeopardy! champ Alex Jacob tweeting: "Come on @WheelofFortune, the woman literally chose the right word. Give her the car."
"Now I'm wondering if she had just stretched out the word "riiiiiiiiiight," would that have counted as a continuous answer?" Jacob went on. "I understand rules are rules but this seems like a particularly dumb rule. C'mon Wheel, it's Christmas."
Jacob also shared screenshots of direct messages he had sent to the official Twitter accounts of Wheel of Fortune and Audi USA about the situation.
After acknowledging Jacob's message in the screenshot and explaining that the matter was under "internal" review, Audi USA posted a tweet on Wednesday that read: "You're a winner in our eyes, Charlene. Now, let's get you a prize. Time to #GiveHerTheQ3."
When a Twitter user commended Audi for "doing the right thing" and cutting "through all the red tape and rules," the car manufacturer responded: "Time to make our own rules."
A few hours later, Rubush appeared to be a step closer to getting a car, as a tweet from Audi read: "There's no community like the Audi community. With your help, we tracked down Charlene! More to come as we help #GiveHerTheQ3."
Jacob reacted to the tweet by sharing a gif of Rainn Wilson in character as Dwight Schrute from The Office triumphantly punching the air.
The outcry led to the hashtag #GiveHerTheQ3 trending on the platform, as fans sought a response from Wheel of Fortune's producers.
A spokesperson for Audi of America has confirmed to Newsweek that Rubush will be receiving an "all-new Audi Q3."
The spokesperson said: "[We] saw Charlene's Wheel of Fortune episode on Monday and were collectively disappointed that she missed out on the opportunity to take home an Audi Q3 due to a technicality. So in the spirit of the holidays, Audi of America will be gifting her with an all-new Audi Q3."
Newsweek has contacted representatives of Wheel of Fortune for comment.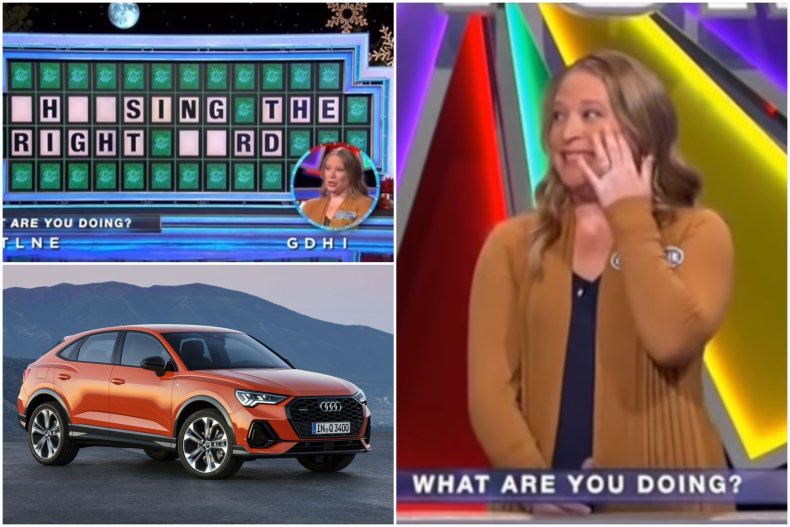 Update 12/23/21, 8:30 a.m. ET: This article was updated to add a statement from Audi of America.