Auditors Worked to Make Trump Health Care Bill 'Look Bad,' Says Trump's Budget Chief Mick Mulvaney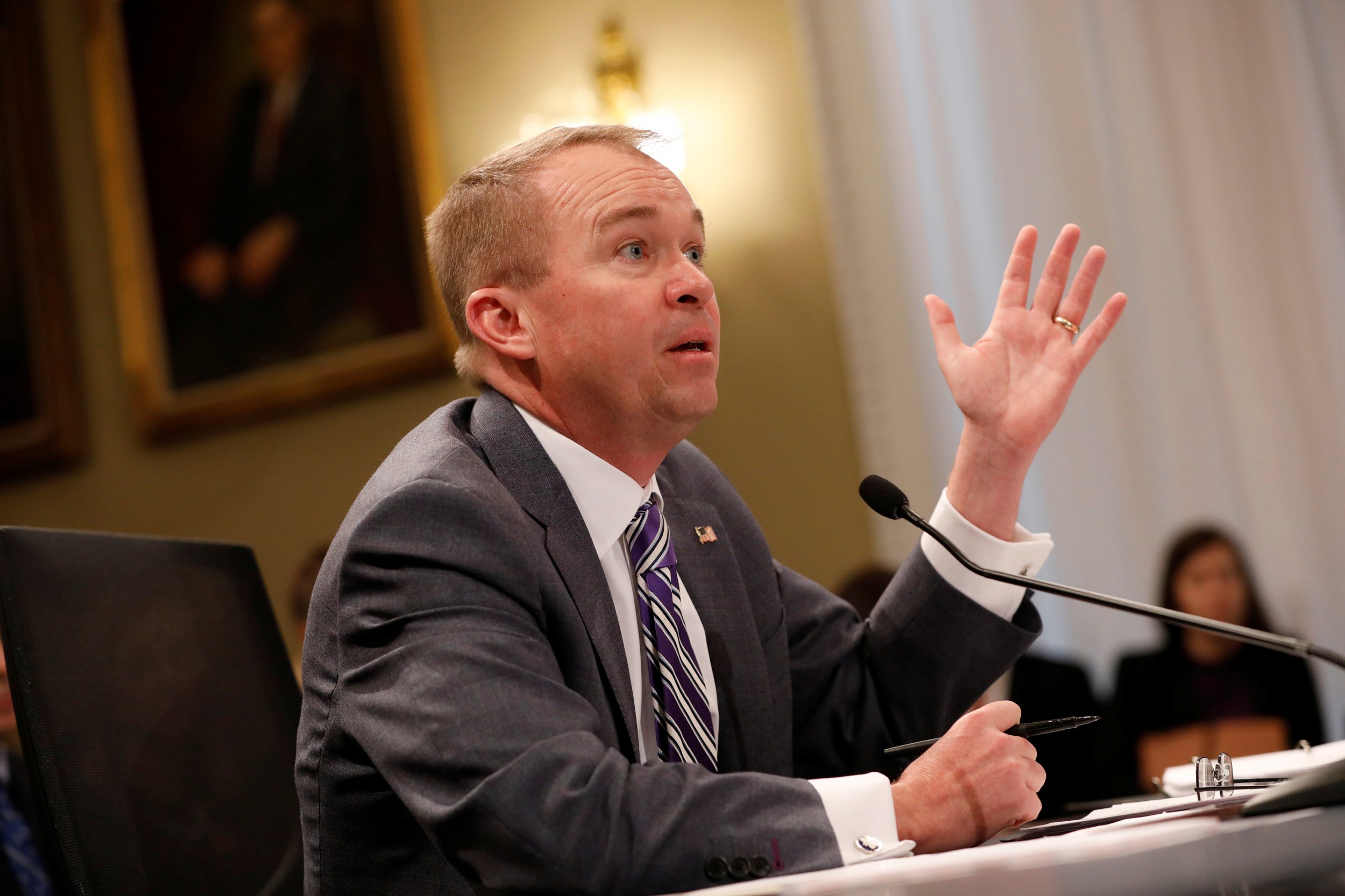 Nonpartisan government auditors actively worked to give a bad score to the Trump administration's health care bill, according to White House budget officer Mick Mulvaney.
"It's almost as if they went into it and said, 'Okay, we need this score to look bad. How do we do it?'" Mulvaney said during an interview with the Washington Examiner Wednesday, attacking the Congressional Budget Office (CBO).
"We always talk about it as the nonpartisan Congressional Budget Office. Given the authority that that has, is it really feasible to think of that as a nonpartisan organization?" Mulvaney asked.
Trump's budget chief pointed out that Holly Harvey, who leads the CBO's health analysis division, was promoted to evaluate President Barack Obama's Affordable Care Act (ACA) in 2009 and had worked on formulating the Clinton administration's health care reforms in the 1990s.
Harvey, a career civil servant, has also worked as an analyst at the Congressional Research Service, U.S. Department of Health and Human Services, and as a Public Health Service Fellow at the Agency for Healthcare Research and Quality.
Read more: John Oliver breaks down why the Republican health care plan is so terrible
Mulvaney said that if someone audited the ACA, popularly known as Obamacare, and gave it a performance score, they would probably have "some sort of bias in favor of a government mandate." The 2010 law mandated that every American needed to get some form of health insurance coverage.
In the CBO's two audits in March and May calculating the impact of the proposed Republican law, its scores found the bill would leave millions of Americans without health insurance. The bill passed the House in a vote May 4 in which 20 Republicans voted against it.
The most recent audit May 24 scored a redrafted version of the bill weeks after it was passed. It found the redraft would save $32 billion less than the original bill and leave 23 million Americans uninsured by 2026.
It calculated approximately $834 billion in cuts to Medicaid, a federal program that provides health insurance for low income and elderly Americans, would leave 14 million fewer people without access to the program over the next ten years. Considering a number of offsets and spending, over the next decade the bill would save the government a total of $119 billion.
Mulvaney was critical of these estimates. "Did you see the methodology on that 23 million people getting kicked off their health insurance?" he said. "You recognize of course that they assume that people voluntarily get off of Medicaid? That's just not defensible."
In March Mulvaney attacked the CBO's work on the ACA for overestimating the number of people who would gain health insurance coverage under Obama's bill in 2010. Estimates were off by about 8 million people. A 2015 study by the Washington D.C.-based Commonwealth Fund found that the CBO's estimates were closer to reality than any other forecast.
Mulvaney said Wednesday the usefulness of the CBO "has probably come and gone." He said his Office of Management and Budget and other departments could do their own cost and benefit analysis of laws and regulations.
However, when Mulvaney unveiled the Trump administration's budget last week, it was immediately criticized by economist Larry Summers, who served as Treasury secretary under President Bill Clinton. Summers pointed out a $2 trillion accounting error that failed to fully account for the impact of tax cuts on the ability to pay down the deficit.
Yet Mulvaney insists that the CBO has "too much authority" to say whether policy is bad or good. "Certainly there is value in having that information," he said, "especially if they could return to their nonpartisan roots."