Aunt Praised for Calling Cops on Sister For Dumping Kids at Her Door
A woman is being backed online after refusing to open the door to her sister's young children.
Sharing her story with Reddit's "AmItheA**hole" forum on 26 July, user u/girlsdocryy explained how her sister's TikTok-inspired "prank" resulted in a visit from two policemen. You can read the post with nearly 7,000 upvotes here.
In her post, the 23-year-old explained that she is child-free and generally not a fan of kids as she "gets annoyed by them easily."
She wrote: "My sister has two kids (5F) and 3(M), they're alright but [their] constant screaming, crying gets on my nerves. They're also very spoiled and don't like the word no.
"I have said many times that I'm not good with kids and don't really want to look after any but I just get shrugged off."
Despite knowing her dislike of kids, the poster's sister decided to "prank" her, using a recent "trend on TikTok" as inspiration.
TikTok Trend
She continued: "My sister found that trend on TikTok where parents leave their kids outside of a family members house, knock on the door and get in the car and only leave when the door opens and leaving the kids there.
"She finds it funny while I don't, I think it's inconsiderate and also dangerous.
"My sister laughed at me and said 'Maybe I'll do this on you.' I told her not to because I won't answer the door even if I was inside.
"She told me that she'll just leave the kids there and I'll be forced to look after them. I told that I still wouldn't open the door and would call the police on her."
Calling her bluff, the sister dropped her two children at the woman's front door. The poster saw her niece and nephew through the security camera app on her phone, and realized what her sister was trying to do.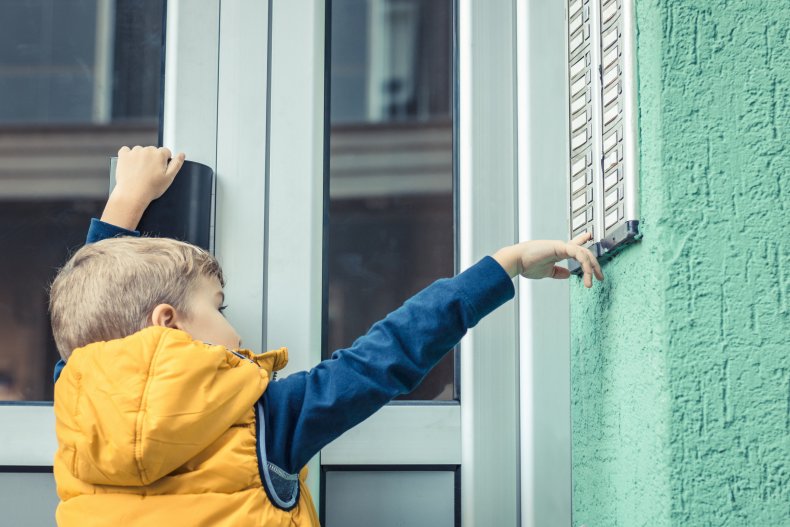 "[I] got angry, but I kept to my word like I told her before and didn't answer the door," she said.
"More knocks came and my sister tried to call me and when I didn't answer she kept texting me to open the door.
"I text her to get her kids and leave as I told her that I wouldn't look after them and she knew I wanted the weekend to myself. She just kept texting me to open the door."
After 20 minutes, the children were still there. The sister sent a text saying she was leaving, at which point the poster threatened to call the cops.
"I got no answer from her and called the police. Two officers came to my house while another two tracked down my sister and made her drive to my place," she said.
"She stomped out her car, screaming at what a horrible sister I am and why it's no wonder why I'm single and will die alone.
"She finally gets her kids back into her car and drives off, the police following after and I get back to my weekend off."
Parents with Burn Out
After her sister told their family what happened, the woman received a number of messages from relatives. Some agreed that the poster deserved time to herself, while others said the sister needed a break from parenting.
A recent study by Ohio State University found that 66 percent of working parents are "burned out," particularly moms. The survey of 1,285 anonymous parents was conducted between January and April 2021, when many parents were dealing with the effects of the pandemic along with responsibilities at work and home.
In general, parents were more prone to burnout if they had multiple children, if their child had ADHD or an undiagnosed mental health disorder, or if they suffer from anxiety themselves. Signs include brain fog, a short temper, forgetfulness, soaring stress levels, disturbed sleep and obsessive-compulsive tendencies.
According to the Pew Research Center, birth rates in the US are dropping, with 44 percent of non-parents surveyed saying they're unlikely to ever have children. Reasons cited for going child-free include the state of US healthcare and the economy after COVID-19, however, birth rates were already at a record low prior to the pandemic.
Redditor Reactions
Reddit users supported the woman's decision to not babysit her sister's children.
Wodan11 wrote: "Calling the cops was the nuclear option but you flat out said what you'd do.
"Yes your sister might want some time off, there's a thing for that, it's called hire a sitter. Totally irresponsible.
"You're right if you gave in she'd be pulling this all the time."
TA122278 said: "She deserves a record for leaving her kids unattended outside someone's home when they told her they weren't going to watch the kids.
"They are HER kids and HER responsibility and she's negligent for leaving them there. She deserved what she got."
While IndependentSinger269 commented: "Moms deserve a break, but we're not *entitled* to a break anytime we say.
"I can't believe she made a 3 and 5 year old wait on a doorstep for 20 minutes, much less drive away and leave them there. Sounds like she hates her own kids."
Newsweek has reached out to u/girlsdocryy for comment.
If you have a similar family dilemma, let us know via life@newsweek.com. We can ask experts for advice, and your story could be featured on Newsweek.
Update 7/27/22, 11:05 a.m. ET: This article was updated to correct the name of Ohio State University. A previous version of this article used the name "University of Ohio."