Woman Sets Charred Remains of Her House Destroyed by Bushfire in Front of Australian Parliament: 'Your Climate Crisis Destroyed My Home'
A woman whose house was destroyed in the bushfires that ravaged New South Wales last month has taken the charred remains of her home to the steps of Australia's parliament building and demanded that lawmakers act on climate change.
In October, Melinda Plesman lost her family home of 38 years during the bushfires that ripped through Nymboida, south of Grafton, according to Australia's ABC News.
Fire crews had to battle over 120 fires across the state which killed at least four people and destroyed hundreds of properties.
Plesman was angered by Australia's prime minister Scott Morrison when he offered "thoughts and prayers" for the victims of the fires on Twitter but would not accept the link between climate change and the fires.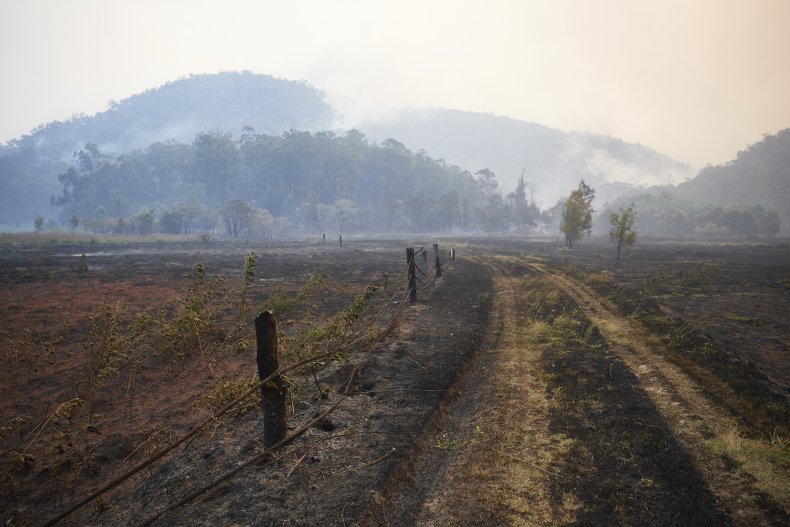 On Monday, Plesman traveled to the Australian capital Canberra with a group of protesters organized by Greenpeace and dumped the remains of her house in front of Parliament House.
A piece of corrugated iron was emblazoned with the words: "Morrison, your climate crisis destroyed my home."
Plesman called on the government to set a price on carbon, phase out native forest logging and move to more renewable energy.
"I lost my house, I lost my way of life—my whole community has—and while that was happening, the PM said that he didn't want us to talk about climate change, that this wasn't the time," she said, according to Australia's ABC News.
"We weren't allowed to mention climate change and then [Mr. Morrison] said that he was praying for us.
"I got really upset and really angry because I just felt that we needed a hell of a lot more than that," she said, adding, "We need a bipartisan approach. I completely understand that the [opposition] Labor Party are absent in this as well."
Morrison, who leads the Liberal Party, dismissed last month any link between curbing emissions and lessening the risk of bushfires which have been particularly severe across the country in the season when blazes are common, The Sydney Morning Herald reported.
"To suggest that with just 1.3 percent of global emissions that Australia doing something differently, more or less, would have changed the fire outcome this season, I don't think that stands up to any credible scientific evidence at all," he said.
"If anything Australia is an over-achiever on global commitments."
However analysis by ABC's RMIT fact check team estimated that Australia was in fact responsible for about 3.6 percent of global emissions in 2016, although with 25 million people, it has only 0.33 percent of the world's population, according to worldometers.info.
Australia's environmental credentials were criticized in the G20 Brown to Green report which found its response to climate change was one of the worst in the G20.
After the report was published, chief executive of Climate Analytics, Bill Hare told The Guardian: "The leadership of the country is effectively telling lies about their performance, and contradicting their own government's information.
"The country is led by politicians who in one way or another deny either the science or are de facto denying it, and actively and wilfully opposing or obstructing climate policies."