What Caused the Wildfires in Australia? Amid Worst Blazes for a Decade, 24 People Are Charged With Arson
Police in Australia have arrested and charged two dozen people they say deliberately lit blazes during the wildfire season that has so far killed at least 18 people, destroyed thousands of homes and ravaged over 10 million acres of land.
New South Wales police said that since the beginning of November, 24 people have been charged over allegedly deliberately lighting fires as officers continue to investigate the role that arson has played in the devastation. Starting a wildfire can result in a jail sentence of up to 21 years.
"Investigations into the cause, origin and overall impact of fires are continuing and since the latest State of Emergency was declared...Strike Force Tronto has provided expertise to six police area commands and eight police districts," NSW police said in a statement.
"As inquiries continue, police are appealing to the community to provide footage and/or images from phones, dashcam, or other devices, that show any of the fires in their infancy, even if only from a distance."
Police in the state have also taken legal action against a further 159 people. Among them are 53 people who allegedly failed to comply with a total fire ban and 47 people who allegedly discarded a lit cigarette or match on land.
What Caused the Wildfires in Australia?
There has been much debate about the links between climate change and the fires. Australian National University climate scientist Imran Ahmed told the BBC there was a direct link "because what climate change does is exacerbate the conditions in which the bushfires happen."
Glenda Wardle, an ecologist from the University of Sydney, told the BBC: "It's not every weather event that is the direct result of climate change. But when you see trends…it becomes undeniably linked to global climate change."
Unseasonably high temperatures and drought over the last three months have contributed to the conditions that have allowed the fires to proliferate.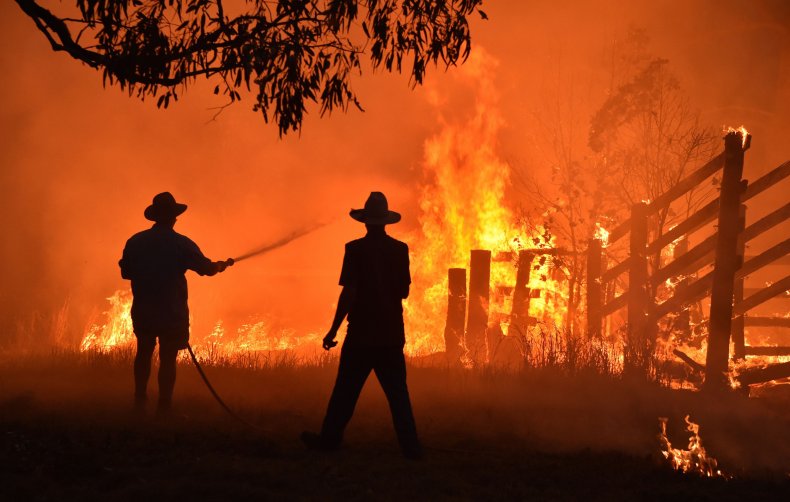 "One of the key drivers of fire intensity, fire spread rates and fire area is temperature. And in Australia we've just experienced record high temperatures," Mark Howden, director of the Climate Change Institute at Australian National University, told Reuters.
A report by the Australian Government's Bureau of Meteorology (BOM) said that last Spring, there was the highest fire weather danger with record high values right across the country.
"The dangerous fire weather conditions during spring 2019 is consistent with the increasingly severe fire weather seen in many areas of the country, owing to increasing temperatures and reduced cool season rainfall," the report said.
Meanwhile, dry lightning was to blame for sparking a number of fires in December in Victoria's East Gippsland region, according to Victoria Emergency, and the unusually hot weather has accelerated the flames.
Arson has been cited as making matters worse. In December, NSW Rural Fire Service Inspector Ben Shepherd told The Australian that most of the fires had been lit and the flames had been exacerbated by people flouting total fire bans.
"This kind of activity is dangerous and stupid…and the real issue is the severity of the risk when the environment is so dry and windy, and conducive to fires spreading extraordinarily quickly," he said.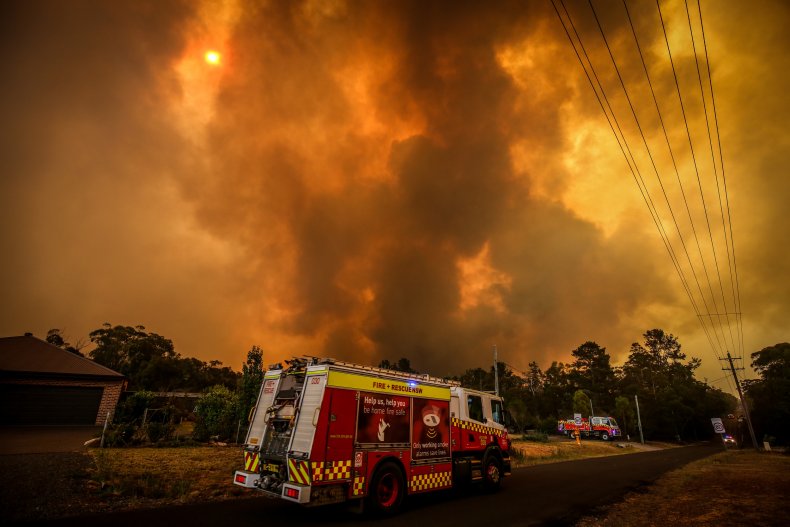 The wildfires are among the worst to hit Australia since the so-called Black Saturday fires in 2009 which killed 173 people, according to news.com.au. In 1974, 117 million hectares of land was burnt in wildfires in central Australia.
Meanwhile, police have also warned that those who exploit the devastation of the fire will face the full force of the law, as three people were charged over alleged looting in bushfire-affected areas on the South Coast.
In a press conference, NSW Police Deputy Commissioner Gary Worboys said: "It's disgusting behavior. It's behavior we won't tolerate simply because the community will not tolerate it either. People's homes are their castles and particularly in these times of devastation it really does go against the grain of Australian people…we will take action."
Newsweek has contacted New South Wales Police for further comment.
The impact on wildlife continues to be felt, with with the University of Sydney estimating that as many as half a billion mammals, birds and reptiles have perished.
The group Wildlife Rescue (WIRES) said that the flames have devastated numbers of koalas, possums, kangaroos and wallabies. "We have lost countless precious lives in these fires and many more are likely to die of their injuries and starvation. The fire affected areas are vast and remote.
"Our beautiful and diverse World Heritage listed National Parks which provide our native wildlife with their best protections have been devastated," Vickii Lett, WIRES NSW Koala coordinator told Newsweek in a statement.