Australian Army Tasked With Burying Hundreds of Thousands of Dead Animals Killed in Bushfires to Avoid Biosecurity Emergency
Mass graves are planned for the thousands of animals which have perished in the Australian bush fires, says Australia's ABC News.
Farm animals that wandered out from their paddocks after fences burned away have perished in the fires, along with many wild animals. Over 3,800 animals thus far have been euthanized during the crisis, and authorities fear if the dead animals aren't buried, a biosecurity crisis will ensue as the corpses rot.
"I've got 100 vets across the country I've offered to state [agriculture] ministers," Agriculture Minister Bridget McKenzie told Radio National Breakfast.
"I know South Australia, Victoria and New South Wales will be taking up that offer to get that assistance as soon as possible—to not just assess the health, but these teams will also be euthanizing stock."
James Zimmerman, a firefighter, says that they need more ammunition to "put livestock out of their misery."
Dead livestock litter the roads in multiple towns, as farmers struggle to save what they can of their cattle.
"Farmers were this morning loading the charred bodies into [utility vehicles]—they said they did what they could, and saved many, but couldn't save all," ABC journalist Tom Lowrey observed to the network.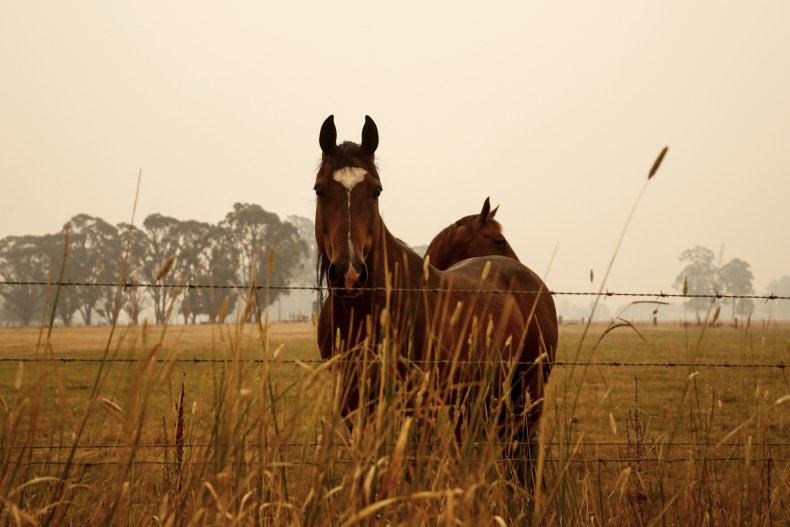 Farmers are struggling with the fires, trying to keep up production levels to keep their farms solvent, while trying to protect their livestock and keep ahead of the blaze. They're requesting water and hay from McKenzie, but there are obvious risks in bringing dry hay into a fire zone.
"We don't want to put hay into fire zones and create more of a problem," Senator McKenzie said.
"But we also have to make sure we create a space for them to be accessible to farmers when and where they need it."
The bushfires are the worst in 20 years in Australia. So far, 24 people have died, and 2,000 homes are destroyed. More than 2,000 fire fighters are on the ground countrywide.
The air quality in major cities has been extremely poor, with the quality in Sydney reaching 11 times the hazardous level. The sky has been painted orange in many major metropolises, with smoke visible from space.
Over half a billion animals have been affected so far by the fires. There is some concern that certain species of frogs and birds may be wiped out via the fires if the flames reach certain areas where such species are highly concentrated. There's no way to know how many have died until the blaze is extinguished.
Australian Army Tasked With Burying Hundreds of Thousands of Dead Animals Killed in Bushfires to Avoid Biosecurity Emergency | News