Australian Shepherd Becomes Best Buddies With Cat Whose Owner Died
The stereotypes about cats and dogs are well documented, from the popular phrase "fighting like cats and dogs," to portrayals in cartoons and movies. But this cat and dog pair are bucking the trend.
Eight-year-old shorthair cat Nikita and 5-year-old Australian Shepherd dog Bleu have been best buddies for almost five years. Wrestling, playing, and cuddling the day away together.
Living with their owners Alene Husson and her husband Gerry in Indian Lake, New York, Husson told us the story of these unusual friends. "After our last Australian Shepherd died, we decided to get a cat because they're so much easier to take care of," she tells Newsweek. "But we found that even though the cat was wonderful it just didn't fulfill the need for a dog. So we decided to get Bleu."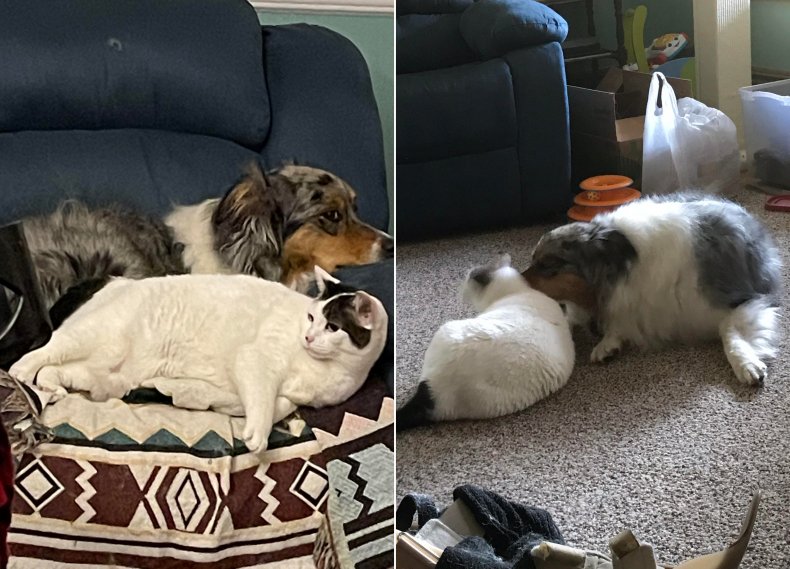 The Animal Humane Society reports that: "Despite the stereotype, many dogs and cats learn to live together peacefully," they advise: "Be patient and take the introduction process slowly, but know that whether or not your pets get along will also depend on their individual personalities."
Luckily, Nikita was raised with a puppy, but when her original owner died, Husson and her husband took on the cat while someone else took the dog. "Nikita was introduced to dogs at a young age and got on beautifully with Bleu from the start," says Husson.
A little concerned at the start, the couple introduced the cat and their new puppy carefully. But almost instantly, Bleu the dog started playing with Nikita who bonded with her new canine friend straight away.
"We never had any problems at all," says Husson. "I know that's very unusual but I think the fact the cat had grown up with another dog when they were both little made a difference. If you're going to mix a dog and a cat together I would suggest getting them when they are both young."
The best buddies are often seen playing together in water, wrestling, and sleeping side-by-side. "They're best buddies," Husson tells Newsweek.
Not the only canine and feline pair to find friendship, Twig and Meadow found viral fame after footage of them being "best furiends" went viral on TikTok. Meanwhile, golden retriever Nash and feline friend Nala gained millions of views on a video of the adorable pair enjoying snuggles together.
Nikita and Bleu's friendship has delighted their owners—and gives them a few laughs too. "The funniest thing is when they're wrestling, the cat will leap up on the dog's head and the dog will take her leg and pull her to the ground," says Husson. "If Bleu doesn't want to play, the cat will bite her legs or her back leg to aggravate her until she finally decides she's going to play. Sometimes the cat's whole head will be in the dog's mouth."
Do you have funny and adorable videos or pictures of your pet you want to share? We want to see the best ones! Send them in to life@newsweek.com and they could appear on our site.