Author Chuck Wendig Imagines Worst Case Scenario For Schools In A 'Schrödinger's Cat Situation'
Today, Wanderers author Chuck Wendig published a blog post in which he imagined the worst case scenario of schools reopening too soon during the pandemic. The terrifying paradox, as presented by Wendig, is we won't know what's in store for students in September until the situation is experienced.
The author wondered, "How are we actually gonna open schools?" While sharing the link to his Terrible Minds blog, Wendig tweeted, "It's a huge Schrödinger's Cat problem awaiting us."
Wendig is alluding to the 1930s thought experiment by Austrian physicist Erwin Schrödinger, and referring to the recent news of students possibly returning for in-person attendance this fall.
Though classes remained online, school buildings are mostly closed due to pandemic concerns. During Tuesday's forum at the White House, President Donald Trump mentioned his administration would start putting "a lot of pressure" on governors and officials to reopen schools.
Wendig predicted students contracting COVID-19 if schools reopened in the fall. He wrote, "Statistically, that's gonna happen, and I'm betting it happens in the first month of school. A kid, a teacher, an admin, a parent, or even someone secondarily connected to those people — a grandparent, a neighbor, whatever, someone where there has been exposure."
The Blue Blazes author speculated that a "single cough or elevated temperature could totally knee-cap your entire school."
"Two weeks where people have to freak the f**k out that maybe their kids, or the teachers, or the parents, or whoever, caught the thing that may or may not be the virus that may or may not leave you with lasting long-time damage," he added.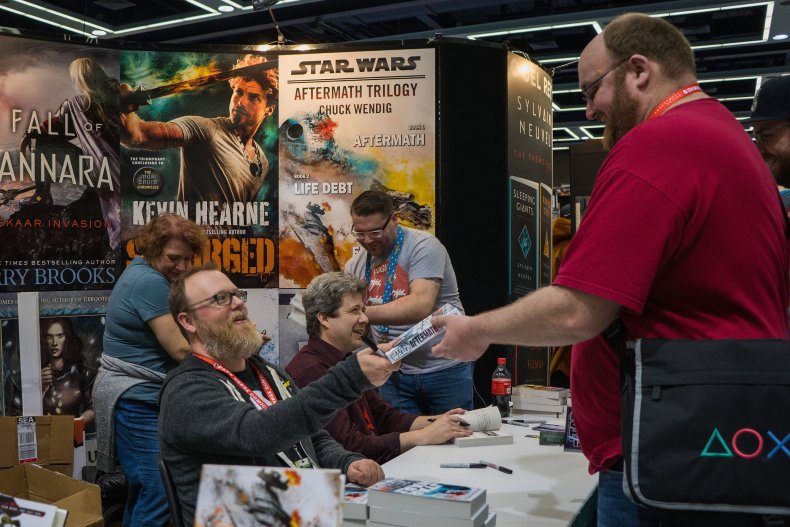 And just like that, "in a Schrödinger's Cat situation," the paradox is, we won't always know who has or has not contracted the coronavirus until it is observed.
The future in Wendig's eye is grim. "Federally, we have no response for this, no planning, no way forward — and a lot of states don't have much of a clue, either."
When we asked about the inspiration behind his blog post, Wendig told Newsweek, "I have a child, so this is relevant to me — and I want my son to go to school. But once I began thinking about the permutations, I don't even know how it's possible."
"Mostly frustration for me. Though certainly if there are answers or solutions, those would be most welcome," he added in closing.