Authors and Their 'Progressive' Book Publisher Sue Sen. Elizabeth Warren Over Free Speech
A progressive publishing company and the authors of a book critical of the U.S. government's response to the coronavirus emergency have sued Sen. Elizabeth Warren for allegedly attempting to pressure Amazon.com into yanking their title, The Truth About COVID-19: Exposing the Great Reset, Lockdowns, Vaccine Passports, and the New Normal.
Joining Chelsea Green Publishing and authors Dr. Joseph Mercola, an osteopath, and Ronnie Cummins in the suit against Warren is Robert F. Kennedy Jr., a well-known vaccine critic who wrote the forward to the book.
The lawsuit is based on a lengthy letter Warren wrote to Amazon CEO Andy Jassy accusing the company he runs of "peddling misinformation" by labeling the book a "best-seller" and allowing it to be at the top of results when consumers search for information about COVID-19.
Chelsea Green Publishing was founded in 1984 to promote "progressive politics" along with "sustainable living…and, most recently, integrative health and wellness," according to its website, and its titles have earned accolades from The New York Times and several other outlets.
Not this time, though, and in taking on Warren, the self-described "progressive" company is attacking one of its own, a powerful U.S. senator whose also known for her progressive politics.
The lawsuit filed in Seattle by Arnold & Jacobowitz cites Bantam Books v. Sullivan, a 1963 case in which the U.S. Supreme Court found that letters from lawmakers complaining of books constituted "thinly veiled threats" of repercussions, illegal "prior restraint" and the "suppression" of free speech, even if the letter's author lacked "power to apply formal legal sanctions."
Attorney Nathan Arnold claimed that the most "egregious" thing from Warren's letter is her complaint that Mercola "asserts that vitamin C, vitamin D, and quercetin…can prevent COVID-19 infection," noting that the FDA disagrees. As of the publication of this story, Amazon still sells both the book and Mercola's supplements at its website.
Newsweek could not find information to confirm that the FDA disagrees.
"The CDC's own science and data shows that vitamin D deficiency is a major issue when it comes to fighting COVID, so the book agrees with the CDC and Warren disagrees with both of them," Arnold said.
Newsweek could find no conclusive scientific evidence to back up this claim.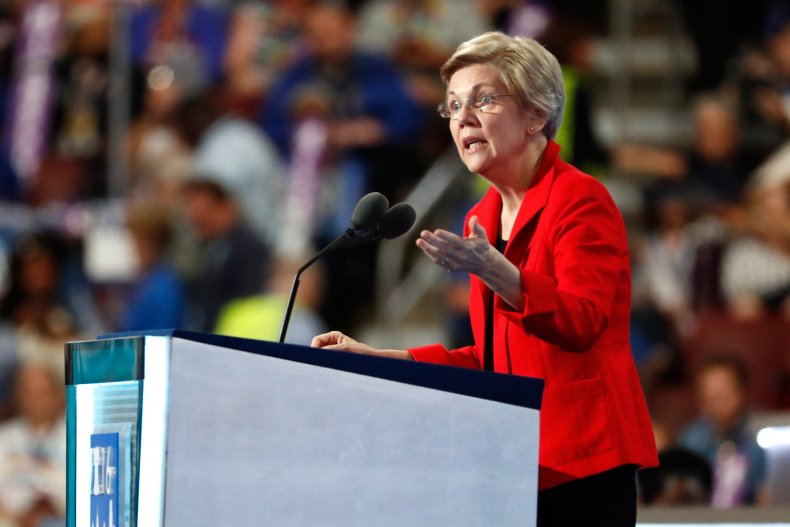 "If unpopular speech can be regulated, then you guys in the media are next, frankly," Arnold told Newsweek. "If the First Amendment doesn't protect political speech, it's basically gutted, and that's not a partisan position. Ironically, my partner, the other guy on the name of the law firm, has an 'Elizabeth Warren' bumper sticker on his Toyota. We're a left-leaning law firm, and I'd be shocked if less than 90 percent of our firm is vaccinated."
The lawsuit notes that Warren's letter suggests that selling the book is "unethical, unacceptable, and potentially unlawful," though the attorneys wonder "what laws the sale of the Truth About COVID-19 is potentially breaking."
Beyond monetary damages, the lawsuit is asking the court to declare Warren's conduct to be "unlawful and unconstitutional" and to demand that she issue a "public retraction of her letter."
"It was Warren's intention in publishing her public letter to Amazon to cause Amazon and other booksellers to censor The Truth About COVID-19," the lawsuit argues. "The censorship Warren intended to bring about included demoting "The Truth About COVID-19, concealing it from users, and/or ceasing to sell it altogether."
The lawsuit also notes that Warren, on a May 13 appearance on The Late Show With Stephen Colbert, threatened certain corporations with billions of dollars in additional taxes, adding, "Amazon, I'm looking at you," which the suit claims is a "thinly veiled threat" meant to amplify her letter, which came on September 7.
Three days after Warren's letter, Chelsea Green Publishing received notice that its book would temporarily no longer be sold as an e-book by Barnes & Noble, according to the lawsuit, and on October 1, Amazon told the publisher it would no longer run ads promoting the book.
Warren didn't respond to a request for comment. If she does, this article will be updated.
While Warren's letter refers primarily to The Truth About COVID-19, she also complains about other titles sold on Amazon, including Reversing the Side Effects of the COVID-19 Vaccine and Ivermectin: What You Need to Know—a COVID-19 Cure. Of the former, she objects to "falsehoods" that the vaccine is "making people sick and killing them," while she says the latter touts a drug that "is used to treate (sic) parasites in livestock" (her letter does not note that a human version of ivermectin has been available for four decades).
Warren's letter points out that Amazon has previously removed books "that frame LGBTQ+ identity as a mental illness" and books "linking autism to childhood vaccines," then she asks Amazon to modify its algorithms so that they no longer direct consumers "to books and other products containing COVID-19 misinformation."
Lawyers for the plaintiff argue in the lawsuit that the book, which has become a Wall Street Journal and USA Today best-seller, "expresses viewpoints, ideas, opinions, facts and factual hypotheses about the pandemic that Senator Warren and many others in her political party not only disfavor but have systematically sought to suppress."
"What Warren did is far too close to a digital version of book burning," Arnold said.
Mercola told Newsweek that 250,000 copies of his book were sold and it reached the No. 1 spot at Amazon prior to Warren's letter, though after the letter and some alleged changes to how the online retailer presented the title, it dropped out of the Top 100.
"Senator Warren's letter to Amazon is unlawful and an egregious example of the dangerous censorship movement that is building among tyrants that are supposed to be defending Americans," Mercola told Newsweek.
Mercola also said his book speculates that the coronavirus emanated from a lab in Wuhan, China, while Warren and others from her party had previously dismissed the notion as a conspiracy theory, and he says evidence points to him being right and them being wrong.
Warren's letter also complains that the book predicted that pandemic restrictions (presumably mask-wearing, proof of vaccinations and social distancing) would become permanent, even though the authors' statement included the word probably and the jury is still out as to how accurate or inaccurate their opinion will ultimately be.
"If Americans lose free speech, we lose everything," Mercola said. "Most Americans clearly understand this and know if you truly defend free speech, you must defend the speech of those you disagree with."