Avalanche Buries Street as Workers Start to Dig Through 60-80 Feet of Snow
An avalanche has buried a section of a road in Alaska under 60-80 feet of snow, and police say the area may be blocked for days as crews work to remove snow.
The Anchorage Police Department said on Friday that no one was injured during the avalanche, and no homes were damaged but added that people who live in houses nearby may not have road access, and may have limited utilities in the coming days.
The avalanche occurred on a section of Hiland Road in Eagle River, Alaska which is part of the municipality of Anchorage.
Access to close to 100 homes has been blocked due to the avalanche and there is no power in the area, according to Corey Young, communications director for the municipality of Anchorage, who spoke with Newsweek in an interview on Friday afternoon.
Young said that currently, crews are on the scene assessing whether it is safe to begin digging the area out.
"They're working as fast as they can, all resources are on deck. They're working around the clock," Young said Friday. The Anchorage Police Department said the snow removal process could take several days.
Young added that while people who live in the area are blocked from accessing the road, crews are working on snow machine routes to get people in and out of their homes. He said that the avalanche in the area is 60-80 feet deep, and 300-400 feet wide, "the size of a football field."
In a community alert posted online Friday, the Anchorage Police Department wrote: "Any residence uphill of the 2200 block of Hiland River Road and in the South River Lane neighborhood will not have road access in or out of the area until Hiland Road is cleared of snow,"
The department also warned that people shouldn't "drive snow machines on the avalanche as the ground may be unstable."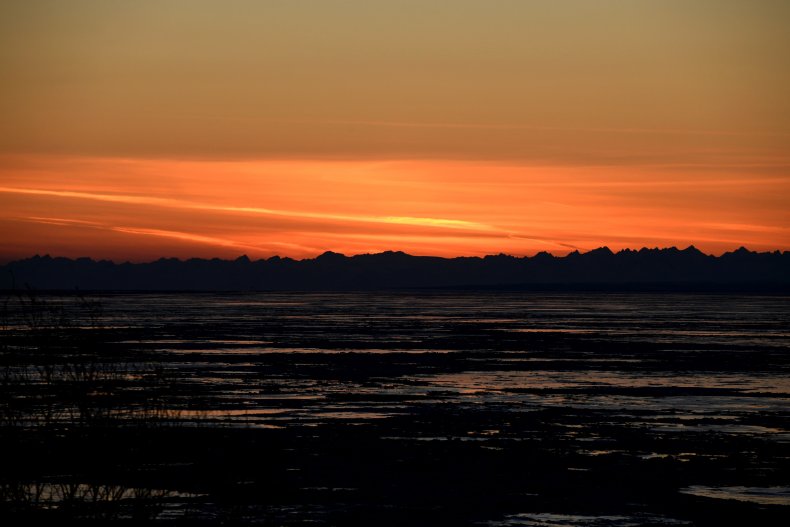 The police department said it responded to the report about the avalanche on Hiland Road at about 1:15 a.m. Friday.
"When officers arrived they found a section of Hiland Road under 40+ feet of snow. Officers were able to canvas on foot and by drone to verify that there were no homes affected by the avalanche," police said.
It added that the department has "no indication that any persons are trapped in the avalanche," but urged that if anyone has "reason to believe that there may be someone trapped in the avalanche," they should dial 911.
In a separate incident in January, a skier in Colorado triggered an avalanche but was able to survive by hanging on to a tree. Another avalanche earlier this year buried a dog under piles of snow during an avalanche, and two college students were able to rescue it. In February, a mountain climber in Colorado captured the moment he was caught in an avalanche, which he was able to survive.