Avalanche of Sex Toys Spill Out Onto Highway After Truck Flips Over
A video of what appeared to be sex toys and tubes of lube spread across a freeway following a truck crash has gone viral on social media.
The incident took place on the I-40, near Mustang on the outskirts of Oklahoma City, on Wednesday.
A box truck and a semi truck collided leaving the latter overturned and some of its contents scattered over the road. Fortunately, nobody was injured, but authorities were forced to close several lanes whilst the mess was cleared up.
Video shot from a helicopter by local network KWTV—News 9 showed a large number of boxes and phallic shaped items spread across the highway.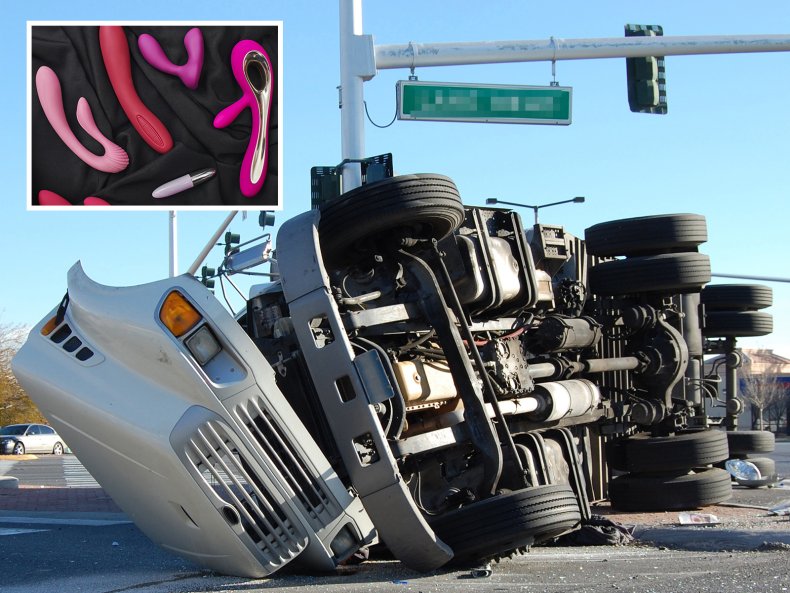 In the footage reporter Jim Gardner, who was on the helicopter, said: "This is a semi that overturned and lost its load here. There is a lot of stuff to clean up."
A station anchor asks: "Jim can you tell what he's carrying there? What's all over the road?"
As the cameras zoom in for a closeup shot Gardner replies: "We're zooming in…not really. I can't tell. Maybe you can tell?"
A clip of the news footage posted on Twitter was widely shared, receiving 3.9 million views.
It was retweeted by Barstool Sport who added: "A tractor trailer full of dildos and lube flipped and spilled all over a highway in Oklahoma."
Speaking to The U.S. Sun Oklahoma City Police Department confirmed "toys" had been spilled on the highway by the crash, though didn't give further details.
Twitter users saw the funny side with one tweeting: "If you're a male in Oklahoma you may want to take this opportunity and splash on some Brut and iron those Wranglers and hit the town, might be a gaggle of lonely women popping up places."
Oklahoma City Police Department and Oklahoma Highway Patrol have been contacted for comment.
Vibrators may be beneficial for women's health, according to a study which posed the question of whether it is time for physicians to start prescribing the devices as treatments.
In the study, lead author Dr. Alexandra Dubinskaya from Cedar-Sinai Medical Center and colleagues reviewed the current literature on the topic. The results of the investigation were presented in May at the annual meeting of the American Urological Association.
According to Dubinskaya, studies showed that vibrator use had a "positive effect" in several areas of women's health, including improvements in urinary incontinence and pelvic floor muscle strength, as well as easing vulvar pain.
Nevertheless, in December 2021 the American and Japanese broadcasts of an Olympic curling qualification event in the Netherlands were stopped because of sex toy adverts at the venue.
Earlier that year a German police bomb disposal team responded to reports of an unexploded WWII bomb in a Bavarian Forest, which later turned out to be a sex toy.