'Avenue 5' Season 2: Everything We Know About the Next Season of the HBO Series
Things might be bad onboard the Avenue 5, where Karen (played by Rebecca Front) accidentally extended the journey's length to eight years in Episode 9, but the news is much better for fans of the HBO comedy. In February, the network renewed Avenue 5 for Season 2, which has a release date expected in early 2021.
In a statement, executive vice president of HBO programming Amy Gravitt said: "We've loved every minute of Avenue 5's inaugural voyage. Armando Iannucci and his team are masters of smart and incisive comedy, and the ensemble cast, brilliantly captained by Hugh Laurie, is second to none. We can't wait to see what's in store for our hapless heroes in season two."
Laurie himself added: "It's thrilling to discover that space isn't finite after all. I'm very excited to be continuing on this journey with Armando and HBO, and also an amazing group of actors and writers who make me laugh every day. Here's to the future!"
So far, Laurie is the only confirmed cast member for Avenue 5 Season 2, though all of the main cast are expected to return—after all, their characters are all stuck on a cruise ship together, so it might be difficult for a character to just disappear in-between seasons. Among those expected to return are Josh Gad, Zach Woods, Front herself and Nikki Amuka-Bird.
In an interview with TVInsider, Iris actor Suzy Nakamura even confirmed she would be back, despite (spoiler alert) her character being trapped in a supply shuttle on its way to Earth at the end of Avenue 5.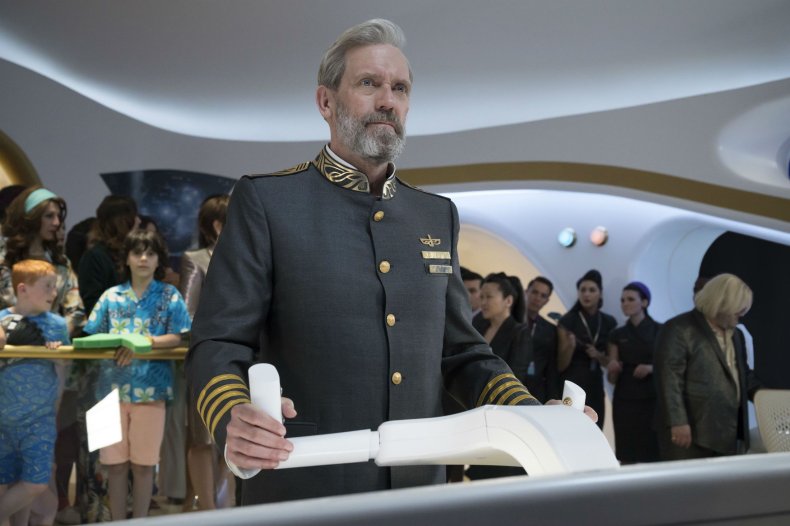 She confirmed to the website that the cast has already started being told about some of the plot developments of Season 2: "I know a little bit because we had mini writing meetings with Armando and the writers just to flesh out character-wise what's going to happen for Season 2. I wish I could tell you, but I can't, because it would reveal what happens in the finale."
Asked what she wanted from her character in the next season of Avenue 5, she said: "I'm hoping to explore different levels with Iris. I want to see how her coping mechanisms change and evolve."
Woods said to Collider of his hopes for his character Matt, who ends Season 1 reeling after he inadvertently caused the deaths of seven passengers: "Matt undergoes a traumatic experience that has a big impact on him, so I think that would definitely play out, in a second season."
Front, meanwhile, said in her own Collider interview, "She goes on quite a journey, as the thing goes on. [In the finale] she slightly overstretches herself. She thinks that she's infallible, and actually she very definitely is not. So, I'm very keen to see what happens, as a result of that.
"When she's faced with her own fallibility, that will be a whole new experience for Karen, to realize that she screwed up. That's genuinely not something that she's ever done before or ever been aware of before, so I'm really keen to know how she deals with that."
Avenue 5 Season 2 is coming soon to HBO.