The Top 5 Moments From 'AGT' Week 1: From Parmesan Song to Avery Dixon
America's Got Talent 2022 has landed on NBC, with the first week of auditions kicking off on Tuesday, May 31.
The first episode saw the first set of acts hoping to secure a spot on the live shows, taking them one step closer to a chance of winning the $1 million prize and a Las Vegas headline slot.
There was a lot of talent on display in week 1 of auditions and a serious amount of stand-out moments you will not want to miss, including the first Golden Buzzer act of the season, Avery Dixon.
Newsweek has a recap of the top 5 moments from the first set of America's Got Talent auditions below.
The Top 5 Moments From AGT Week 1
1. Avery Dixon Gets the Golden Buzzer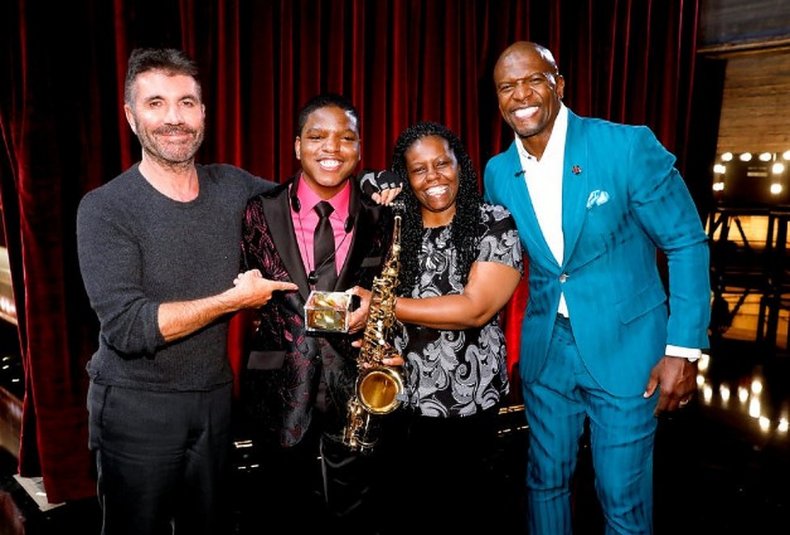 Saxophonist Avery Dixon received the first Golden Buzzer of the season, sending him through to the America's Got Talent live shows, which are set to begin in August 2022.
Ahead of his performance, he shared with the crowd he was born prematurely, weighing just 1 pound and 8 ounces, and was bullied relentlessly as a child due to his "airy" voice. He also shared he contemplated taking his life before discovering his love for the saxophone.
Dixon, 21, impressed the judges and audience with his performance and he even received a standing ovation.
He impressed host Terry Crews so much, that Crews ran on stage to press the Golden Buzzer before the judges could cast their votes.
Crews said: "You touched the heart of every human being in this building right now. You've been bullied all your life, but you tell every bully that you have got a big brother named Terry Crews who is here, who's got your back. All those bullies are gonna have to watch you succeed."
2. The Parmesan Song
Ben Lapidus' time on America's Got Talent looked certain to be over when he received four red Xs from judges Howie Mandel, Simon Cowell, Heidi Klum, and Sofia Vergara.
Lapidus, a singer-songwriter and sound engineer from Brooklyn, New York, took to the stage to perform the original track "The Parmesan Song," all about his love for the Italian cheese.
With hilarious lyrics like "I always want more parmesan but I'm embarrassed," the crowd absolutely loved his act and their reaction eventually convinced the judges to change their mind, sending Lapidus through to the next round.
"I wanna kill you right now, 'cause I can't get that, 'I want more parmesan,' out of my brain," Cowell told Lapidus. "Take the 'X' away, I'm giving you a yes."
"You guys are crazy," Vergara added. "It was a horrific song, and now we're gonna have to hear this guy again."
3. Mervant Vera
Mervant Vera's magic act is like no other act America's Got Talent has seen before.
Vera, a 33-year-old magician, mentalist and hip-hop songwriter, combines lyrics with magic to blow audiences' minds.
For his audition, he performed an incredible card trick while rapping every step of the way.
He sailed through to the next round, receiving four yeses from the judges and a standing ovation, with Cowell calling his act "honestly incredible."
4. Lee Collinson
There was not a dry eye in the house after Lee Collinson's America's Got Talent audition.
Collinson, from Southampton, U.K, performed Dermot Kennedy's "Better Days," which he dedicated to his friend he lost during the coronavirus lockdown.
After his performance, Cowell quipped: "You know what, there's something really charming and humble and likable about you. And you probably don't even know how good you are."
The judges then FaceTimed Collinson's mother who was back in the U.K. so she could watch her son receive four yeses. Definitely the most wholesome moment of the night!
5. Celia Munoz
Celia Munoz is a Spanish ventriloquist, with a pretty big twist—there are no puppets involved.
Instead, Munoz gave a jaw-dropping audition by singing "Once Upon a Time" from the musical Brooklyn while flossing, drinking a glass of water, taking a phone call, and much more, all part of a bigger act to show how a ventriloquist gets ready for work.
She shared she had only been practicing the act for around two years learning from America's Got Talent contestants, Terry Fator (Season 2) and Darci Lynne Farmer (Season 12).
After her audition, Mandel called her act "the most original thing" he had ever seen. Klum added: "It was refreshing not having some weird puppet come out of a box."
America's Got Talent airs Tuesdays at 8 p.m. ET on NBC.