Everyone enjoys going on vacation, and with travel restrictions easing after the global COVID-19 pandemic, more people are looking forward to getting away.
A report released last month by the IATA (International Air Transport Association) revealed the industry was recovering from pandemic restrictions.
"They said: "Data for May 2022 showing that the recovery in air travel accelerated heading into the busy Northern Hemisphere summer travel season.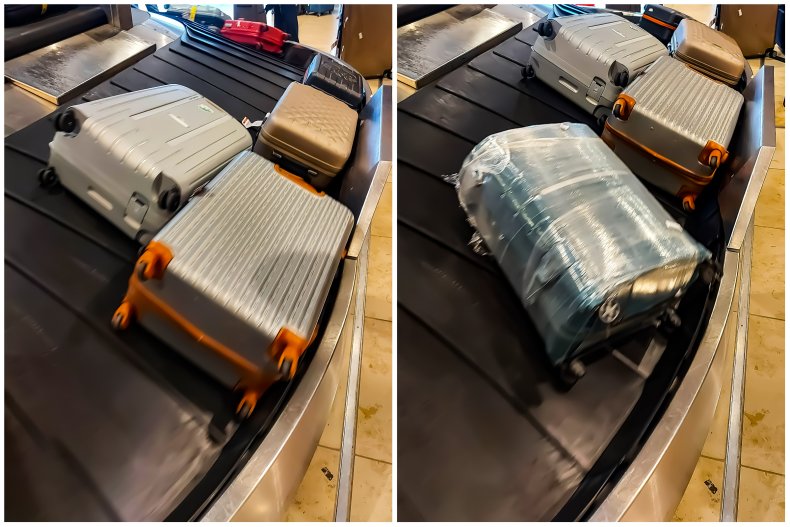 "Total traffic in May 2022 (measured in revenue passenger kilometers or RPKs) was up 83.1% compared to May 2021, largely driven by the strong recovery in international traffic. Global traffic is now at 68.7% of pre-crisis levels."
If you're lucky enough to be heading further afield, an airplane is usually the inevitable mode of transportation, and a man shared "travel tips" revealing the worst ways to pack your bags.
Adrian, thought to be a baggage handler, shared a clip to his TikTok page, @teh_deagz, sharing the materials and packing methods passengers should avoid.
Adrian's clip, which can be seen here, amassed nearly 4 million views, as he filmed luggage being processed.
Adrian, from Norway, added the hashtags "checked baggage" to the clip on his account, which is said to be about "aviation stuff."
While he didn't specify the airline or airport he works at, his TikTok account references the town of Bodø, which has its own airport.
The country's namesake airline, Norwegian Air, carried tips for passengers on how to pack their bags.
"There's lots you can do to make sure your belongings are well-protected and arrive safe and sound on your flight," their website says.
There's a size and weight limit for checked and hold luggage, with passengers not allowed to bring more than a total of 163 pounds of checked luggage.
"Pack carefully so things inside your baggage don't move around or fall out. Take out travel insurance for valuable or fragile items. Leave out any restricted items and dangerous goods," they said.
They also advised travelers to carefully pack items "not designed for air travel," such as baby strollers, carefully.
Another key tip: "Label your bags with your name and phone number."
That was echoed by Adrian in his video, as the on-screen captions said: "Dear travelers, plastic-wrapped box of perishables, no. Rubberized texture, no. Plastic-wrapped hardshell, heck no.
"Tag not put on properly, also no. Poorly packed baby stroller, big no. Big ass frozen fish, hell no."
The clip was captioned "Every. Single. Day." as Adrian seemingly referred to the packing problems he encounters on a daily basis.
He has shared numerous video focused on baggage problems, with one from May showing what appeared to be toolboxes being processed, as the on-screen captions said: "Special bags do not belong on the main bag drop!"
Despite Adrian's viral clip trying to educate passengers, in the comments people were alarmed by the handling of the cases, while some pointed out plastic-wrapping services are available in some airports.
The chart below, provided by Statista, shows busy airports this summer.
Commenting on the clip, WickEDel wrote: "The plastic wrapped bags are usual going to a high theft place and it's to keep things from being stolen or tampered with."
Christabelay said: "Putting plastic wrap is smart if you don't want to get your stuff." stolen."
Unbothered replied: "In some airports, airline companies offer you to wrap your baggage in plastic to avoid scratches or damages during travel."
Although Yesirrr asked: "Why are we not talking about the fish."
Kristenboy noted: "Seems like a lot of people don't know how to pack their bags."
Pamon67 added: "As a ground staff for airlines, I totally agree with this."
Avinor, responsible for 43 state-owned airports under the Norwegian Ministry of Transport and Communications, is thought to oversee Bodø Airport.
Information on their website warned: "Avinor has a duty to examine checked-in baggage for prohibited and dangerous items. This may result in your luggage being opened without consent being obtained."
Newsweek reached out to Adrian and Bodø Airport for comment.