Plain Planes: Why Your Flight Might Be Operated by an Unmarked Aircraft
The internet has been left confused after a man shared how his recent flight from Sofia, Bulgaria to Amsterdam was run on an airplane with absolutely no markings or branding.
When it comes to aviation, there are plenty of trade secrets hiding among the seatbelt signs and luggage tags. Last week, flight attendant Rebecca Boath revealed the secret areas of a plane after working as a flight attendant for over a decade.
Stephen Cahill shared his unusual flight experience on Reddit's popular r/mildlyinteresting forum on Monday where it has since received more than 24,000 upvotes on the site.
A teacher living in Bulgaria, Cahill was boarding the flight operated by Bulgaria Air when he noticed something different about the plane—it was completely white.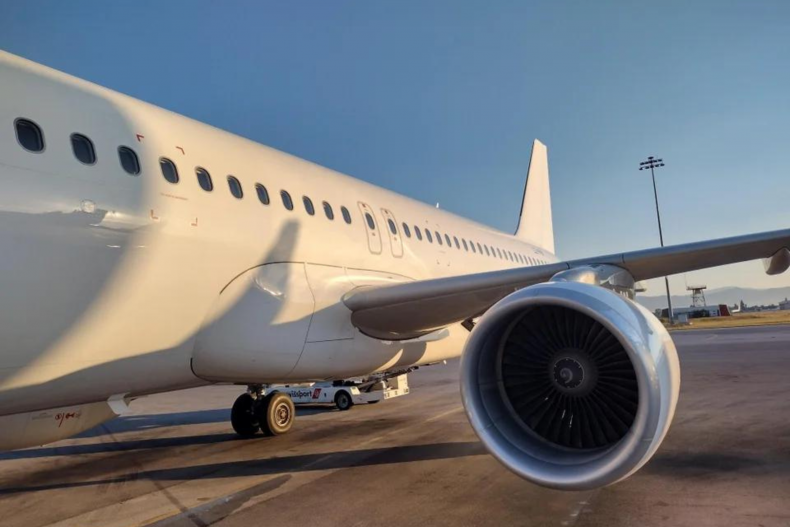 "The airport bused the passengers out to where the plane was waiting on the tarmac," Cahill told Newsweek. "As I waited to board via the stairs, avoiding eye contact with everyone in the crowd around me, I noticed that there were no colors on the plane. Right before boarding, I snapped a quick picture with my phone."
"All planes of the national air carrier of the Republic of Bulgaria 'Bulgaria Air' have the mandatory registration marks," A spokesperson for Bulgaria Air told Newsweek. "As we are currently in the process of updating the airline's logo, the plane in question is still not branded with the new colors and logo of Bulgaria Air. This is the reason why it is not color-branded as you noticed. The busy summer months have slowed down the rebranding process of our planes but the change of all planes is about to happen no later than October."
While we are used to seeing aircraft covered with the branding from airlines and advertising slogans, the white craft stood out on the runway. But it turns out we may be about to see more of these non-specific designs.
As the COVID-19 pandemic showed signs of easing, travelers began booking vacations and business trips once again. After two years of canceled travel plans, many airlines promised they would restore capacity levels to near pre-pandemic levels, but have been struggling to keep their pledges as logistical and supply chain constraints and staffing shortages hit carriers around the world.
Cancellations and flight disruption have been consistently reported throughout the summer, and on August 7, over 600 flights out of the U.S. were canceled according to Flightaware.
​​Facing rising shortages, many airlines are turning to external support to help keep passengers moving. One of many supporting airlines during travel chaos is aircraft lease and charter company SmartLynx which works with long-term clients including easyjet, Jet2.com, and Qatar Airways.
In a statement, SmartLynx Airlines CEO Žygimantas Surintas said: "The aviation market has experienced great fluctuations in the past three years – from the best year in history in terms of passenger turnover to 2020, when this business almost ceased to exist."
To support those struggling with demand, SmartLynx leases all-white aircraft, allowing them to enter service with any company on short notice.
"Buying new aircraft means enormous investment, and for the purchase to be profitable, the plane needs to be up in the air all year round, carrying cargo or passengers," said Surintas. "That is why airlines do not purchase additional aircraft for crisis situations, but rather lease aircraft from other airlines when necessary.
"ACMI operators, or Aircraft-Crew-Maintenance-Insurance companies, offer airlines an alternative to the financial burden associated with long-term aircraft ownership by providing temporary access to aircraft, crews, maintenance, and insurance," he added.
Internet users on the viral post took the opportunity to make a few well-placed jokes. One commenter said: "Sounds to me like you actually flew on a plain," while another wrote: "Clearly a beginner pilot. He hasn't unlocked any customizations yet."