Avicii's Family Insinuates Cause of Death Was Suicide: 'He Could Not Go on Any Longer'
The family of Swedish DJ Avicii, who was found dead in Oman last week at the age of 28, insinuated he might have committed suicide. Avicii, born Tim Bergling, was one of the most prominent producers in the EDM world, known for hits like "Wake Me Up," "Hey Brother" and "The Nights." He first rose to fame with the 2011 song "Levels" and earned a Grammy nomination for his collaboration with David Guetta on the song "Sunshine."
A cause of death for Avicii was not revealed, but his family insinuated he took his own life. In the statement, his family addressed when the DJ stopped performing in 2016. At the time, he said he was suffering from health problems.
The full statement, which was shared by TMZ, has been provided below:
Our beloved Tim was a seeker, a fragile artistic soul searching for answers to existential questions.

An over-achieving perfectionist who travelled and worked hard at a pace that led to extreme stress.

When he stopped touring, he wanted to find a balance in life to be happy and be able to do what he loved most – music.

He really struggled with thoughts about Meaning, Life, Happiness.

He could not go on any longer.

He wanted to find peace.

Tim was not made for the business machine he found himself in; he was a sensitive guy who loved his fans but shunned the spotlight.

Tim, you will forever be loved and sadly missed.

The person you were and your music will keep your memory alive.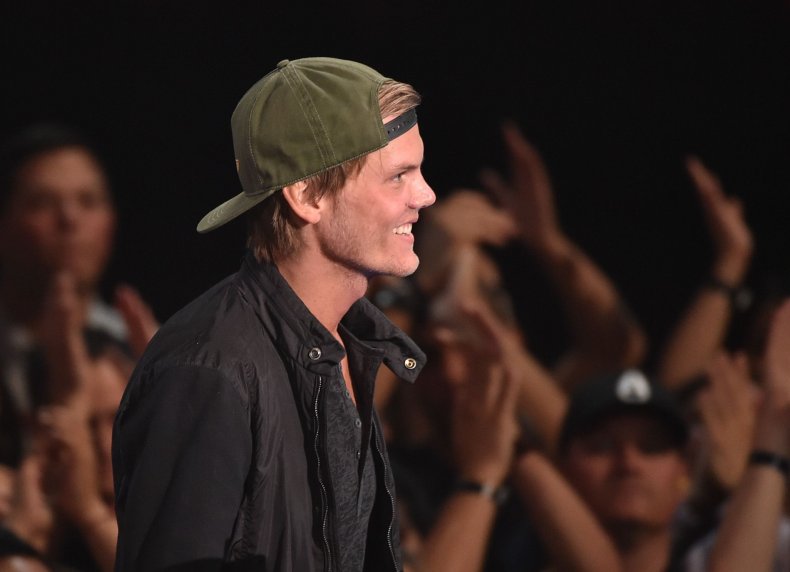 There was no suspicion of criminal activity in Avicii's death, the Agence France-Presse reported Saturday. "Two autopsies were carried out, one yesterday and one today and we absolutely confirmed that there is no criminal suspicion in the death," a law enforcement source told AFP.
The DJ's publicist confirmed his death Friday. "It is with profound sorrow that we announce the loss of Tim Bergling, also known as Avicii," the statement said. "He was found dead in Muscat, Oman this Friday afternoon local time, April 20th. The family is devastated and we ask everyone to please respect their need for privacy in this difficult time. No further statements will be given."