Avril Lavigne's Complicated Dating History Amid Tyga Romance Rumors
The rumor mills have been churning since Avril Lavigne was spotted hugging rapper Tyga in Los Angeles.
The unlikely pair enjoyed dinner at NOBU on Sunday night and were seen embracing as they waited for their car to arrive. They then jumped into the same car before driving off, in photos published on TMZ.
They seem like a surprising match because of Lavigne's past love life, including dating a string of famous rockers.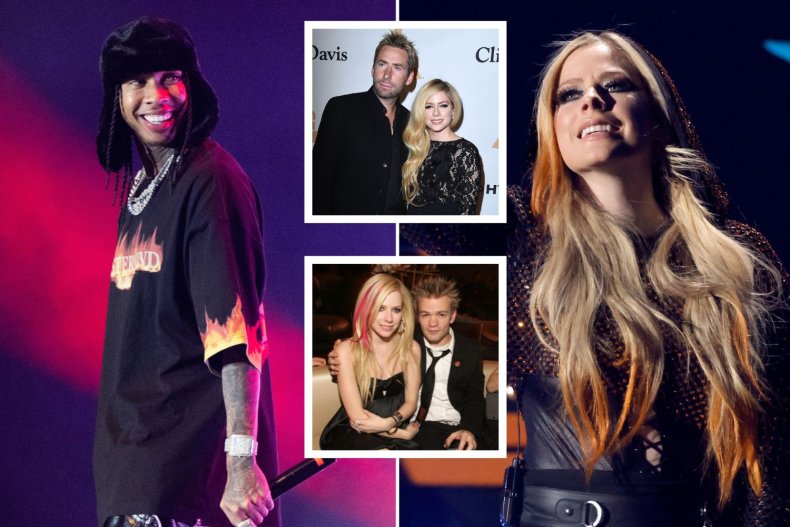 The "Complicated" singer, 38, is currently engaged to American musician, Mod Sun, 35, after he proposed during a romantic trip to Paris in March 2022.
The betrothed couple attended a series of Grammys parties earlier this month, so it is not clear if Lavigne and Tyga, 33, are an item or just friends.
Newsweek has contacted Lavigne and Tyga for comment.
Going back to when Lavigne burst on to the spotlight as a teenager, she dated guitarist Jesse Colburn who performed in her band for a year until 2003, but left when they broke up.
"He just wanted to go do his own thing and stuff, and I mean, that happens," Lavigne told MTV News in 2004.
Lavigne's next major relationship saw her create a Canadian rock royalty couple when she married Sum 41 frontman Deryck Whibley.
They first met when she was 17 and married four years later in 2006 but she filed for divorce in 2009.
"We have been friends since I was 17, started dating when I was 19, and married when I was 21. I am grateful for our time together, and I am grateful and blessed for our remaining friendship," Lavigne wrote on her website when announcing their split.
The following year, Lavigne entered a high-profile relationship with Brody Jenner, son of Caitlyn Jenner, who was then starring on reality series, The Hills.
The couple dated for two years and reportedly got matching tattoos during their relationship.
They vowed the split was not acrimonious but a "mutual decision."
"Avril has always been there for me and is the closest person to my heart. I love her," Jenner tweeted at the time, and Lavigne responded, "luv u 2!!! @BrodyJenner."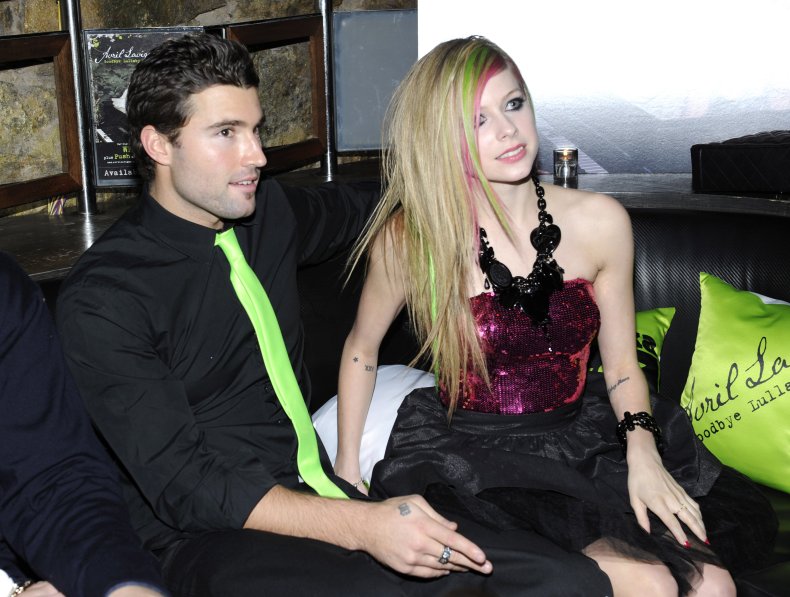 In March 2012, Lavigne met another famous Canadian rocker in Chad Kroeger of Nickelback fame when they worked together on her self-titled album.
They officially got together in July and, just one month later, Kroeger proposed to Lavigne. Their wedding was held on July 1, 2013— their one-year anniversary and which also happens to be Canada Day.
But two years later Lavigne announced on Instagram that the pair had broken up.
"Through not only the marriage, but the music as well, we've created many unforgettable moments," she wrote. "We are still, and forever will be, the best of friends, and will always care deeply for each other."
Lavigne and Kroeger have remained good friends, with the "Sk8er Boi" singer saying the Nickelback frontman was her "cheerleader."
"He's just always been a cheerleader of mine and always been such a huge fan. He's in my corner, he's on my side, and he's always been really great," she told People in 2019.
Lavigne's next romance was with Phillip Sarofim, the son of Texan billionaire Fayez Sarofim. She met Phillip in February 2018 and the pair were spotted kissing in Italy before splitting in May 2019.
Then, in 2020, the rocker made a public appearance with Pete Jonas at Clive Davis' annual pre-Grammy gala. Jonas performed with Jagwar Twin, who opened for Lavigne during her Head Above Water tour.
The relationship was brief and Lavigne would go on to meet her current fiance, Mod Sun— given name Derek Ryan Smith— in the same year.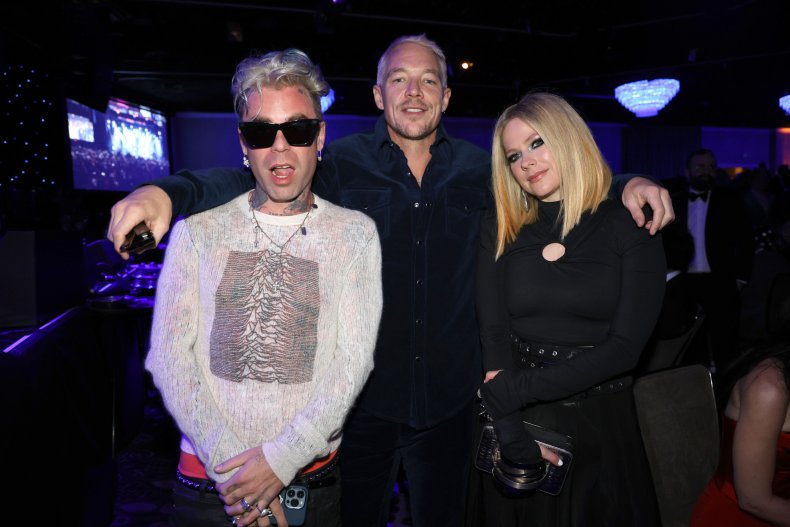 They met while working on her album Love Sux, and started dating in November 2020 before became engaged 16 months later.
Lavigne shared on Instagram photos of him proposing to her in Paris, with the Eiffel Tower in the background, which she dated March 27, 2022. She captioned the post: "Oui! Je t'aime pour toujours. [Yes! I'll love you forever]."
Mod Sun also shared the news to his Instagram: "The day we met I knew you were the one. Together forever til our days are done."
Tyga was previously engaged to media personality, Blac Chyna, with whom he shares son King Cairo. He also dated reality star, Kylie Jenner.