'Away' on Netflix: How the Finale Sets Up Season 2
Away is still riding high in the Netflix TV charts, with many viewers making their way to the finale of the space drama. In Episode 10, titled "Home," Emma Green (played by Hilary Swank) and the rest of the team land safely on Mars, with mankind taking "one small step" on the Red Planet for the first time.
Their mission, however, is far from over, meaning there is plenty of material for Away Season 2. Netflix has not commissioned the show for more yet, but the signs are good that the show will be renewed in the coming months.
In the meantime, the writers have already revealed that they have started thinking about what will happen in the second season of their three-season plan, as detailed in Newsweek's guide to whether there will be an Away Season 2.
If the finale of the show is anything to go by, Season 2 of the show will be based on a contradicting set of relationships. As the international team on Mars begin to work better together and find unity beyond their country's borders, things between the international team working on the ground are likely to get more strained.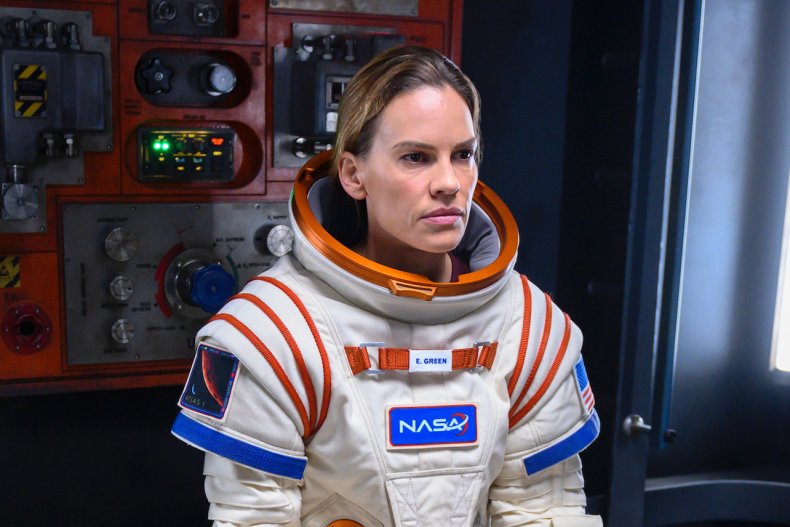 This was set up by the events of Away, which saw the team land on Mars and pose for the first photo of humans on the planet. As part of the deal China had made with NASA, this photo was meant to feature only their astronaut Lu (Vivian Wu), who was due to be the first person to walk on Mars. However, after the Chinese representative on Earth refused to let Lu appear in the photo with her visor down, and after Lu's fights with him about his firing of Mei (Nadia Hatta) for being in a queer relationship, the team decided to do things differently.
As such, Misha (Mark Ivanir) became the first human to walk on Mars, and the team took a photo together in tribute to the international collaboration that led to them landing safely on the Red Planet.
This, however, is likely to cause international tensions, as the Chinese rep really does not seem pleased with what happened. These US-Chinese tensions are sure to play out in Season 2 of Away.
Speaking to Refinery29, show creator Andrew Hinderaker revealed that the collaborative spirit of the team on Mars was inspired by the experience of real astronauts. "All the astronauts that we've talked to and have spoken so beautifully about...looking back at earth and they all talk about that sort of moment of, 'Oh right, borders don't actually exist. They're a thing people made up,'" the creator said.
Just because the team has newly bonded, however, does not mean that their troubles are over. Misha is still losing his sight, Matt (Josh Charles) is worried about Emma's relationship with fellow astronaut Ram (Ray Panthaki), and Kwesi (Ato Essandoh) and the rest of the team still have to pull off their missions on Mars and return safely to Earth...though that will likely have to wait until Season 3.
Asked by Collider what fans could expect from Away Season 2, Hinderaker teased: "In terms of Season 2, I always felt like if there was a final card that I would love to have on the season, it would be 'Away will return for Season 2... on Mars.' Part of what we're promising is what that crew experiences at the very end, we now we get to live in a new world."
Away is streaming now on Netflix.
'Away' on Netflix: How the Finale Sets Up Season 2 | Culture