Steph Curry Blasts Haters Who Dissed Ayesha Curry's Dancing Video: 'Slow News Day Today, I See'
Steph Curry had the ultimate response to people who criticized his wife's dancing abilities on Wednesday. In a video shared on the NBA star's Instagram story, Curry defended the mother of his three children, Ayesha Curry, against social media mockery and urged people to send him pictures of their dancing skills when they achieve similar accomplishments as his wife.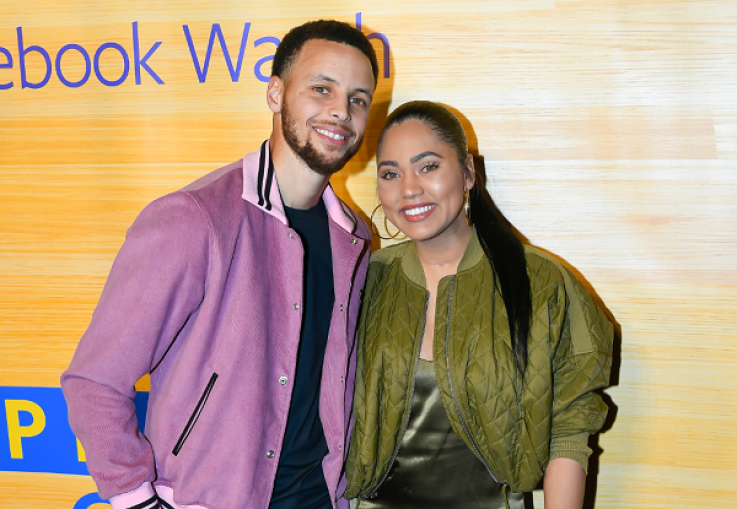 "Slow news day today, I see, huh," Steph Curry said. "Just make sure y'all send me the video of you dancing at your own restaurant opening."
He continued: "And we're going to keep Milly Rocking until that happens."
The video then panned over to Ayesha Curry, who was sitting beside her husband shyly covering her face. "I hate you," she jokingly replied.
Steph Curry's comment came following a video of Ayesha Curry doing the popular dance created by rapper 2 Milly on Tuesday. The author and chef was celebrating the opening of her newest International Smoke restaurant in Del Mar, California, which is the fourth barbeque establishment in the 30-year-old's restaurant empire.
The viral video made waves on social media after some people began to criticize Ayesha Curry's skills.
Ayesha Curry is no stranger to the rampant social media trolling over nearly every little thing she does. The Seasoned Life: Food, Family, Faith and the Joy of Eating Well author recently came under fire for opening up about her insecurities regarding other women chasing her husband during an appearance on Jada Pinkett Smith's Red Table Talk Show in May.
While her husband came to her side, as well as a slew of the couple's fans, she—as usual—ignored the mean comments questioning her rhythm and moves, and, instead, shared a few of pictures from her restaurant opening on Instagram.
"Yesterday was a dream. We celebrated our 4th @internationalsmoke opening in Del Mar. I can't thank the team enough. I have no words. This will never feel normal. I am so grateful," she wrote. "Thank you to my family and friends for coming to support me as well. We didn't get pictures because we had wayyyy too much fun."
The new restaurant is Ayesha Curry and chef Michael Mina's third in California. International Smoke, which specializes grilled and smoked meats with bold, exotic flavors, initially started as a popup in San Francisco in 2017. The barbeque duo went on to open up locations in Houston, Texas, and Aventura, Florida, before the fourth of their franchise in Del Mar.
Steph Curry Blasts Haters Who Dissed Ayesha Curry's Dancing Video: 'Slow News Day Today, I See' | Culture