Al-Qaeda leader Ayman al-Zawahiri was killed by U.S. forces in a strike in Afghanistan over the weekend, delivering a long-sought blow to the terrorist network.
President Joe Biden announced during a national address on Monday evening that he had ordered a U.S. airstrike in Kabul, Afghanistan, that killed al-Zawahiri. He was an early mentor to former Al-Qaeda leader Osama bin Laden, who was killed by U.S. forces while hiding in Pakistan in 2011. Al-Zawahiri had been running Al-Qaeda since.
In his speech, Biden said al-Zawahiri was "deeply involved" in the September 11, 2001, attacks that killed nearly 3,000 U.S. citizens, and masterminded the bombing of the USS Cole in 2000, which killed 17 American sailors and wounded dozens more.
"He carved a trail of murder and violence against American citizens, American service members, American diplomats and American interests," the president said.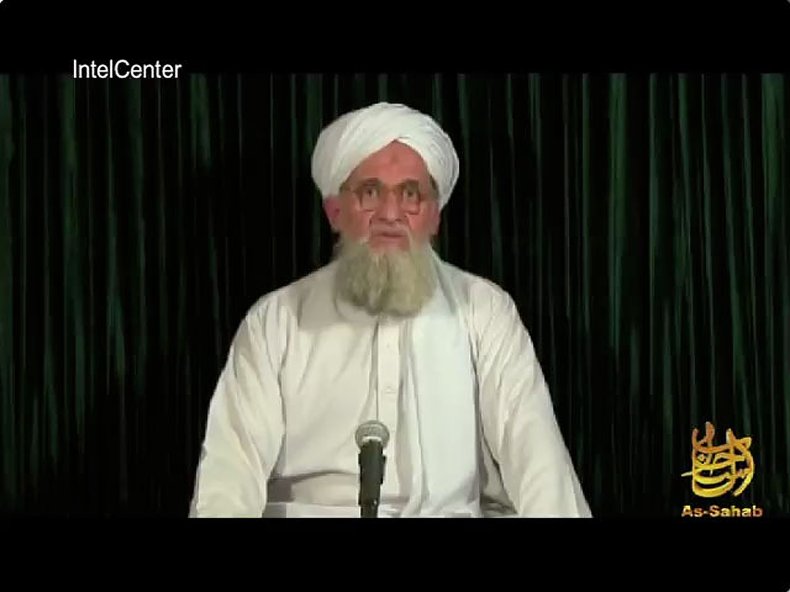 Biden said that since al-Zawahiri took over Al-Qaeda from bin Laden, he continued to operate the network's branches across the world, while providing operational guidance and producing videos calling for attacks against the U.S. and its allies.
He said the intelligence community located al-Zawahiri in downtown Kabul earlier this year where he reunited with members of his family.
"Now, justice has been delivered," Biden said. "And this terrorist leader is no more; people around the world no longer need to fear this vicious and determined killer."
Despite having a lower profile than bin Laden, who was killed by Navy SEALs in May 2011, al-Zawahiri continued to lead the terrorist organization and maintained its presence in both Pakistan and Afghanistan. He also supported Islamic militants in Syria and Iraq.
An Egyptian-born surgeon, al-Zawahiri was placed on the FBI's Most Wanted list for the 1998 bombings of the U.S. embassies in Dar es Salaam, Tanzania, and Nairobi, Kenya. The bombings killed 224 people, including 12 Americans, and wounded more than 4,500 people, according to the FBI.
Known as "Glasses," for his trademark eyewear, al-Zawahiri commanded the respect of Islamic militants and was also involved in the 2005 bombing of the London Underground and in the assassination of Benazir Bhutto, former prime minister of Pakistan, in 2007.
Al-Zawahiri was not considered to have the charisma of his predecessor, nor did he have the notoriety Al-Qaeda summoned under bin Laden when it carried out the September 11 attacks on the Twin Towers and Pentagon, the deadliest act of terrorism ever committed on U.S. soil.
After the death of bin Laden, U.S. security agencies put their sights on al-Zawahiri, who was believed to have been hiding in the remote regions of Pakistan.
"We are hoping he can avoid being captured by the U.S. for at least 10 more years," a source with the Al-Qaeda-aligned Taliban told Newsweek in 2012.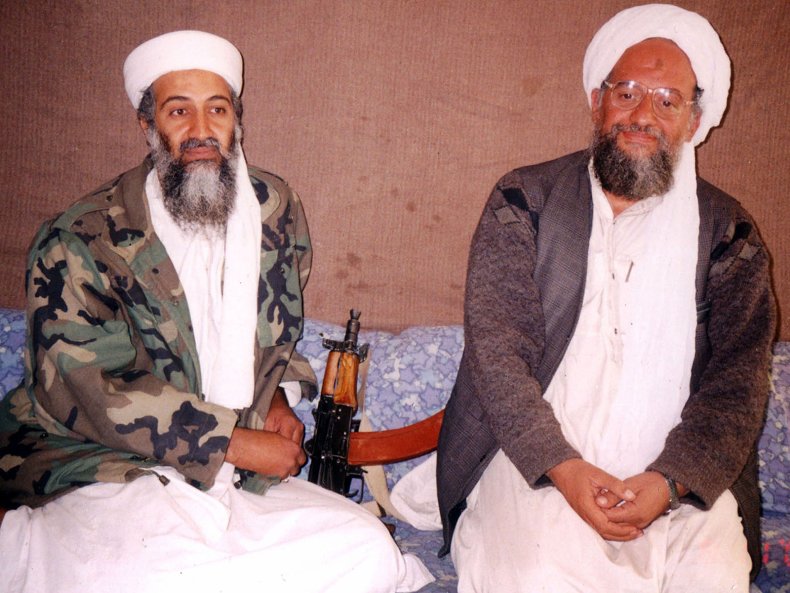 While remaining in hiding, al-Zawahiri continued his call for holy war, directing Sunni militants in 2017 to wage war on the regime of Syrian President Bashar al-Assad amid the country's ongoing civil war, as well as against the U.S.-led coalition in Iraq.
Al-Zawahiri also called on militants to denounce the Islamic State militant group, which took control of a large swath of territory in Iraq and Syria that peaked in 2017, and to instead rally around the Taliban in Afghanistan, who would go on to retake control of the country in 2021.
U.S. forces continued to search for al-Zawahiri, who had multiple reported near misses by drone strikes.
Following one of those in 2020, a Brookings Institution report laid out the challenges the new leader of Al-Qaeda would face. According to the report, he would need to shore up support among affiliates in Yemen, which has an ongoing civil war.
"In order to boost his stature, the new leader may seek to conduct a high-profile terrorist attack on the West or otherwise gain attention," the report said. "This would help him prove his bona fides and separate the leader from the mass of more local figures who are all vying for recruits and money."
Al-Qaeda: Influential but Less Active in Recent Years
While the killing of al-Zawahiri is a boost for Biden, the activities of the terror group had petered out in the last few years, writes data editor Rob Minto.
According to data from the Global Terrorism Database, Al-Qaeda was largely inactive in terms of terror incidents since 2014. Instead, the group acted as a guide for other splinter groups, such as Al-Qaeda in Iraq (AQI) and others.
AQI were far more active in terms of incidents than Al-Qaeda, with responsibility for over 300 incidents in Iraq in 2012 alone. The leader of AQI, Abu Musab al-Zarqawi, was killed in 2006, but the group's activities only increased over time, until 2014.
However, the greatest fatalities caused by any terror group is the 9/11 attacks, in which nearly 3,000 died, for which al-Zawahiri and bin Laden were responsible.
Update 8/1/22, 8:10 p.m. ET: This story was updated with additional comment from President Joe Biden.