Aziz Ansari Hits 'Lower-Case KKK' Backing Trump on 'Saturday Night Live'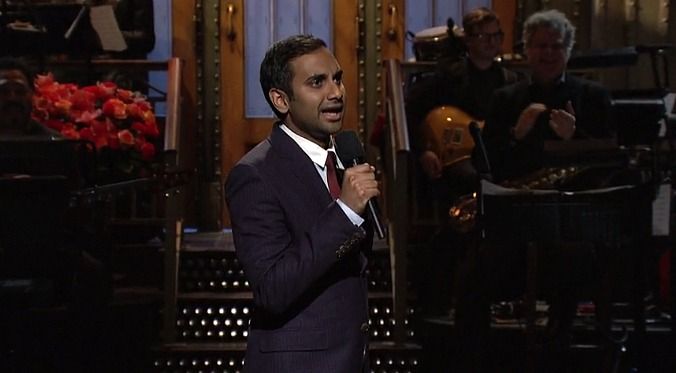 Support for Donald Trump has aroused a "casual white supremacy" to come out of the shadows—and comedian Aziz Ansari wants them to "go back to pretending" they're not racist.
RELATED: Baldwin, 'SNL' take on Trump press conference
Ansari reflected on Trump's inauguration, the Women's Marches and media portrayals of minorities in his opening monologue as host of this weekend's "Saturday Night Live." Alec Baldwin, who normally portrays Trump, sat out this week's show but sketches also included Beck Bennett's shirtless Vladimir Putin trying to calm Americans anxious over Trump's election, as well as Kate McKinnon as Kellyanne Conway explaining her motivation for working for Trump.
Ansari, a self-described "brown guy" who often tackes race and identity but is not generally known for political material, delivered a short set that traded on his amiable charisma to pointedly reflect on what Trump's inauguration means–and where resisters go from here. He identified a "lower-case KKK" and "casual white supremacy" that forms a base of Trump's support and otherwise clouds reasonable discussion of the president's appeal and policies.
"The problem is there's a new group...I'm talking about this tiny slice of people that have gotten way too fired up about the Trump thing for the wrong reasons. I'm talking about these people that as soon as Trump won, they're like, 'We don't have to pretend like we're not racist anymore!' You've got to go back to pretending," Ansari said.
"I know it's been a rough couple of years. Obama, 'Empire,' 'Hamilton"'...It's been hit after hit after hit. 'Star Wars' movies whose only white characters are stormtroopers. I get it, it's been rough," he joked.
Ansari, the creator and star of Netflix's "Master of None," spoke about his Indian heritage and his parents' love of America before arguing that popular depictions of minorities nearly always focus on groups' worst elements. "I think part of the problem is a lot of these people, they just haven't interacted with any brown people in their normal life. The only people they see are these monsters in the news, who are just a drop in the ocean. Maybe what needs to happen when they do the news report, they should do a second report about some other brown people who are just up to normal stuff," like a group of friends eating "nachos in Chicago."
Ansari ended his monologue on a hopeful note, saying "change comes from large groups of people." Referencing Saturday's hundreds of Women's Marches, which saw millions take to the streets worldwide, he said: "If day one is any indication, you are part of the largest group of angry people I have ever seen."
Conway, Putin
"SNL" has loved poking fun at Trump adviser Conway's media appearances and has speculated about her motivations for joining the Trump team. Saturday, audiences were treated with a satirical window into Conway's thoughts as she expressed her fervent desire for fame in a Broadway-style sing-and-dance number representing her inner monologue while being questioned by CNN's Jake Tapper.
"The lady raking in the chips is going to be...Conway," McKinnon's Conway sings. "Who says that lying is not an art?...think of the autographs I'll sign!"
"Hey, know what's weird? This time last year I supported Ted Cruz. I said Donald Trump acted unpresidential. It's on tape but hey, that's showbiz, kid," the daydream sequence continued. "When the world goes up in flames, at least for now, they knew my name."
And for all those worried about the direction of the country? Don't worry—Vladimir Putin has our back.
"You are worried that your country is in the hands of this unpredictable man," said Bennett's Putin, in a "Paid Message From the Russian Federation" that opened the show. "But don't worry. It's not. Relax, I've got this.
"I promise we will take care of America. It's the most expensive thing we've ever bought," he says.