The Babadook Is Now an Internet Gay Icon, Just in Time for Pride Month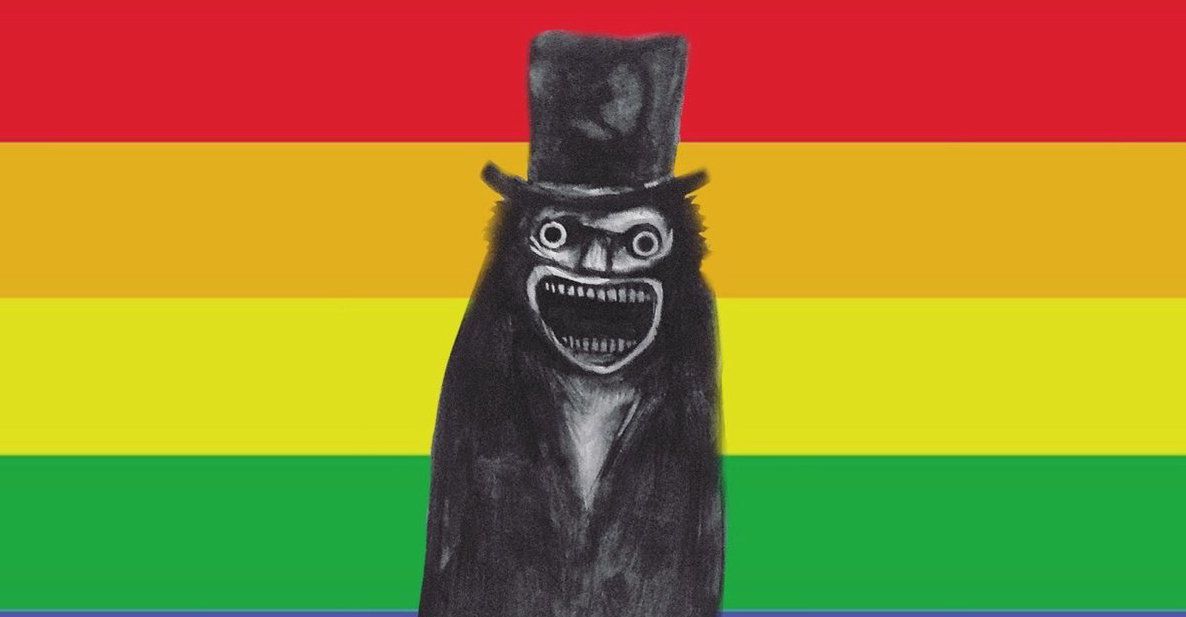 Warning: Spoilers ahead for The Babadook.
We're more than a week into June, known to the LGBT community as Pride Month, and while the president of the United States may not recognize the historic celebration of LGBT rights, the festivities are in full swing.
Perhaps it's most appropriate that this year, what with all the political turmoil and nail-biting over whether decades of LGBT progress will be set back under the Trump administration, a prominent gay icon has emerged: the Babadook, a cinematic demonic creature.
It all started with Tumblr. Last October, a user by the name of Ianstagram made a post that read, "Whenever someone says the Babadook isn't openly gay it's like?? Did you even watch the movie???" Tumblr users quickly took to the thread and contributed to the "Babadiscourse," as Buzzfeed's Ryan Broderick noted on Twitter.
It should be said right now that the Babadook, in its original source material, is not an overtly queer character. The creature comes from the 2014 Australian horror film of the same name, in which the Babadook terrorizes a widow, Amelia, and her young son Sam. The film is a chilling depiction of a mother's grief and how it lingers long after the death of a loved one, but the Babadook itself does not possess a same-sex partner (or even have a clear gender) or go through the traditional motions of an LGBT plot, such as coming out or exploring gender expression. Put simply, the Babadook is a monster from a children's book that comes to life—not exactly the next Glee character.
In this stage of the Babadook-as-gay-icon life span, it could easily be written off as just another example of Tumblr kids making a quip in a text post—something that looks like a serious plea to treat the Babadook as gay—and building upon it as a community until it becomes something of an inside joke. It's a funny idea, a horror monster being praised as the next Lady Gaga, and because of how difficult it is to detect sarcasm on internet text posts, it's impossible to tell who earnestly believes the Babadook is a great gay icon and who's just trolling.
But in December, another Tumblr user noted that The Babadook had been brought to Netflix and categorized in the "LGBT Movies" section of the streaming site. From then on, the meme expanded, and by the time June rolled around, the Babadook had taken on a whole new life on Twitter.
Unfortunately, with the way internet memes work, the Babadook's days as a queer icon are numbered. As this helpful chart notes, memes tend to die off once they're picked up by larger and larger audiences; the idea is that such audiences won't be able to sustain the quirky or sardonic humor carried by the original meme and will keep making iterations of it without fully getting the punchline. It's almost as if there's a meme bubble that's sure to burst if it gets too large. (Reddit's /r/MemeEconomy is based around this idea.) The Babadook-as-queer-icon meme certainly has followed this trajectory. It's moved from the more niche ecosystem of Tumblr onto Twitter and Instagram; other publications spotted the trend; and once even larger entities pick up on it (for instance, a corporate sponsor in a Pride parade using it as the company mascot), there's no telling how long the joke will last.
But does the Babadook have what it takes to transcend its own joke and become an actual symbol of LGBT rights? While this adorable gay icon from hell is still around, let's see if we can expand on why it has grown so popular.
Its Appearance
OK, so besides the obvious Photoshop in this photo, what makes the Babadook's appearance so in line with queer aesthetics? There's clearly something about the creature's long cape, top hat and jazz hands that come across as campy theatricality. And, it turns out, it's incredibly easy to put the Babadook in drag.
As Michael Varrati, the curator of Comic-Con's queer horror panel notes for Mic, notes, the Babadook's original outfit bears resemblance to Diane Keaton's androgynous style in Annie Hall, and to Freddy Krueger's claws-and-fedora pairing. The latter, known for his outlandish persona and memorable one-liners in A Nightmare on Elm Street, could be seen as an influence on the Babadook's drag mannerisms.
As Susan Sontag writes in her 1964 essay "Notes on Camp," "Camp sees everything in quotation marks. It's not a lamp, but a 'lamp'; not a woman, but a 'woman.' To perceive Camp in objects and persons is to understand Being-as-Playing-a-Role. It is the farthest extension, in sensibility, of the metaphor of life as theater." By this definition, the Babadook's own mimicking of a dandy in a top hat when in actuality the Babadook is a horrific personification of a woman's grief over her dead husband, fits into the camp concept quite nicely. Additionally, the creature's own existence as an over-the-top manifestation of emotions falls in line with the whole point of drag performances: to mock expressions of gender and gender norms, particularly "overemotional" femininity, by exaggerating them to the point of ridiculousness.
The Film's Themes
Tim Teeman has written a long explainer for The Daily Beast as to why the film The Babadook has a gay subtext. For one thing, the monster introduces itself through a gothic pop-up children's book—a very dramatic way of unveiling itself to Amelia and Sam. The rest of the film, according to Teeman, is an allegory for how normative heterosexual culture reacts to a confrontation with anormal queer culture, particularly one that is unabashedly campy and theatrical. When Amelia manages to "tame" the Babadook rather than kill it, it's a happy ending, not just for her ability to deal with her grief but for her ultimate acceptance of the Babadook's identity.
"At the end of the film Amelia and Samuel and the Babadook all end up living together in a new queer community of mutually accepting perversity," writes Teeman. "They turn out to be as weird and damaged, as misunderstood and marginalized, as each other."
A Scary Time for LGBT Rights
The current political climate of the U.S. is causing concern and a rise in activism among many LGBT people, particularly transgender communities and LGBT people of color. In addition to President Trump not recognizing June as Pride Month (although others in his administration did), the Trump White House rescinded a ruling that would have allowed transgender students to use the bathroom corresponding to their identity. Compare this to June 2015, when same-sex marriage had officially been legalized in the U.S. and there was a much more celebratory atmosphere.
Could the embrace of a long-fingered night terror in a cape correspond to this anxiety over LGBT rights? It's unclear, but the ability of camp to turn something scary into something comical—exposing artifice through exaggeration—is a fitting symbol for a time when our president is being routinely mocked everywhere from Saturday Night Live to social media through cartoonish representation.
The Irony
Cultural representation of LGBT people still has a way to go. The "exclusively gay moment" in this year's Beauty and the Beast remake received backlash for being built up as far more important than it was. And LGBT representation in Hollywood has statistically gotten worse since 2015, according to GLAAD's Studio Responsibility Index.
It's no wonder, then, that the internet is quick to pounce on anything that might even remotely resemble queer representation. It's part of why "slash fiction" is so popular on Tumblr, and why the 2015 period piece Carol still has a sizable internet following two years later.
So it stands to reason that the Babadook—again, building off the idea of camp—is its own sort of parody of how quickly the web picks up new role models for the LGBT community, or how it allows outlandish fan theories for popular TV shows and movies (i.e., "the Babadook is gay") to spread and become part of the official canon. We know the notion of the Babadook being queer is ridiculous, and that's what makes the meme so fun. At the same time, it's entirely possible to take the notion of the creature as a gay icon seriously.
There's no telling how long the Babadook will be around in its current rainbow-feather-boa'd incarnation. It may eventually die out, but likely not before fading and reappearing on some company's parade float, declawed and with a flower in its top hat. Or it may just die out altogether. Whatever happens to the monster, it can no longer be confined to a suburban basement in Australia. It belongs to the internet now.