Baby Alpaca Learns to Walk Again Thanks to Prosthetic Leg in Adorable Clip
An alpaca has been given a second chance at life, thanks to a custom prosthetic leg.
Living at Blowing Oaks Ranch in Batesville, Arkansas, the small alpaca named Cinco was born on May 5—the date of Mexican celebration Cinco de Mayo, which is how he got his name.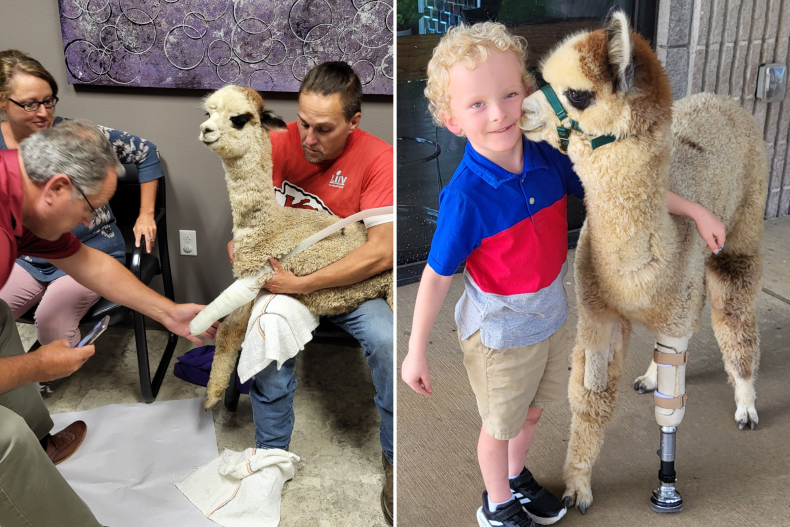 According to the British Alpaca Society, "Alpacas originate from the Altiplano (Spanish for high plain) in west-central South America. Spanning the borders of Peru, Chile and Bolivia, this area of the Andes averages nearly 4,000 metres (more than 2 miles) above sea level." They are closely related to the llama.
At just six weeks old, Cinco suffered a broken leg. Ranch owner Caren Barnett told Newsweek: "Unlike a dog or cat that injures its leg and then holds it up to protect it, many animals continue to run or walk on the injured leg.
"We suspect that Cinco injured it playing with some of the other young alpacas, then kept using it until the fracture became so damaged that it couldn't be repaired. It was open and dirty, and the bones were shattered."
After consulting their veterinarian, it was decided that, due to the chances of Cinco getting an infection from the fracture, it would be safer to remove the leg.
While the veterinary surgeon first wanted to remove the leg at the shoulder, Barnett and her husband, John, convinced the team to keep the upper leg so that Cinco had a chance of a fitted prosthesis.
"Alpacas carry two-thirds of their weight on their front end, and we didn't want his right leg to get overused or injured," said Barnett.
Luckily for Cinco, Barnett is a physical therapist and the director of outpatient rehab for White River Health in Batesville. She went next door to JP&O Prosthetic and Orthotic Lab and asked the certified prosthetist orthotist Paul if it was possible to make a prosthetic for Cinco.
"I don't think he knew what an alpaca was at that time, but he agreed he would see what he could do," Barnett said: "He had previously made a prosthetic for a dog and a horse but otherwise did not have much experience working with animals."
After taking Cinco for several fittings, on September 14, he finally got the finished product.
"Paul used donated parts for the leg except for the socket, which had to be made custom from a cast of Cinco's stump," said Barnett: "It has an adjustable-height pylon to adapt to his growing height."
Now firmly back on his feet, Cinco is enjoying playing in the fields at the ranch, which is home to 15 other alpacas.
As he is still growing, it is likely that Cinco will need one or two more replacement prosthetic legs in the future, due to growth and general wear and tear.
"He is the best baby alpaca we have ever had in our herd, so we hope to eventually use him as a herd sire," said Barnett.
A herd sire refers to a male alpaca with particularly desirable genetics for breeding—meaning that Cinco could become father to many other baby alpacas in the future.
"We hope to take him to a couple of recognized alpaca shows, but we will not be able to show him in halter classes due to his injury," said Barnett. "He will be judged only on his fiber qualities and not on confirmation.
"Most importantly, we will do everything to make Cinco as comfortable and happy as we can and help him live out as normal a life as is possible."
Barnett admits Cinco does have a special place in her heart: "I have to admit to spoiling him with extra treats and kisses. He is a super-sweet alpaca and our farm favorite for sure."