New births are special for everyone involved, but one particular birth in Weymouth, Massachusetts, involved a midwife helping deliver a baby whose parents she helped deliver more than 20 years ago.
NBC affiliate station WLWT5 reported that Katherine Powers and Chris Sylvester worked with Nannette Landry, a certified nurse-midwife (CNM) with South Shore Health, which is partnered with Crown OB/GYN. Landry also helped deliver Powers and Sylvester when they were born.
"I was there when they were born," she told the outlet. "I cared for them in their pregnancy, so it's like the circle of life. It's just so special."
Not only did Landry help deliver both Powers and Sylvester—she told Newsweek that her friendship with Powers' mother dates back to their childhood. Powers is the same age as one of Landry's own children.
This is the first time in Landry's career that she helped deliver a child to parents she also helped deliver.
"Katherine and Chris wanted to make midwifery care a part of their pregnancy after hearing about the excellent care their mothers had received from a midwife," a Facebook post published to South Shore Hospital's page read.
Powers wrote to Newsweek that she heard about Nannette her entire life.
"When I found out I was pregnant I found out where she worked and switched my OBGYN practice to Crown OBGYN so I could go to her," she said.
In late February, baby Finn was born to Powers and Sylvester.
"My labor was very long and difficult but the actual delivery was short and extremely euphoric," Powers said. "Because my laboring experience ended with such excitement, I look back on it not remembering the long hours of pain I experienced but I remember seeing my boy for the first time."
Landry said while the birthing process is generally the same, each labor is different and every birth is unique and beautiful in its own way.
For this particular birth, Landry said it was a special day.
"Being with them in labor was natural," she said. "We knew each other, so our communication was seamless. I was so thrilled and blessed to be there."
Powers said she felt safe while under Nannette's care, despite any fears she initially had during her labor.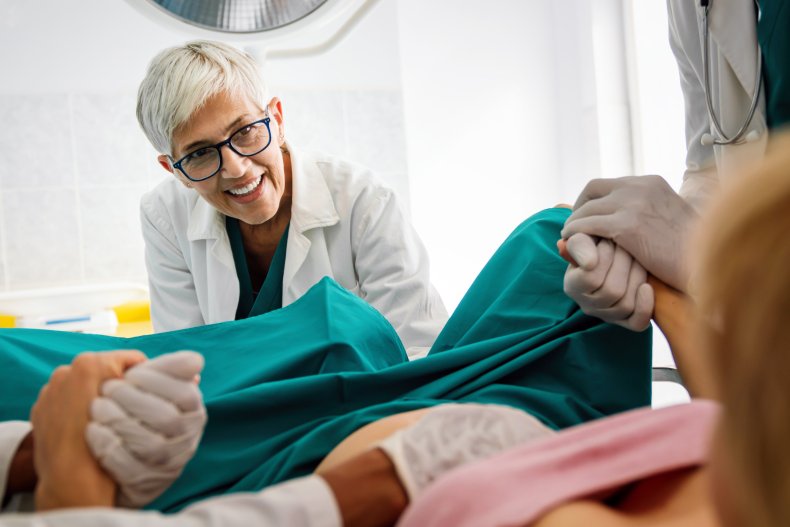 According to the American College of Nurse-Midwives, becoming a CNM or a certified midwife CN both require the same level of education.
As of 2010, a graduate degree is needed to begin a career in midwifery. In addition to having a graduate degree, the organization reported that 20 percent of CNMs and CNs possess a doctoral degree.
"While midwives are well-known for attending births, 76 percent of CNMs/CMs identify reproductive care and 49 percent identify primary care as responsibilities in their full-time positions," stated a piece issued by the American College of Nurse-Midwives.
Some of these responsibilities outlined by the group include attending reproductive health visits, participating in annual exams and providing parent and patient education.
Since giving birth, Katherine said the family is tired, but they've started to get into a routine and are doing well.
Landry pointed to a motto used by Crown OB/GYN, which is "Relationships that last a lifetime."
"I lived it," she said. "That was huge for me. I just feel honored and blessed to be there. It was a special couple and family. I'll remember this event for the rest of my life."