Baby Formula Shortage, Partially Prompted by Recall, Leads Stores to Ration
Some stores across the U.S. have begun to ration baby formula, less than two months after a recall that was caused by infant illnesses and deaths contributed to shortages in some areas of the country.
An estimated 30 percent of popular formula brands may be sold out across the country, according to a Datasembly analysis of over 11,000 stores reported by USA Today.
USA Today also reported that Walgreens is limiting shoppers to three infant and toddler formula products per transaction "to help improve inventory," a company spokesperson told the newspaper.
The Food and Drug Administration (FDA) indicated that at least two deaths may have been linked to infants consuming bacteria in formula products earlier this year, Newsweek previously reported. The infections and deaths led Abbott Nutrition to recall batches of several different products.
The products were recalled after FDA investigations revealed that the Michigan facility where the batches were produced had failed to follow sanitary regulations, with some documents showing complaints dating back several years, which prompted questions about whether the FDA acted quickly enough.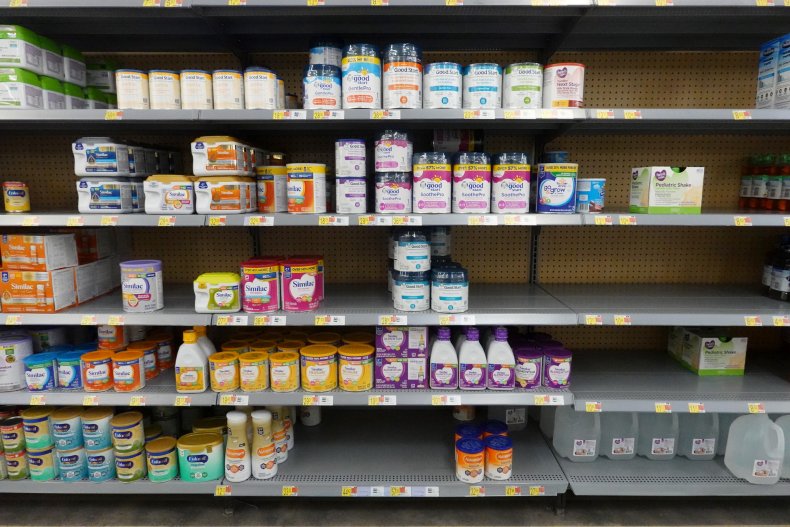 In January, The Wall Street Journal reported prior to the recalls that formula shortages have varied based on retailer and location, but that some of the 10 largest retailers in the U.S. had at least 20 percent of their formula products out of stock during the week that ended January 2.
Datasembly found formula supplies to be "relatively stable" during the first seven months of 2021, as the out-of-stock supply was around 2 to 8 percent, USA Today reported. However, it worsened later in the year and eventually reached 23 percent by the end of January 2022.
Several states had out-of-stock rates above 40 percent as of the middle of last month, including Minnesota, Connecticut, Hawaii, Iowa, Louisiana, Maryland, North Dakota, Rhode Island, South Dakota and Texas, according to USA Today.
Experts have said that many standard, cow milk- or soy-based formulas are acceptable to switch between without consulting a doctor if a preferred brand is out of stock, but parents should consult a doctor before changing specialized formulas like hypoallergenic formulas, according to The New York Times' Wirecutter blog.
Experts also recommend against making your own formula, diluting it if you're running low or buying from unverified sources like other people online instead of in a store, Wirecutter added.
Only about 25 percent of babies are exclusively breastfed through six months, according to the Centers for Disease Control and Prevention, which means about three-quarters of children receive at least some formula during their first six months.
In August 2021, the FDA announced that some baby formula products manufactured by Able Groupe were being recalled for not meeting the agency's iron standards, among other requirements.
Update 4/11/22, 3:10 p.m. ET: This story has been updated with additional information.