A baby formula plant recall resulting from infant illnesses and deaths may have been caught earlier, according to Food and Drug Administration (FDA) records.
On February 17 of this year, Abbott initiated a voluntary recall of its powder baby formulas, for brands including Similac, Alimentum and EleCare, that were manufactured at one of the company's manufacturing facilities in Sturgis, Michigan.
The recall was due to the presence of Cronobacter sakazakii—a rare bacteria the Centers for Disease and Control and Prevention (CDC) says has been found in powdered infant formula, skimmed milk powder, herbal teas and starches, and is "lethal for infants and can be serious among people with immunocompromising conditions and the elderly."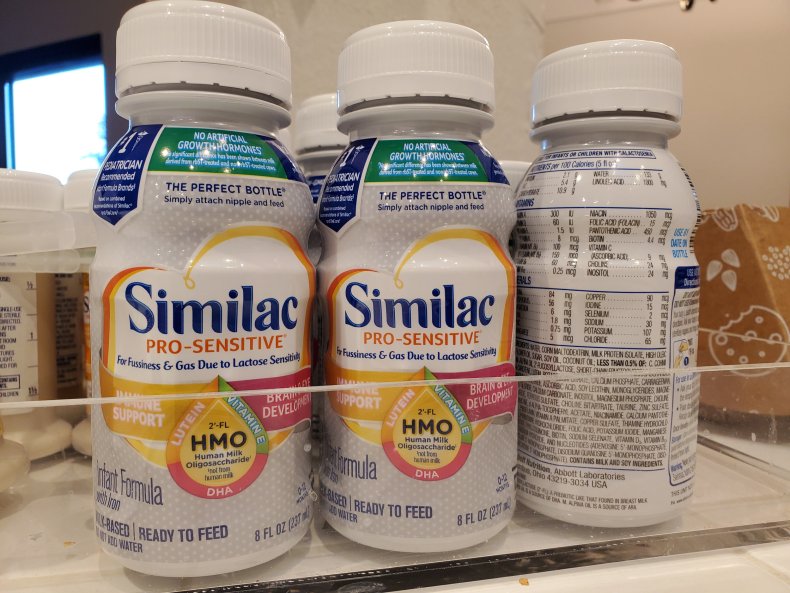 Abbott initially received four bacteria-related complaints from individuals whose children had consumed powder manufactured in the facility, in addition to potential claims of salmonella. The FDA reported that five infants, all of whom had consumed the recalled formula, contracted either Cronobacter or salmonella—potentially leading to the deaths of at least two, according to CBS News.
Abbott said quality testing for Cronobacter and other pathogens in their facilities is routine. Cronobacter was found in the plant in a non-product area, though there was "no evidence" of salmonella.
There have been no Abbott liquid formulas, powder formulas or nutrition products from other facilities included in this recall, the company said. Abbott has recalled the powder formula manufactured in the Sturgis facility with an expiration date of April 1, 2022, or later.
Abbott shared test results with the FDA regarding the bacteria during prior inspections, according to Consumer Reports. Records released following Freedom of Information Act (FOIA) requests revealed that the FDA was privy to potential safety issues at Abbott's plants in recent years but did not act.
One record dated September 2019 mentioned that a "representative sample of a production aggregate of a powdered baby formula" was not tested at the final product stage prior to distribution.
Another report two years later alluded to not maintaining clean and sanitary conditions. An inspection period between January 31 and March 18, 2022, mentioned the FDA confirmed samples of Cronobacter "in medium and high care areas of powdered infant formula production."
An FDA spokesperson told Newsweek "this is an ongoing investigation with many moving parts" and that once the immediate public health risk is minimized, the FDA will conduct a programmatic review to ensure the maximum effectiveness of agency programs and policies related to infant formula and special medical food complaints, illnesses and recalls.
It advises parents and caregivers to avoid the aforementioned powdered infant formula products, as well as to never dilute the formula and to avoid purchasing it online.
"The FDA recognizes there have been questions about the timeline.... Our top priority is continuing to ensure that any recalled product produced at this facility is taken off the market," the spokesperson said. "The FDA is continuing to investigate and will continue to update our consumer alert should additional consumer safety information become available.
"Once the immediate risk to the public has been addressed, we will conduct a review and, as outlined in our recently released Foodborne Outbreak Response Improvement Plan, we will build in performance measures across the FDA's foods program to better evaluate the timeliness and effectiveness of our investigation activities – in addition to reviewing other performance measures as outlined in the plan."
Abbott spokesperson Jonathan Hamilton wrote to Newsweek that the company is taking the situation "very seriously"and working closely with the FDA to implement corrective actions."
"Abbott is committed to upholding the highest standards for manufacturing of all nutrition products," Hamilton said. "We have already begun implementing corrective actions and enhancements at the facility, leveraging new technology and strengthening our processes, to give parents and customers renewed confidence in the quality of manufacturing at our Sturgis plant when we restart operations there."
He added that no Cronobacter sakazakii or salmonella was found in any of Abbott's testing of products distributed to consumers. Also, "the unique genetic makeup of the Cronobacter sakazakii microbes found in non-product contact areas at the Sturgis facility" did not match microbes from reported cases.
On February 28 the FDA announced that Similac PM 60/40 was also being recalled from the same Sturgis plant, mirroring the same circumstances of the February 17 recall. That recall came as a result of an infant death, the FDA said.
"The action comes after learning of the death of an infant who tested positive for Cronobacter sakazakii and who we were informed had consumed Similac PM 60/40 from this lot," the FDA said. "This case is under investigation, and at this time the cause of the infant's Cronobacter sakazakii infection has not been determined. We want to extend our heartfelt sympathies to the family."
The FDA added that no distributed product had tested positive for the presence of Cronobacter sakazakii.
Politicians have also inquired on whether the FDA didn't act fast enough when it came to baby illnesses and deaths.
Rosa DeLauro, a congresswoman from Connecticut, wrote a letter March 3 to U.S. Inspector General Christi Grimm seeking assistance "in investigating whether the FDA took prompt, appropriate and effective action leading up to the recent recall."
"Based on reports, I am concerned the agency acted too slowly in pulling potentially dangerous infant formula off store shelves, which may have resulted in additional illnesses and deaths," DeLauro wrote.
Patty Murray and Bob Casey, Democratic senators from Washington state and Pennsylvania respectively, have instead pointed the finger at Abbott.
"This FDA report has revealed practices at an Abbott facility that are deeply troubling—and makes it all the more urgent that we get answers from Abbott, like I've been pushing for," said Murray, chair of the Senate Committee on Health, Education, Labor and Pensions, on March 22. "The families of the children harmed deserve accountability from Abbott, and parents and caregivers across the country need the peace of mind that they can feed their children without fearing contaminated formula will put their loved ones in danger."
Newsweek reached out to Abbott for comment.