Baby Formula Shortages: What To Do if You Run Out
A shortage of baby formula is currently affecting the United States. But what should parents do if they run out and can't find any more of their preferred product?
The shortage has been persisting for the past two years, but it has worsened over the last few weeks, Dr. Steven Abrams, a professor of pediatrics at Dell Medical School at the University of Texas at Austin, told Newsweek, describing the issues as "very severe."
The shortage is being caused by supply chain problems and the recall of several contaminated baby formula products.
The U.S. Food and Drug Administration (FDA) has announced that it is taking steps to improve the supply of infant formula products. But if you are struggling to find baby formula and are urgently in need, here are some tips from experts about what you can do.
According to Abrams, for babies who take routine formulas—the vast majority—there is often still "the opportunity to find some alternatives, although it is challenging and becoming more so," depending on your location.
"We encourage families to be flexible in their formula choices and hunt around as best they can," Abrams said.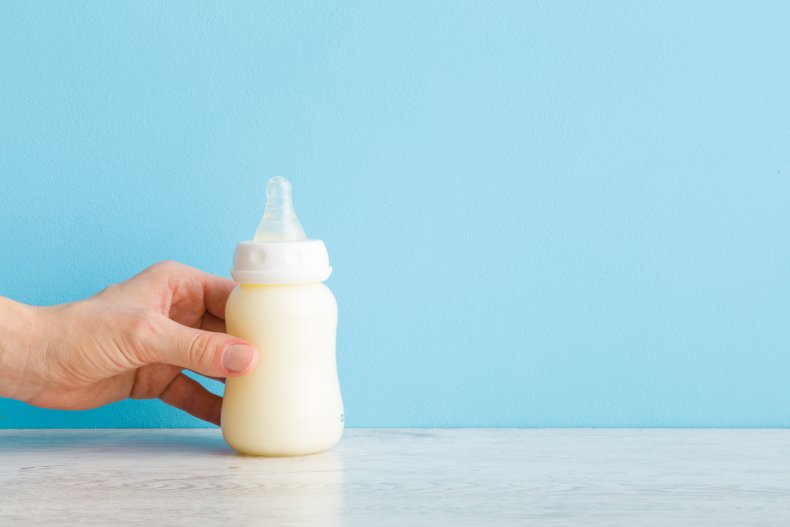 For most babies, it is OK to switch to any available formula, unless your baby is on a specific extensively hydrolyzed or amino acid-based formula.
Dr. Christopher Duggan, director of the Center for Nutrition at Boston Children's Hospital, told Newsweek: "Online stores, local charities, doctor's offices and local WIC (Women, Infants, and Children) programs may be a source of infant formulas."
If parents are in need or have any concerns, they should talk to a local pediatrician, Dr. Katie Lockwood, a primary care pediatrician at Children's Hospital of Philadelphia (CHOP,) told Newsweek.
"Some pediatric offices may have samples of formula or know local resources for finding formula, including tips from other families," she said. "They may also be able to make recommendations about switching formula to something similar that is easier to find. Sometimes smaller stores, such as family-owned pharmacies or grocers, have formula in stock when larger retail stores are out."
Is it OK to water down baby formula to stretch out supplies?
According to Lockwood, it is "very unsafe" to water down formula in an attempt to make the most out of limited supplies.
"Formulas are made with a precise balance of ingredients, including electrolytes and minerals, which can be dangerous to babies when altered. We see cases of infants with low sodium and iron or excess water that can be dangerous to infants' heart, kidneys, brain, and other organs," she said.
Can people make their own formula?
All of the experts Newsweek spoke to also urged parents not to try and make their own formulas.
"Formulas are FDA-regulated to be made specifically for a developing infant's needs and that is very hard to recreate at home," Lockwood said. "Families should not make their own formula because this increases risk for contamination and improper nutrition for their infant. Homemade formulas often do not contain the correct types of nutrients that infants need for their developing organs and growing bones."
Is cow's milk a safe alternative to baby formula? Are there any other potential alternatives?
According to Lockwood, cow's milk is not recommended for infants under the age of one year.
"However, if your infant is nearly one, your pediatrician may suggest using cow's milk during a formula shortage. But I would discuss this with your pediatrician before using," she said.
"A toddler's formula is also not typically recommended for children under age one, but may be used for infants near one year in a formula shortage. Again, this should only be done in consultation with your pediatrician."
Abrams, meanwhile, said infants over the age of six months can receive whole cow's milk for a short period of time if all other options are unavailable, although iron supplementation may be needed in these cases. You can talk to a pediatrician about this.
Currently, the the American Academy of Pediatrics is advising people to buy no more than a 10-day to 2-week supply of formula in an attempt to help ease the shortage.