Baby Formula Shortage Prompts Doctors' Warning of What Can, Can't Be Mixed
A baby formula shortage across the country has doctors cautioning parents about what can and can't be mixed when it comes to getting their supply to last longer.
Powdered infant formula was recently recalled from an Abbott Nutrition facility in Michigan linked to infant hospitalizations, including two deaths, due to a bacterial infection, according to the Food and Drug Administration. The recall has further strained supply chain delays, and some parents have turned to mixing different formulas or diluting their supply in hopes of making it last until production catches up.
But pediatricians say not all of these options are safe. One thing doctors recommend against is adding additional water to formula. This can prevent babies from getting enough nutrients needed for growth.
"The big thing we want folks to do is to make sure they don't try to skimp or do things on their own by diluting out the formula to try and make it last longer," Community Health Network's Dr. John Kunzer told Indianapolis TV station WTHR.
Wendy Cruse, a clinical nutrition manager at Indianapolis' Riley Hospital for Children, said, "They won't get enough carbohydrates for their brain or protein for growth or any of the other vitamins and minerals," according to WTHR. "You definitely don't want to mix anything and have the wrong ratio."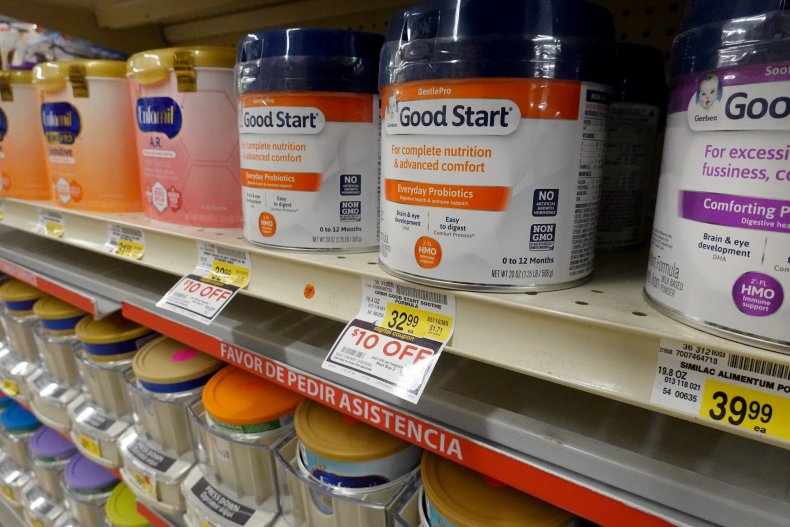 Kunzer also advised parents with infants not to substitute milk for formula because introducing children to whole milk too early could make them more likely to develop nutritional deficiencies.
"We don't want parents trying to say, 'Oh, I'll just now give my 3-month-old cold milk. Really, we want to hold off on whole milk until kids are a year [old]. If you give whole milk earlier to kids less than a year, that too can cause some problems," he said.
Parents should also avoid making their own formulas at home, as those could also lack the required nutrients required by federal regulators.
One thing parents can do if they're running low on their preferred formula is to begin mixing it with another brand. This could be especially helpful for parents who may have had difficulties finding a formula their babies can tolerate.
Slowly introducing other brands could make babies more flexible when supplies are low.
"I really do recommend parents do that from the beginning because of this issue," Dr. Payal Adhikari, a Chicago-based pediatrician, told NewsNation. "If you run out of formula, if you're traveling, you can't get that same formula, you want your babies to be flexible and not be particularly stuck to a specific brand of formula."
He added, "The younger they are, the easier it is to just introduce multiple types of formula to make them flexible."