Baby Sloth at London Zoo Gets to Grips With Teddy Mom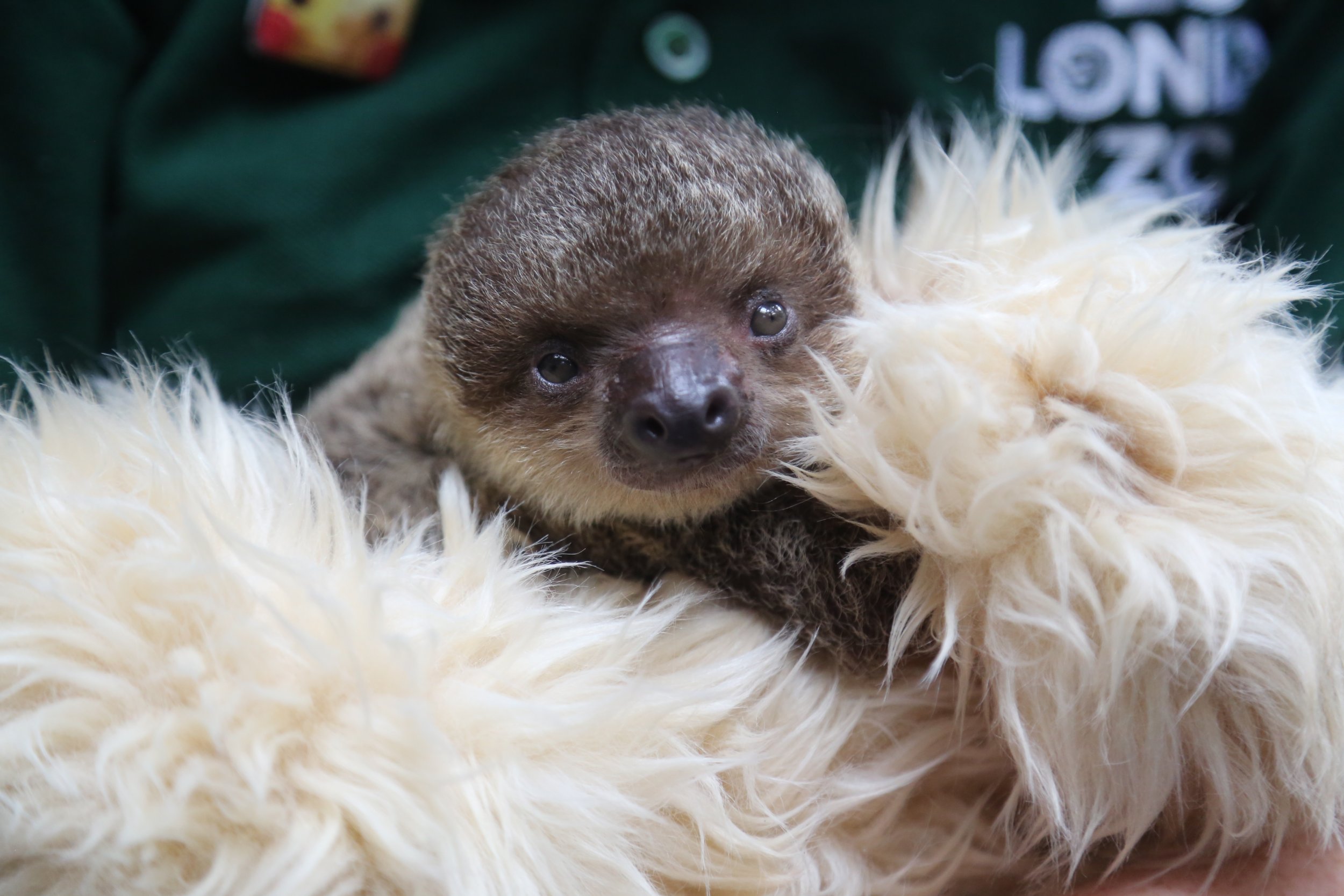 After much of the world has spent the past few days mourning the death of Cecil the lion, a famous beast who delighted visitors to Zimbabwe's Hwange National Park, some good news has finally arrived from the animal kingdom—or at least from London Zoo.
The zoo released a video Friday of its latest arrival, Edward, a seven-week-old, two-toed sloth, getting to grips with his new mother. Edward's mum Marilyn was unable to take care of him after she stopped producing milk, so the zoo has been hand-rearing Edward for the past couple of weeks, Kelly-Anne Kelleher, a sloth keeper at London Zoo, explains in the video.
To help with the feeding, Kelleher brought in a surrogate mother for Edward: stuffed sloth teddy bears from the zoo's gift shop. From the looks of the video, Edward is already quite attached. Kelleher will hang the surrogate mother six inches from the ground using carabiners to replicate a sloth mother's natural position, allowing Edward to clamber over it and strengthen his muscles.
"I want the baby to be using all of the muscles he would be using if he was on his mother," said Kelleher.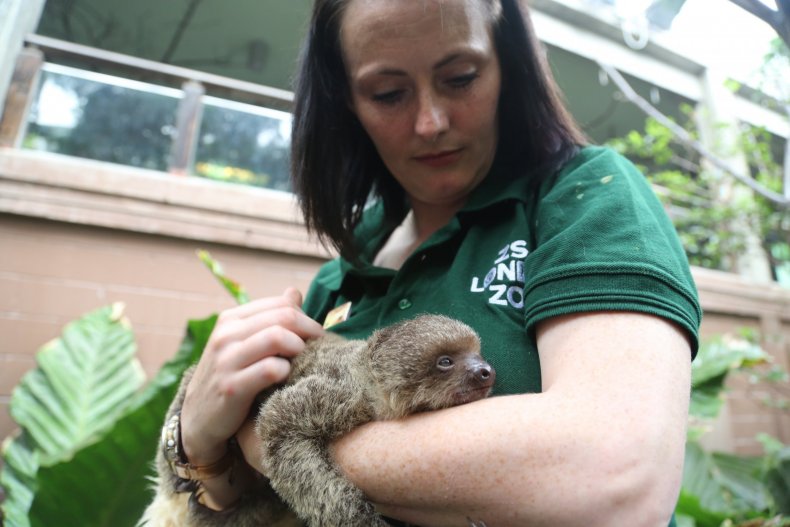 A video of Edward posted by the Zoological Society London was viewed more than 7,500 times on YouTube by the end of Friday and photos of the miniature mammal were widely shared on Facebook and Twitter. Edward's sluggish and adorable movements are also perfect for Vine, where a six-second clip of him drinking milk and hugging his "mum" has garnered more than 13,260 loops.
Despite being described as "very active," a sleepy Edward often has to be woken for his feeds, Kelleher said. He responds by yawning and covering his eyes with his claws, behavior many humans will be familiar with. When he's able to start feeding himself, Edward will be reunited with his mother.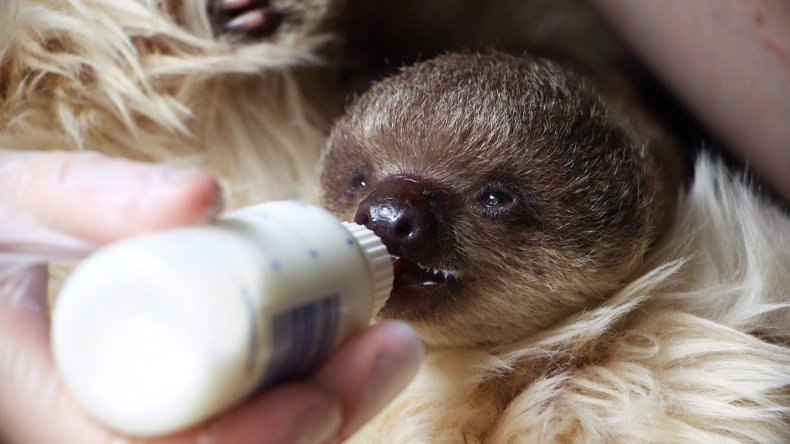 Sloths are nocturnal mammals native to South America. They are the slowest mammals in the world—so slow, in fact, that they only use the sloth bathroom once a week. They spend most of their time in treetops and opt for a crawling motion instead of walking. Two-toed sloths are slightly bigger than three-toed sloths, which cannot survive in captivity, according to National Geographic. The pygmy three-toed sloth is an endangered species and the maned sloth, also a three-toed species, is a vulnerable species, according to the World Wildlife Fund (WWF).
Edward is one of three sloths at London Zoo, along with mum Marilyn and dad Leander.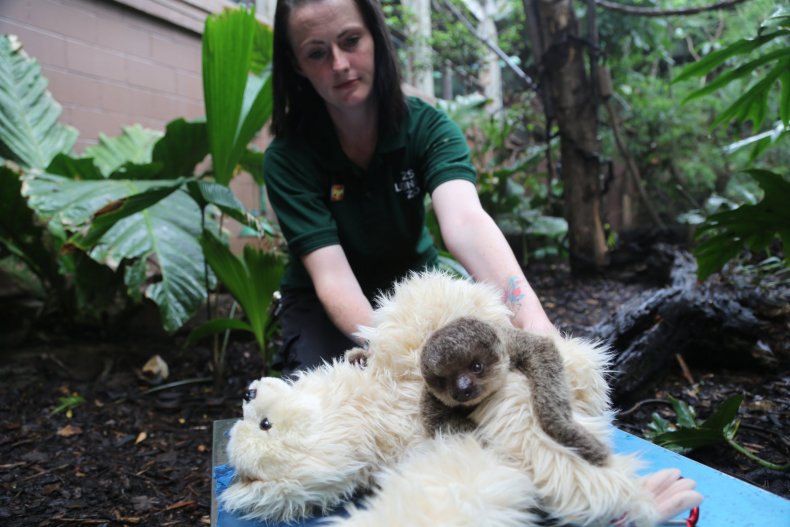 The zoo has been feeding Edward vitamin-fortified goat's milk every three hours throughout the day and night to build his strength. Edward lets everyone know he's hungry by making a "squeak sneeze" noise, described by Kelleher as "strange but very loud."
Edward is named after Edward Scissorhands, Johnny Depp's character in the 1990 film of the same name, due to his "impressive claws," the zoo said on its website. Edward's claws will eventually grow to four inches in length, handy for clinging to and climbing on branches.