'Bachelor' Fans Furious at Chris Harrison Over Handling Allegations of Racism, Start Petition to Remove Host
Bachelor host Chris Harrison has drawn the ire of many fans, and now there's a thousands-strong petition to replace him as the steward of the franchise.
Harrison is being widely criticized online for remarks he made about current Bachelor contestant Rachael Kirkconnell allegedly attending a "plantation-themed" party in 2018. In a recent Extra interview with former Bachelorette Rachel Lindsay (who, of course, was the first Black Bachelorette in the reality-TV juggernaut's history), Harrison argued for "a little understanding, a little compassion" on Kirkconnell's behalf, and questioned whether attending such a party would've been considered problematic in 2018. In light of that TV appearance, some viewers think it's time for him to step away from the dating franchise for good.
While talking to Lindsay on Tuesday's Extra segment, Harrison said he wasn't trying to defend Kirkconnell, but his comments and tone have still upset swaths of Bachelor Nation. You can read a small selection of their conversation below:
Harrison: "I saw a picture of [Kirkconnell] at a sorority party five years ago and that's it. Like, boom. Like, 'OK, this girl is in this book now and she's now in this group,' and I'm like, 'Really?'"

Lindsay: "Well, the picture was from 2018 at an 'Old South' antebellum party... that's not a good look."

Harrison: "Well, Rachel, is it a good look in 2018? Or, is it not a good look in 2021? Because there's a big difference."

Lindsay: "It's not a good look ever, because she's celebrating the Old South. If I went to that party, what would I represent at that party?"

Harrison: "I don't disagree with you. You're 100 percent right in 2021. That was not the case in 2018. And again, I'm not defending Rachael. I just know that, I don't know, 50 million people did that in 2018? That was a type of party that a lot of people went to. And again, I'm not defending it. I didn't go to it."
A recent Change.org petition is calling for ABC to remove Harrison from his position as Bachelor franchise host, and it's got nearly 20,000 signatures. The petition features the above video and lists several reasons why Harrison's comments on Extra are troubling to some people. It also makes reference to other remarks that Harrison has allegedly made in the past, though Newsweek couldn't immediately verify the accuracy of those supposed quotes.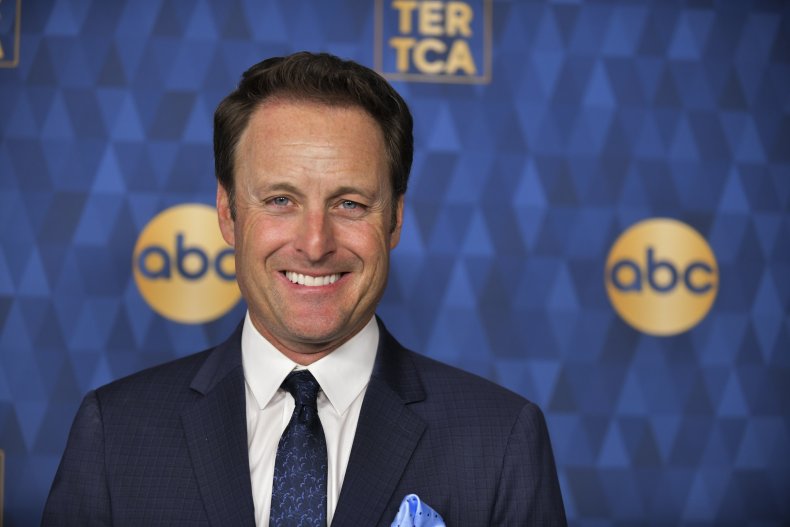 "Chris went in to equate people labeling others as racist to be just as bad as those who commit racist acts," the petition argues, in reference to the Extra interview. "He repeatedly victimizes Rachael K. and calls her a 'poor girl' who just didn't know better."
Harrison responded to the backlash on Wednesday, with an apology shared on Instagram. "I will always own a mistake when I make one, so I am here to extend a sincere apology," he wrote. "I have this incredible platform to speak about love, and yesterday I took a stance on topics about which I should have been better informed. While I do not speak for Rachael Kirkconnell, my intentions were simply to ask for grace in offering her an opportunity to speak on her own behalf."
The statement continues: "What I now realize I have done is cause harm by wrongly speaking in a manner that perpetuates racism, and for that I am so deeply sorry. I also apologize to my friend Rachel Lindsay for not listening to her better on a topic she has a first-hand understanding of, and humbly thank the members of Bachelor Nation who have reached out to me to hold me accountable. I promise to do better."
Newsweek reached out to ABC for comment on the Change.org petition, but did not hear back in time for publication.
Despite his apologetic statement, some members of Bachelor Nation are ready to see the host dismissed. A conversation on the r/TheBachelor subreddit shows that even some of the show's most loyal fans—including the forum's moderators—want Harrison gone. Along with sharing the Change.org petition, the mods issued a statement of their own.
"The moderators of this sub are disgusted by the recent interview between Rachel Lindsay and Chris Harrison," the post begins. "Using a black woman's platform to shield Rachael [Kirkconnell] and advocate that racism should be given 'grace' is beyond words. It is past time this franchise take REAL ACTION to denounce racism and white supremacy and this sub provides a platform to call for change."
Many commenters on Reddit agreed. "He's had SO many chances over the years to 'do better' and remains as frustrating and ignorant as ever," one person wrote. "Nothing ever changes. That interview was so f**king bad. His statement just seems like too little too late."
Others pointed to ABC's record of replacing hosts. "Want to say that if ABC had no problem replacing Tom Bergeron on DWTS after 15 years when he did nothing wrong just because they wanted to change up the show," someone shared. "Nothing is stopping ABC from firing Chris Harrison, he's as replaceable as anyone else."
Bachelor Nation has been critical of Kirkconnell since the start of Matt James' Bachelor season, after photos surfaced of her apparently dressed in culturally insensitive costumes. Kirkconnell was also called out on TikTok in January, by someone who alleged that the Bachelor contestant made fun of them in high school for dating Black men. Now, she's getting close to James, the first Black bachelor.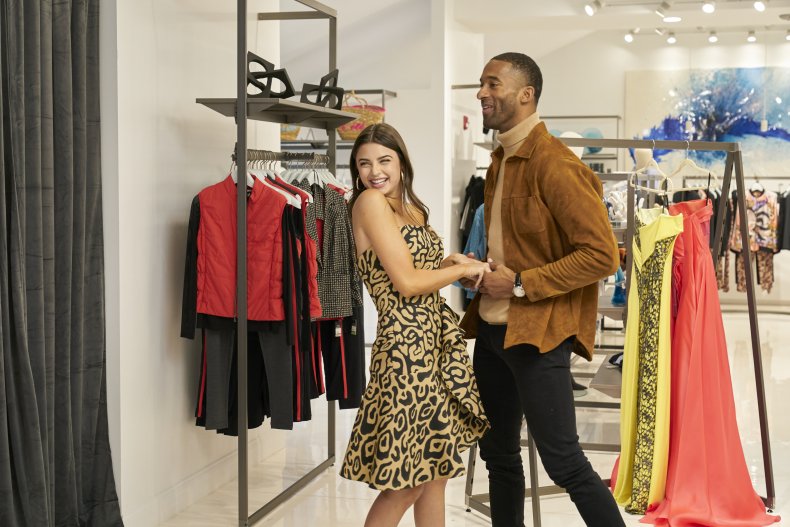 Kirkconnell has yet to speak out about those allegations herself, but she's still a contestant on The Bachelor. If you want to know how long she'll last on the series, you can read the spoilers here.
Updated 2/11/2021, 1:35 p.m. ET: This post has been updated to include additional information about people on Reddit calling for Harrison's dismissal.