'The Bachelorette' Is Back This July: Everything We Know About This Season
After a dramatic end to Clayton's season of The Bachelor, two women were left heartbroken. In an unexpected turn of events, these two women were to become the first duo in Bachelorette history.
Rachel Recchia and Gabby Windey's season of The Bachelorette has finally been given a return date of July 11—and Bachelor In Paradise makes its return later on in the summer.
Gabby is a 30-year-old ICU nurse from Denver, Colorado and Rachel is a pilot from Clermont, Florida and she is 25 years old.
In Iceland, Clayton came clean to Gabby and Rachel that he was in love with both of them. Plenty of discussions later, both women decided to stay. After taking Gabby and Rachel to meet his parents, Clayton knew that his heart was still with Susie—but only after she broke things off with him when Susie found out that Clayton spent the night in the fantasy suite with the other two contestants.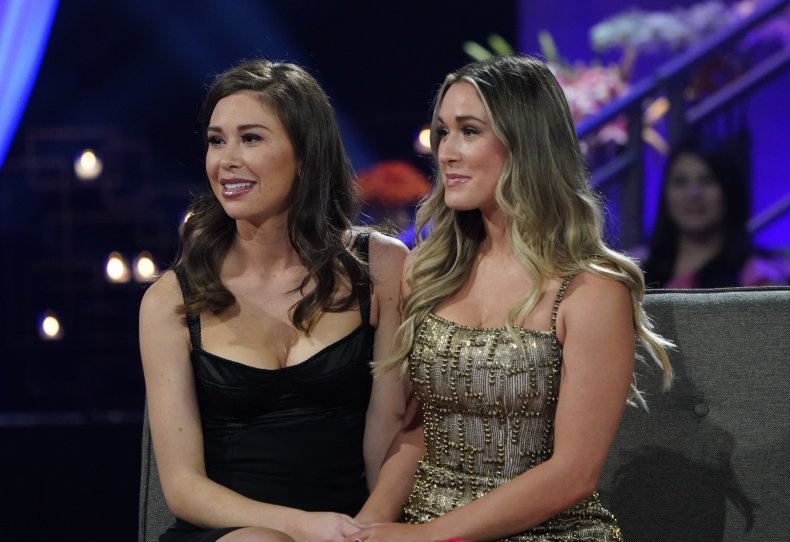 Here's what we know about Season 19 of The Bachelorette so far.
On the season finale of The Bachelor, host Jesse Palmer was thrilled to announce that Gabby and Rachel will share the lead. Palmer will also host the new season.
Palmer said that it was a tough decision to choose the next Bachelorette.
"Watching you both support each other in Iceland and also how you have tonight, that was really the big reason why we decided to give you both a shot. You truly are deserving of this," he said.
"I am so happy for her," Rachel exclaimed looking at Gabby, "It's crazy. It's insane and I'm excited to do this journey with you. We did it once together and we've been through the most crazy experience together."
"I'm a girl's girl through and through," Gabby added, "So having a friend by my side is the best thing I could ask for."
About a month later, Bachelor Nation received some behind-the-scenes looks at the upcoming season, including Gabby and Rachel's night one looks.
When the show returns, 36 men from around the country will introduce themselves to Gabby, Rachel and the millions of viewers at home.
Gabby shared a post via Instagram, "Started from the bottom (of the stairs) now we're here. We couldn't be more excited to have each other on this journey to find love."
"We are so excited for you both," the official Bachelor account commented.
Fleiss shared a photo of the many cameras that surround the Bachelor Mansion, letting Bachelor Nation know that filming has begun.
The Bachelor creator and producer, Mike Fleiss, shared photos of Gabby and Rachel walking in front of the Eiffel Tower and one of the two Bachelorettes sitting together, "See, no drama... Just two friends helping each other find true love!"
The Bachelorette premieres at 8 p.m. on ABC.