'The Bachelorette' Spoilers Just Changed, Casting Uncertainty Over Next Season
Just a few weeks ago, Reality Steve reported that Katie Thurston would be the next Bachelorette. Her casting was apparently supposed to be revealed during the "Women Tell All" episode that's airing on Monday.
But that's all changed because of the recent controversies involving racism that have rocked the foundations of the Bachelor franchise, according to new spoilers.
In a blog post published on Tuesday night, Reality Steve reported that Thurston was slated to be the Bachelorette, but that's no longer the case as the franchise is attempting to switch directions. "Katie was originally going to be the 'Bachelorette,' and once the s**t hit the fan with the franchise the last couple weeks, the course of action changed, and they are now in discussions on who to go with," Reality Steve wrote. "All I've heard is it won't be Katie now."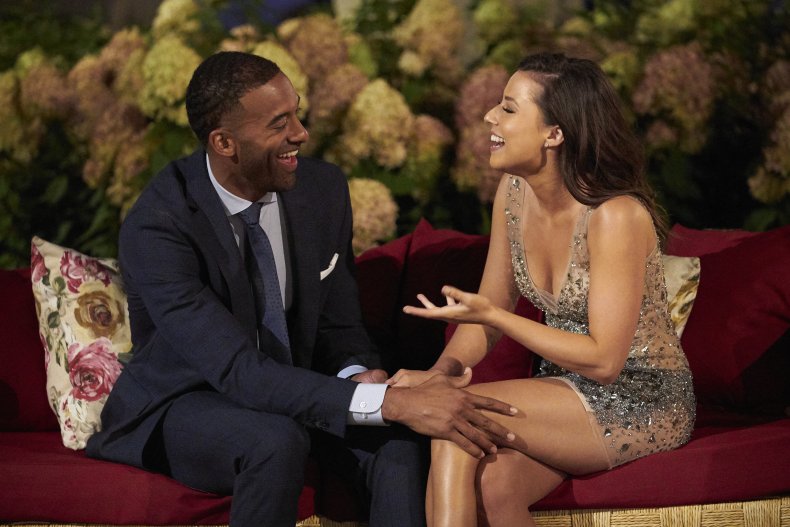 A quick recap of the controversies that have dominated the Bachelor universe: Current contestant Rachael Kirkconnell was recently called out online for past racist behavior, including attending a "plantation-themed" sorority party. Host Chris Harrison spoke up to excuse Kirkconnell's actions as foolish mistakes in the past, and to ask for people to show her understanding and compassion. This landed both of them in hot water, and Harrison received so much backlash for "defending racism" that he has temporarily stepped down as the show's host.
Even the current Bachelor, Matt James, spoke about the "devastating" turn of events in a statement. "As Black people and allies immediately knew and understood, it was a clear reflection of a much larger issue that The Bachelor franchise has fallen short on addressing adequately for years," he wrote in an Instagram statement, referring to Harrison's handling of the issue. "My greatest prayer is that this is an inflection point that results in real and institutional change for the better."
If Thurston, who was eliminated earlier in this season of The Bachelor, were to become the next Bachelorette, she likely would have pushed the franchise in a different direction—but one where sex is discussed more openly. Thurston is a TikTok sensation because she speaks openly about subjects like sex and female pleasure. Viewers will remember that when she first met James, she handed him one of her sex toys; it was a limo-entrance first that set off a wholly unique storyline throughout the entire first cocktail party.
While that certainly would be a change for the series, which has simply teased the idea of sex for years, there are other ways to advance the franchise and make it more inclusive. Judging from Reality Steve's post, it seems that race is on the minds of producers and executives behind the franchise. Perhaps we'll see a woman of color become the next Bachelorette, and more Black contestants participating in the franchise's various series.
There's another possibility for producers, too, and that's to cast Abigail Heringer as the Bachelorette. Heringer, who is deaf and can only hear through cochlear implants, would be the first disabled contestant to appear on the series; casting her might open up the series to include conversations about disability.
The "Women Tell All" episode from James' season will air on Monday. There's a chance that the new Bachelorette will be announced then, but if she's not, then ABC still has a few weeks to choose before The Bachelorette begins filming in mid-March.