Lower Back Pain Is Surging—And Working From Home May Be to Blame
Google searches for the term 'back pain' reached an all-time high at the start of this year, search engine data shows.
This suggests the COVID pandemic may have played a part in causing or worsening people's back pain, possibly as a direct symptom of the disease itself or indirectly due to many people having to work from home for an extended time.
According to a Google Trends graph, interest in back pain reached peak popularity around January 2022, based on worldwide data from 2004, the earliest year searchable, to the present. A similar pattern can be seen when the data is narrowed to the United States.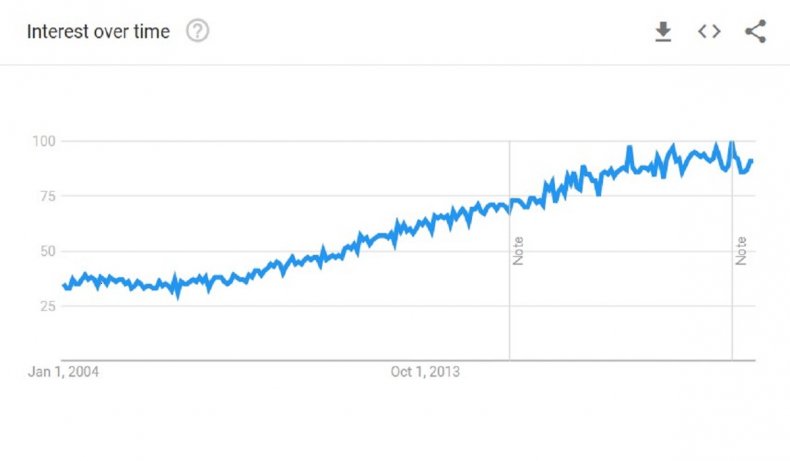 The graph shows that interest in the search term has been steadily increasing for years since around 2006, though there appeared to be more pronounced peaks and troughs from about 2019 onwards. The COVID pandemic began in early 2020.
Even before the pandemic, back pain was a widespread issue. According to a survey from the U.S. National Center for Health Statistics in 2019, 39 percent of adults had back pain that year.
Back pain is a known symptom of COVID. In a study accepted for publication in May this year, scientists gathered 878 people in Bangladesh to measure how many of them had experienced back pain recently.
A wide range of questions were used to gather data from the participants, including sex, age, education, medical conditions, and more. Patients were also asked whether or not they had had COVID.
The researchers found that prevalence of lower back pain was "significantly higher" among people who had tested positive for COVID than people who hadn't.
In addition, an article published on the website of the international vaccine organization Gavi states that back pain has been one of the key symptoms of the Omicron variant of COVID.
Back pain from working from home
Then there are home workstation set-ups. Terrence G. McGee, a physical therapist in the Johns Hopkins Department of Physical Medicine and Rehabilitation, wrote in an article for Johns Hopkins Medicine that there are many reasons why peoples' work-from-home setups might be causing them grief.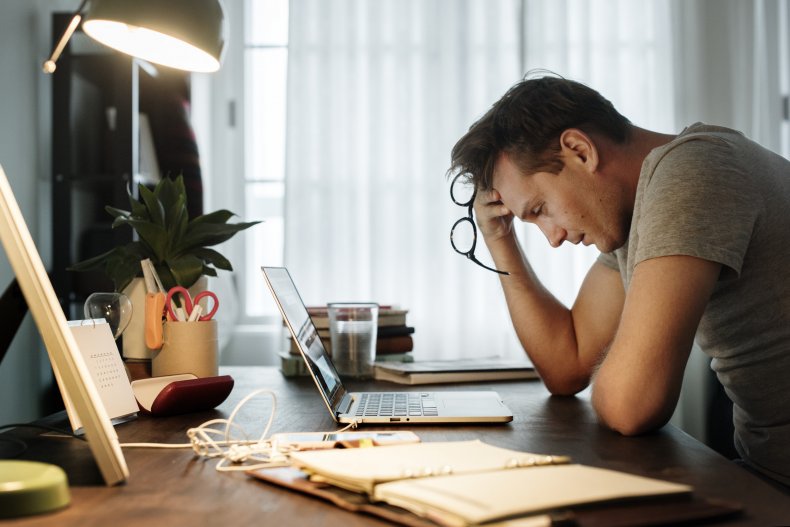 Firmness and type of chair and presence of lumbar support, height of the chair in relation to the desk, position of the computer and monitors on the desk, and how often people take breaks from sitting can all contribute to back and neck pain, according to McGee.
But there could be many other factors at play according to Peter Schimke, a U.K.-based osteopath. Schimke told Newsweek that one part of the problem may indeed be home workstation set-ups, which might see people perching laptops on coffee tables or their laps, particularly if they don't have the luxury of living in a space big enough for a proper office set-up.
"Furthermore, the drawbacks of working from home is that due to the loss of the commute, some people became even more sedentary—no longer engaging in that walk to and from the station, bus or work. Those with children had to balance work with childcare, which involves a lot of lifting, for many more hours a day than they were used to.
"But we cannot ignore other factors during lockdown and the pandemic which may be increasing people's engagement with their own health," he added.
"While gyms were closed, there was a huge spike in sales for home exercise equipment as well as an interest in streamed exercise classes, be they from Joe Wicks, Peleton or hundreds of free videos available on YouTube.
"But it's a double-edged sword. While people became more aware and engaged in health, they also suddenly had the time to address old injuries and long-term niggles. But for those new to exercise, that was also linked to an increase in unsupervised exercise injuries."
Schimke also added that general stress may have played a role, with people worrying about loved ones, health, and money amid the pandemic. Cortisol, the stress hormone, makes us more susceptible to experiencing pain, he said.
How to relieve back pain
There are a number of ways to get rid of, or manage, back pain in people who suffer from it, whether the condition is sudden or chronic.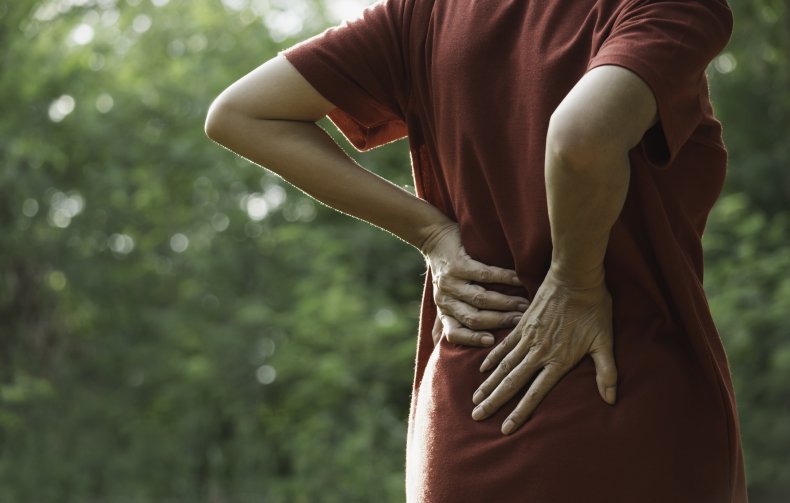 In the short term, cold packs and/or heating pads and pain medication can relieve discomfort, but addressing the source of the back pain may also be useful. This could mean ensuring a healthy work environment with proper equipment.
People with back pain may also want to consider physical therapy for the condition; Johns Hopkins Medicine states that exercise is "the foundation of chronic back pain treatment."
Physical therapy might include retraining posture, stretching and flexibility exercises, aerobic exercises, and core strengthening.
"Firstly, if you suffer an acute back pain event, always seek the advice of a healthcare practitioner first," said Schimke.
To avoid back pain, "always work at a table or desk," he said. "If your space is too small, install a floating desk against a wall, even one which is hinged and can flip up out of the way when you are not working. If you work on a laptop, a cheap solution is to get an external keyboard and mouse. Put your laptop up on a pile of books so it is at eye level.
"Sit on a good chair. Ideally an office chair. Again, try to get work to pay for it. I know they are ugly and don't suit your décor. If you can't and it is a hard chair, get some cushions on it and sit on it properly—back straight, shoulders back and head level with your lower back supported by a small cushion. Too many of my patients slouch and sit on their tailbone. It isn't built for that."
He added that setting a timer every 40 minutes as a reminder to get up and move around for at least five minutes can also help, as will a minimum 30-minute walk each day. There are also lots of simple office stretching videos available on YouTube.
Staying hydrated can also help, as the discs between the spinal bones are fluid-filled, Schimke said.