Three different types of the COVID Omicron variant all display higher transmissibility and stronger resistance to neutralization compared to the BA.2 sub-type that swept the world earlier this year, a new study has shown.
BA.2 caught scientists' attention in the first months of 2022 after it overtook the already fast-spreading Omicron BA.1 sub-type to become the dominant variant in the United States and elsewhere.
As we've seen, COVID rarely remains the same for long. Soon after BA.2 became dominant more mutations arose and another sub-type called BA.2.12.1 overtook BA.2. At the beginning of June, infections from two more Omicron sub-types, BA.4 and BA.5 were noted to be rising rapidly.
Together, BA.4 and BA.5 could now account for around 20 percent of new infections in the country according to estimates by the U.S. Centers for Disease Control and Prevention (CDC). Two weeks earlier they accounted for less than 10 percent.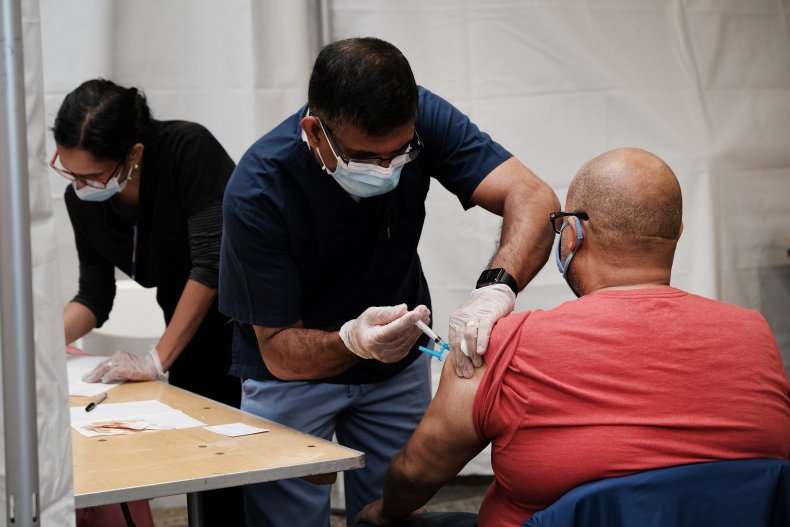 Now, researchers from China say the new variants might pose an issue for Omicron-specific vaccines based on the old BA.1 variant.
In a study accepted for publication in the journal Nature this week, the researchers wrote that the new variants' immune evasion capabilities require "immediate investigation."
"Importantly, BA.2.12.1 and BA.4/BA.5 display stronger neutralization evasion than BA.2 against the plasma from 3-dose vaccination and, most strikingly, from post-vaccination BA.1 infections," the study reads. "Together, our results indicate that Omicron may evolve mutations to evade the humoral immunity elicited by BA.1 infection, suggesting that BA.1-derived vaccine boosters may not achieve broad-spectrum protection against new Omicron variants."
In their study, the researchers isolated hundreds of neutralizing antibodies from BA.1 infections and found that while these antibodies worked well against BA.1 they were "heavily escaped" by certain mutations—notably L452Q, which is borne by BA.2.12.1, and L452R and F486V, which are both borne by BA.4 and BA.5.
Last month, the Financial Times reported that vaccine company Moderna was aiming to release an Omicron booster shot in the fall of this year. The company could then continually update it over time to reflect circulating strains.
In addition, earlier this week the European Medicines Agency said it had started a rolling review of Pfizer's adapted Comirnaty vaccine that will be specific to certain variants and that the review will continue to assess incoming data until a formal application is submitted.
The European Centre for Disease Prevention and Control (ECDC) said on Monday that although BA.4 and BA.5 are expected to become dominant throughout Europe, there is no evidence that the sub-variants are associated with more severe infections compared to BA.1 or BA.2. This is based on limited data.