Background Checks for Gun Purchases Spiked in Texas After Uvalde Shooting
Data from the FBI show that Texas saw a spike in background checks for gun purchases in the wake of the shooting at an elementary school in May.
The Texas Tribune first reported on the background check data from the FBI's National Instant Criminal Background Checks System (NICS), which shows that in June, the FBI ran 150,464 background checks on potential firearm purchases, representing an increase 17 percent compared to May. The shooting occurred at Robb Elementary School on May 24.
June also saw more background checks in Texas than any other month this year. However, in June 2021, the FBI ran almost the same number of background checks on gun purchases in the state: 147,120.
In July 2021, data from the FBI's NICS suggested that the U.S. was continuing to see an uptick in gun sales amid the COVID-19 pandemic. In 2020, the FBI conducted background checks for nearly 40 million gun purchases, compared with 28 million background checks in 2019, and 26 million in 2018. However, the FBI has noted that its data doesn't specifically track gun purchases, and that "a one-to-one correlation can not be made between a firearm background check and a firearm sale."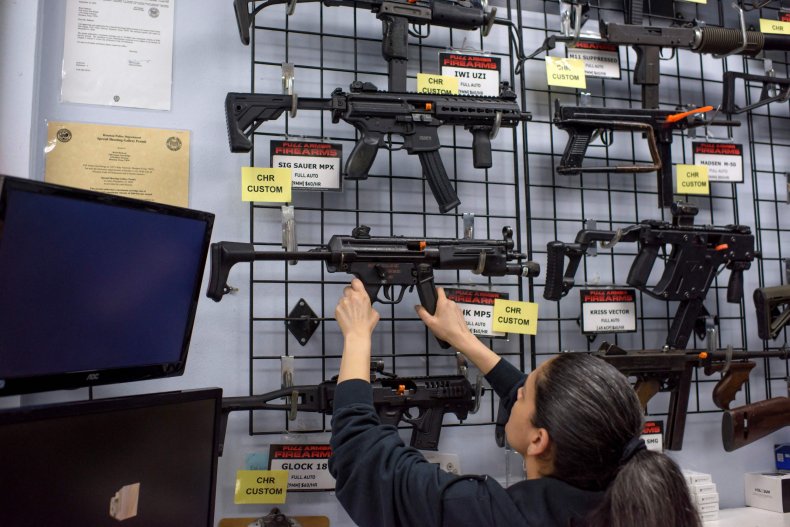 It's typical for the U.S. to see spikes in gun sales following mass shootings. The Tribune noted, for example, that Texas saw a 10 percent increase in background checks following shootings in Sutherland Springs, El Paso and Santa Fe, Texas.
Newsweek reached out to the FBI for comment.
Following the shooting at the shooting at the elementary school in Uvalde, the number of people in the United States who searched "Buy AR-15" on Google spiked significantly. Google Trends data showed that Missouri, New Hampshire and Idaho had the highest number of searches for the term.
The Uvalde mass shooting launched federal and statewide debates about gun control policy, and it seems to have helped lead to the Senate's passing its first gun bill in nearly 30 years. The bill boosts funding for states to administer "red flag" laws, which allow courts to order guns be kept away from people deemed to be a danger to themselves or others and strengthens laws intended to keep firearms from domestic abusers and gun traffickers.
The shooting in Uvalde saw 19 students and two teachers killed. A report on the shooting released by Texas lawmakers this month found the shooter, Salvador Ramos had been nicknamed "school shooter" a year before the event.
Ramos began buying guns in the months leading up to the shooting, including two AR-15-style rifles, which were sent to a local gun shop, according to the report from investigators.