Backstreet Boys fans are in for a treat on Monday Night. The Dancing With the Stars stage will feature a dance rendition centered oj one of the boy band's biggest hits and AJ McLean will show off his best moves.
That's right. Backstreet Boy McLean will be dancing to his own song on the series.
A press release from ABC revealed that McLean and partner Cheryl Burke will be dancing the cha-cha to "Larger Than Life," the Backstreet Boys song that was originally released back in 1999.
Monday night's episode doesn't have a specific theme and comes just after Disney Night on the series, which saw Tiger King star Carole Baskin sent home. During Disney week, McLean danced to "Prince Ali" from Aladdin. His scores were fine, with 19/30 from the judges. Compared to the rest of the celebrities, though, McLean fell in the bottom half of the competition.
While McLean is the only one dancing to his own song on Monday night's episode, there's plenty more to be excited for. Disney Channel star Skai Jackson is expected to use her time on the dance floor to pay tribute to her late friend and co-star Cameron Boyce, who died of a seizure in 2019.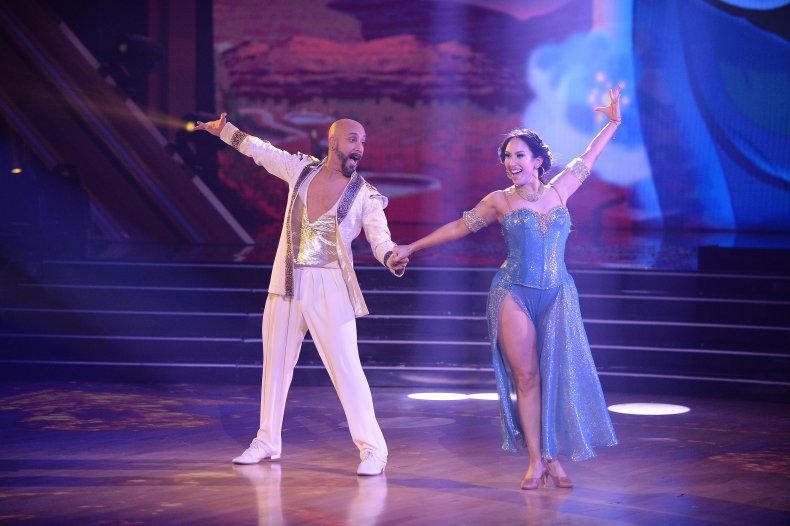 Jackson will be dancing to "Ordinary People" by John Legend. Other songs that will be featured on the episode include "Party in the USA" by Miley Cyrus, "Adore You" by Harry Styles and "Seven Nation Army" by the White Stripes, among others.
Another contestant will be sent home on Monday night immediately following the dances. This season, judges' scores are combined with viewer votes to identify the bottom two couples in the competition. Then, the judges select which contestant they'd like to save.
Despite an entertaining cast, Dancing With the Stars Season 29 has come under wild criticism after the decision by ABC to replace hosts Tom Bergeron and Erin Andrews. Tyra Banks is now the host of the competition series, but audience members have yet to accept her. Banks has been slammed on Twitter for talking too much, among other complaints.
Banks addressed the criticisms in a conversation with Us Weekly. "Every host messes up. It's just normal. It's live TV. If it wasn't live, there would be no mess-ups," she explained. "Even on America's Next Top Model, I would mess up and tell my editors to leave it in. That's what makes things human."