'Bad Mannered': Internet Backs Worker Walking Out of Combative Interview
Members of a popular internet forum rushed to the defense of one prospective employee who put an abrupt end to a contentious job interview.
In a viral Reddit post published on r/AmITheA**hole, Redditor u/AnxiousSprinkles396 (otherwise referred to as the original poster, or OP) described the challenges they've encountered throughout their recent job search and said they were forced to cut an interview short after being reprimanded for asking about money.
Titled, "[Am I the a**hole] for walking out of an interview when they would not disclose a salary to me?" the post has received nearly 10,000 votes and 2,000 comments in the last ten hours.
Explaining that they are nearing the end of their current employment contract, the original poster said that they've interviewed with numerous companies and noticed a common thread between many of them: an unwillingness to disclose salary information.
The original poster also said they implemented a system to combat the widespread secrecy.
"If they do not tell me in the first 15 minutes of the interview what they are actually paying I will ask," OP wrote. "If they don't tell me in plain terms...I will thank them for their time and leave."
Noting that they had already walked out of four separate interviews, the original poster said that yesterday, they walked out of yet another.
"I went to meet up with a local startup...and I fit every [check box] they needed...so I was their number one candidate," OP wrote. "15 minutes in they had not talked at all about compensation so I just asked."
"The interview told me that 'it's bad mannered to ask for a salary this early in the process,'" OP continued. "I just smiled and said that I disagree and that I was not going to waste my time."
"He tried to argue back that they were a startup and yada yada so I just did what I did before. Stood up, thanked him for his time, and left," OP added. "The recruiter blew up my phone asking what the f**k I did and who I thought I was. Apparently the owner of the company...blew up at the recruiter for my behaviour."
Job interviews, intended to find the right fit between hiring companies and prospective employees, can be more adversarial than amicable.
While an applicant's qualifications should remain at the forefront of conversation, other topics of discussion are usually what cause interviews to run off course, much like the situation described by the original poster.
From shoddy work conditions to questionable codes of conduct, prospective employees are tripped up by factors other than the job itself.
This is especially true when it comes to money.
Despite the fact that a majority of working people are entirely motivated by paychecks, employers often play coy when it comes to disclosing salary information, claiming that they're looking for employees who care more about the work than the money.
But in many cases, employers are unable or unwilling to fork over the cash necessary to land qualified employees and as a result, attempt to push any salary talk as far away as possible.
"The truth is, to some degree, these practices are about hiring people for the lowest amount the employer can get away with," Slate reported in 2018. "And while you might think, sure, that's just business, data shows these practice disproportionately harm women and people of color."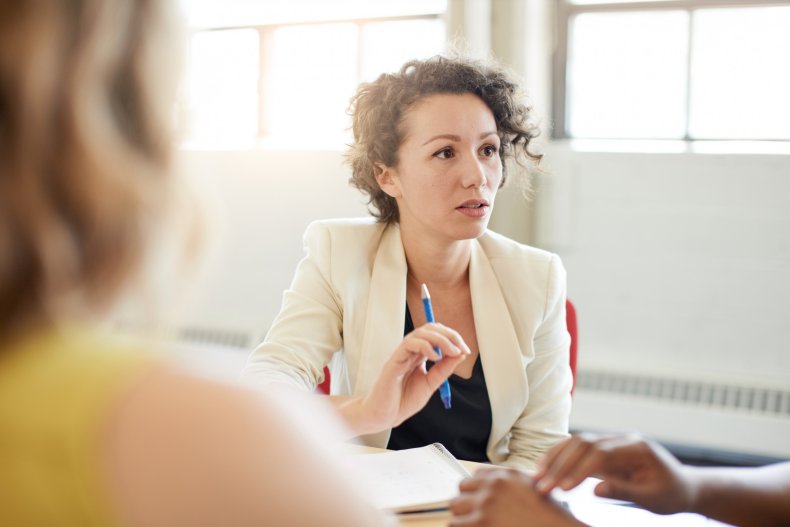 Throughout the comment section of the viral Reddit post, Redditors acknowledged the potential harm associated with withholding salary information and commended the original poster for ditching their job interviewer refused to discuss how much money they'd be making.
"[Not the a**hole]," Redditor u/petrichorInk wrote in the post's top comment, which has received more than 10,500 votes. "They could've just told you what the salary is."
"They totally f**king know how much budget they have, they're choosing not to because they don't want to pay you more than the smallest amount they can get away with," they continued. "You dodged a bullet."
Redditor u/halfStackScratchDev, whose comment has received more than 6,000 votes, echoed that sentiment.
"[Not the a**hole]," they wrote. "And blowing up your phone is insane."
"By asking for salary you revealed a major culture issue in that company," they continued. "Also, are you working with [the] recruiter to find you these positions? If so, ditch the loser."
In a separate comment, which has received nearly 2,500 votes, Redditor u/DensityOfThought took the interviewer's assertion that it's "bad mannered" to ask about potential salaries and flipped it directly on its head.
"It's bad manners to not tell people what they'll be making, since money is the primary reason people have jobs in the first place," they wrote. "Anyone who pretends otherwise is bulls**tting."
"Saying stuff like 'we're family here' is...an indicator that a company is actively trying to get away with some shady stuff like paying people as little as possible, not paying [for] extra hours, and getting mad when people call in sick."
Newsweek reached out to u/AnxiousSprinkles396 for comment.