'Bad Vegan': Who Is Jeffrey Chodorow and Where Is He Now?
Jeffrey Chodorow was once Sarma Melngailis' biggest supporter. He helped the aspiring vegan restaurateur open her first-ever restaurant Pure Food and Wine in Manhattan, New York, and stood by her for years. However, things took a sour turn when Melngailis and her then-husband, Anthony Strangis, began lying to investors, stopped paying staff and eventually, went on the run.
Bad Vegan: Fame. Fraud. Fugitives delves deep into the mind-blowing true story of Melngailis and Strangis, which saw them both serving prison time on charges of fraud. Chodorow appears throughout the documentary, recalling how he came to meet Melngailis, the beginning of Pure Food and Wine, and how events unfolded over the years.
Newsweek has everything you need to know about Jeffrey Chodorow, including his net worth and what he is doing now.
Who is Jeffrey Chodorow?
Jeffrey Chodorow, 72, is an American restaurateur, lawyer, and financier.
Born in the Bronx, Chodorow moved to Miami Beach as a baby to live with his mom and aunt following the death of his father. He grew up in Florida and went on to attend the Wharton School at the University of Pennsylvania and then Penn Law School.
Chodorow opened his first restaurant China Grill in New York in 1987. The restaurant was located opposite the MoMA and the Hilton Hotel.
Chodorow worked as a lawyer and was once the CEO of the now-defunct airline, Braniff International Airlines, Inc.
During his time at Braniff International Airlines in the 1990s, Chodorow and his business partner Scot Spencer were indicted for bankruptcy fraud, fraudulently concealing the bankrupt airline's property from creditors, defrauding the U.S. Department of Transportation (USDOT) during the airline's certification, and obstructing a pending proceeding of the agency, details official court documents.
Chodorow accepted a plea deal. He pleaded guilty to defrauding the USDOT and the U.S. government dropped the bankruptcy fraud charges. In May 1996, he was sentenced to four months in prison and four years supervised release. He also had to pay a $40,000 fine.
In 2004, he invested in Melngailis and her then-boyfriend chef Matthew Kenney's vegan restaurant, Pure Food and Wine.
Speaking in Netflix's Bad Vegan, Chodorow said the couple turned to him as he was "well-known for having opened a lot of flashy restaurants in the city."
"The concept was a vegan, raw food restaurant, which of course I had no idea what that was. I'm really attracted by new food ideas and new ways of doing things. Frankly, it was quite impressive, so I said, 'Okay, let's do it,'" Chodorow recalled.
Like Melngailis, Chodorow studied at the Wharton School of the University of Pennsylvania, something that worked in Melngailis' favor when it came to selling the restaurant in 2005.
In Bad Vegan, Chodorow explains after Kenney and Melngailis ended their romantic relationship, their professional relationship also began to crumble.
Chodorow received phone calls from both Kenney and Melngailis complaining about having to work with one another and threatening one of them would have to leave.
In the end, Kenney left and Chodorow sold Melngailis the restaurant, which took on $2 million in debt.
He explained: "When I thought about it, then I said, okay my options are, I have Matthew Kenney, a very talented chef who had a bad financial history and on the other hand I had Sarma, she was a very accomplished person in her own right.
"Sarma had [gone] to Wharton, which was a school I went to. So I assumed she had a very good business head on her shoulders and so I picked Sarma and I told Matthew to go, which frankly, I think shocked him."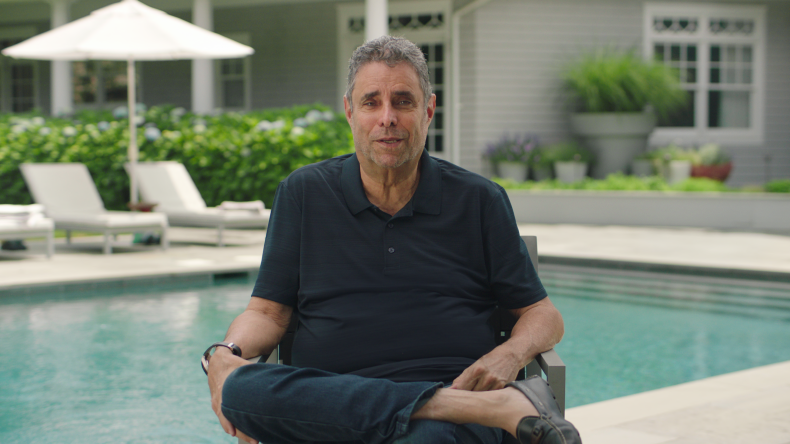 Chodorow then sued Kenney alleging he had broken his contract by scouting Pure Food and Wine employees to work on his own business. Kenney denied the claims to The New York Times. He also said leaving the business was not his choice.
Bad Vegan audiences may also recognize Chodorow from the reality TV show, The Restaurant, which aired on NBC in the early 2000s. The show followed celebrity chef Rocco DiSpirito who was running a new New York City restaurant, Rocco's on 22nd. Chodorow, who had invested in Rocco's, and DiSpirito would butt heads when Rocco's was not making enough money, leading to dramatic scenes for audiences.
After the show was canceled, there were a series of lawsuits and counter lawsuits by both parties over who owned the restaurant, reported The New York Times in 2004. In the end, DiSpirito was banned from the premises of the restaurant.
Where is Jeffrey Chodorow Today?
Through the 2000s and 2010s, Chodorow continued to open several restaurants, including Asia de Cuba at the Schrager Morgans Hotel on Madison Avenue, and Bar Basque in New York. He also owned Kobe Club and Ono.
His son, Zachary Chodorow, was also the director of his father's restaurant empire called China Grill Management, owning more than 20 eateries across the globe.
However, today, Chodorow's company China Grill Management appears to no longer have a working website and its social media channels have not been updated since 2014. Several of his restaurants, including Kobe Club and Bar Basque, have closed down.
In 2021, Chodorow's company leased out a space in the Bal Harbor Shops in Miami to open a restaurant. He told local Miami newspaper The Commercial Observer: "It's going to one of my classics."
Chodorow lives in Miami with his wife Linda, who in 2021 was named as the president of China Grill Management. They have two sons together, Zach and Max, who also work in the food and restaurant industry.
According to Distractifiy, Chodorow's net worth is believed to be between $1.9 million and $20 million.
Bad Vegan: Fame. Fraud. Fugitives is streaming on Netflix now.