Bad Vegan: Fame, Fraud. Fugitives is the latest true-crime documentary to land on Netflix. The four-part series delves deep into the jaw-dropping true story surrounding Vegan restaurateur Sarma Melngailis, and her then-husband, Anthony Strangis.
Between 2012 and 2014, Melngailis transferred Strangis $1.7 million after he conned her into believing he needed protection—and that he could make her dog, Leon, immortal.
However, in the end, she ultimately found herself on the run from the authorities, facing charges including second-degree grand larceny, second-degree criminal tax fraud, and first-degree scheme to defraud.
Newsweek has everything you need to know about Sarma Melngailis, and where she is now.
What Happened to Sarma Melngailis?
Sarma Melngailis is the former New York restaurateur from Newton, Massachusetts.
In 2004, she opened the high-end restaurant, Pure Food and Wine, with famed American chef Matthew Kenney and investor Jeffrey Chodorow.
In 2005, Kenney left Pure Food and Wine and their professional and personal relationship ended. She then met a man by the name of Shane Fox on Twitter via Alec Baldwin (yes, that Alec Baldwin).
However, Fox was, unfortunately, not who he said he was. Fox was in fact Anthony Strangis, a convicted criminal and con artist who once impersonated a police officer.
Over a lengthy period, despite knowing his criminal history, Strangis was able to convince Melngailis he worked in black ops and as a result, had to keep the small details of his life a secret.
At first, Melngailis loaned Strangis a few thousand dollars, believing he needed financial help. However, things started to change for the worse and Strangis began asking for more and more money.
When Melngailis questioned his financial demands, Strangis would aggressively yell at her over the phone, some of which appear in Bad Vegan. He also told Melngailis everything he was doing was a test of trust and faith and promised everything would eventually make sense.
He convinced Melngailis to hand over all of her passwords and private information, telling her they needed to be "encrypted" because of his high-security job working for the "The Family," a U.S.-based religious and political organization.
Strangis also promised that soon he would be able to make her beloved Pitbull Leon immortal, and guarantee her huge success with Pure Food and Wine.
To meet Strangis' financial demands, Melngailis had been using money from Pure Food and Wine, under the belief Strangis would pay her back. However, in reality, he was gambling away the money at casinos. In the end, he ultimately conned Strangis out of millions of dollars and eventually took control of her vegan food business.
An indictment of the suspects accuses them of transferring more than $1.6 million from business accounts to Melngailis' personal bank account, spending $80,000 at specialty watch retailers, more than $70,000 at hotels in Europe and New York, and more than $10,000 on Uber car rides, details the official indictment.
As a result of dwindling restaurant funds, Melngailis was unable to pay her employees and had transferred thousands of dollars from the business accounts to her personal account.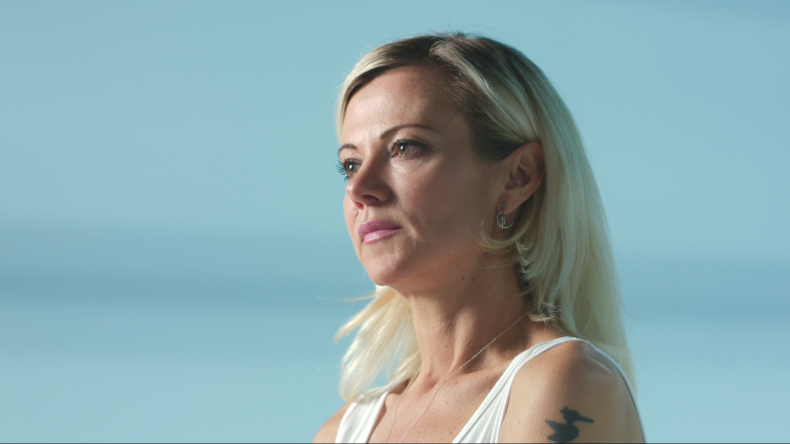 According to the DA's office, Melngailis and Strangis had defrauded 84 workers of up to $3,500 each. The staff walked out for the second time in a year over their unpaid wages in January 2015, and both Pure Food and Wine and its sister restaurant One Lucky Duck closed.
The strikes concerned investors, some of whom contacted the police after Melngailis had acquired investments under false pretenses, and a warrant was soon issued for the pair's arrest.
Melngailis and Strangis then went on the run for 10 months, facing charges of second-degree grand larceny, second-degree criminal tax fraud, and first-degree scheme to defraud.
In May 2016, Melngailis and Strangis were arrested in Sevierville, Tennessee on several charges of fraud, when Strangis ordered a Domino's Pizza delivery to his hotel room under his real name.
In addition to the fugitive from justice warrants, Strangis was wanted for grand larceny, scheme to defraud, and violation of labor law. Melngailis was wanted for grand larceny, criminal tax fraud, scheme to defraud and violation of labor law, reported CBS. They both faced up to 15 years in prison.
Melngailis and Strangis both took plea deals. She pleaded guilty in May 2017 to stealing more than $200,000 from an investor and scheming to defraud, as well as criminal tax fraud charges.
Where Is Sarma Melngailis Now?
Sarma Melngailis served four months in prison at the notorious Rikers Island. She also received five years' probation. Upon her release in October 2017, she filed for divorce from Strangis several months later, in May 2018.
In January 2019, The New York Post revealed Melngailis had an affair between February 2017 and May 2018 with her defense attorney Jeffrey Lichtman. At the time, both were married. Melngailis told The New York Post she did not know Litchman was married with two children at the time.
Litchman told The New York Post that "this is a deeply personal matter" and "my life and behavior have not always been perfect."
Today, Melngailis is living outside in New York with her dog, Leon. She is also working on her memoir and in February 2022, teased she was recording a podcast on her Instagram page.
Alongside an image of herself, she wrote: "My set up on the floor in the quietest corner I could find while away from home to do one podcast, the only one I felt made sense for now."
Ahead of the release of Bad Vegan on Netflix, Melngailis took to Instagram to say she would be going off the radar for a while.
Alongside a photo of her and Leon, Melngailis wrote: "If you need me for the foreseeable future... will be hiding under covers spooning Leon watching videos of woodchucks.
"Sorry if I don't reply to emails/texts for a while, or ever. Will post something soon on my website as an update and to clear up a few things." She also runs an Instagram account for Leon, called One Lucky Rescue Dog.
Bad Vegan: Fame. Fraud. Fugitives is streaming on Netflix now.