Bail for Darrell Brooks Set at $5 Million as Sixth Victim Dies
Darrell Brooks Jr., the man suspected of driving into a crowd at a Christmas parade in Waukesha, Wisconsin on November 21, was charged Tuesday with five felony counts of first-degree intentional homicide.
After detailing the charges and listening to an overview of criminal charges Brooks, 39, has faced in the past during his Tuesday afternoon court appearance, Waukesha County Court Commissioner Kevin Costello accepted prosecutors' recommendation to set Brooks' cash bail at $5 million.
Costello said that the bail amount was "extraordinarily high" but "warranted."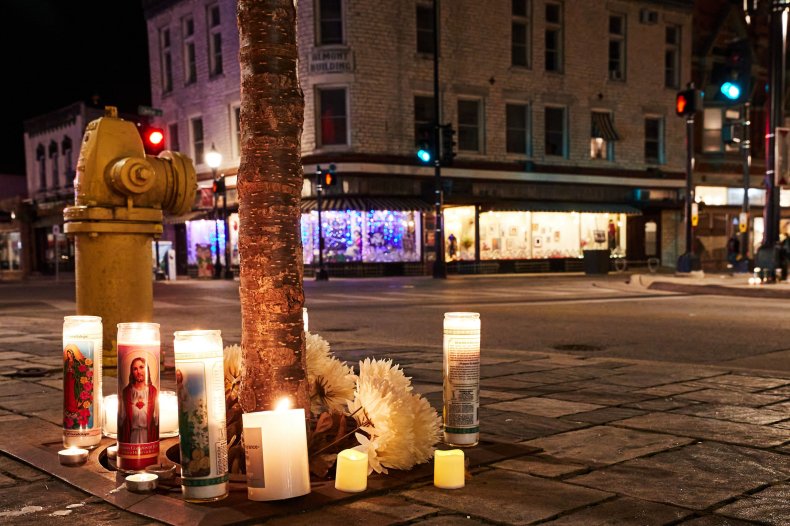 "I've not seen anything like this in my very long career," Costello said. He added it appeared to him to be "a very strong case for the state."
"It's an extraordinarily serious case with an extraordinary history of this gentleman of fleeing, of hurting people, of not following court orders, not following criminal laws, not following, just, your societal norms," Costello said. "So I know that that's extraordinarily high bail. It's warranted here."
Dozens of people were injured when the vehicle drove into a crowd at the Sunday parade, and authorities confirmed five people had died in the hours after the incident occurred.
During Brooks' court appearance, Waukesha County District Attorney Susan Opper said her office was notified earlier Tuesday that a sixth person, whom she said was a child, had died. Prosecutors said an additional count of first-degree intentional homicide was likely to be filed in the wake of the most recent death.
"There's a number of other charges that we are reviewing and considering, but certainly at the very least we do intend to file a sixth count of intentional homicide," Opper said. That additional charge could come Friday or early next week, she added.
"Certainly if we have any other deaths resulting from this incident, additional counts of homicide will be filed," Opper said.
Each of the five charges that were filed against Brooks on Tuesday carries maximum sentences of life in prison, Costello said.
Before announcing Brooks' cash bail amount, Costello heard from the prosecutors as they detailed charges that have been filed against Brooks in unrelated incidents in the past. Brooks' arrest record in Wisconsin dates back to 2000, they said, and he has also faced charges in Nevada and Georgia.
Brooks was released on $1,000 cash bail last week for a separate case. The Milwaukee County district attorney said Monday that earlier $1,000 bail amount was "inappropriately low" when Brooks' record was taken into account.
"Just based on his prior record, we obviously have very significant concerns about Mr. Brooks' flight history and willingness to obey the orders of the court," Opper said. Costello said minutes later that he agreed with the recommended bail amount.
Newsweek reached out to the Waukesha Police Department for comment.
Update 11/23/21, 6:33 p.m. ET: This story has been updated with additional information and background.