Ukraine's Weak Grip on Bakhmut Loosened by Destruction of Key Bridge
Russian forces are continuing their military progression in Bakhmut after destroying a vital bridge.
A supposed Iskander missile reportedly blew up a bridge overnight that connects Bakhmut to the nearby village of Khromove, part of a larger supply route to the city of Chasiv Yar. A large crater resulted in supply and evacuation routes now being relegated to dirt roads, a soldier and a local official told CNN.
Bakhmut is the site of one of the bloodiest battles between Russian and Ukrainian forces. Alexander Rodnyansky, an economic adviser to Ukrainian President Volodymyr Zelensky, told CNN that Kyiv's military is "obviously going to weigh all of the options" on how it proceeds.
"So far, they've held the city, but if need be, they will strategically pull back," he said.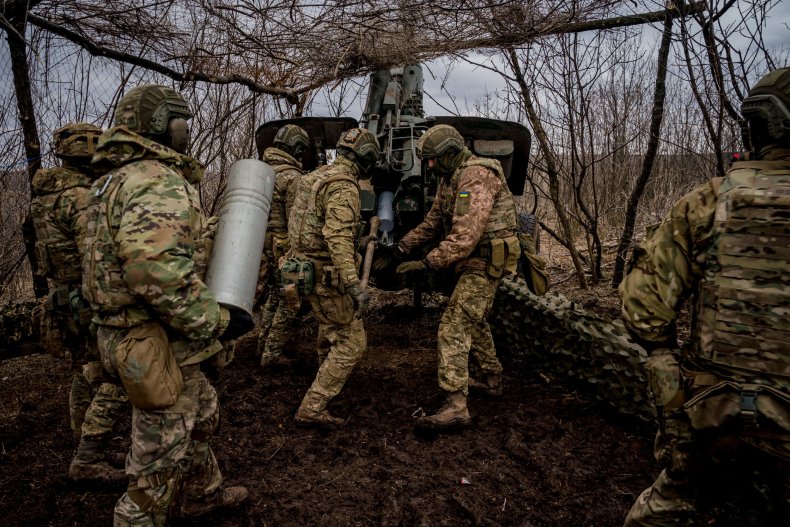 Wagner Group leader Yevgeny Prigozhin said in a video posted online Friday that Bakhmut was "practically surrounded" by Russian forces. The video showed multiple alleged Ukrainian soldiers who were captured, with Prigozhin instructing Zelensky to surrender the territory.
"If the professional Ukrainian Army was fighting in [Bakhmut] before, today it's mostly the elderly and children," Prigozhin said. "They are fighting, but their life expectancy in Bakhmut is now very short, one day or two...give them a chance to leave the city."
He has made previous videos touting Russian advancement in the city.
The Friday video was refuted by the National Resistance Center, an online publication created and run by the Special Operations Forces of the Armed Forces of Ukraine.
Prigozhin allegedly recorded the footage in the village of Paraskoviivka, which was captured by Russia on February 20.
"Terrorist Yevgeny Prigozhin recorded a video, which he allegedly claims about Bakhmut's entourage, but the video itself was not even recorded on the outskirts of the city as his security guards did not allow him to go there," the center said, labeling it as "provocative" and "disinformation."
Russia expert Dmitry Gorenburg of the Center for Naval Analyses told Newsweek that Russia's bridge destruction and ground advancements are part of continuous incremental gains in the Donetsk oblast city.
His suspicion is that within the next few weeks, Ukraine will withdraw forces to focus on positions outside Bakhmut.
"That said, the battle has accomplished Ukraine's purpose: destroying the bulk of Wagner's forces, tying up a large contingent of Russia's more combat-capable troops, and thereby preventing a larger offensive elsewhere," Gorenburg said. "I'm not sure there are larger implications, other than that Russia can still win grinding offensives but at a very, very slow speed and a very high cost in terms of personnel and equipment."
That is a position shared by Lieutenant General Douglas Sims II, director for operations at the United States Joint Staff.
He said during a recent House Armed Services Committee hearing that current fighting has "replicated the condition of the first World War."
"The Russian Army, with assistance from contract Wagner Group, has fought savagely to defeat Ukraine's defenses, employing extreme amounts of artillery and waves of thousands of partially trained mobilized soldiers and personnel contracts from prisons," Sims said.
Whether or not Bakhmut can ultimately be labeled as a strategic defeat for Ukraine is questionable, Gorenburg said, saying it would equate more to a tactical withdrawal on Ukraine's behalf and a "pyrrhic victory for Russian forces."
Arkady Moshes, program director for the EU Eastern Neighborhood and Russia research program at the Finnish Institute of International Affairs, told Newsweek that a Ukrainian withdrawal would lead to Russian forces attempting to continue their offensive in adjacent areas.
"However, strategically, little will change," Moshes said. "Casualties on the Russian side have been heavy, and taking this fairly small piece of territory will have taken too much time."
Moscow still remains "very far" from establishing control in the territories it annexed in September, he added.
Newsweek reached out to the Ukrainian Ministry of Defense for comment.