The Lowdown On Andy Samberg and Maya Rudolph's New 'Baking It' Competition
Maya Rudolph and Andy Samberg are teaming up to host a new kitchen competition show arriving on the streaming service Peacock this holiday season.
Samberg's long-running sitcom Brooklyn Nine-Nine is coming to an end but he won't be away from the NBC family for long as he reunites with his Saturday Night Live castmate Rudolph for the new series Baking It.
The creators of Making It are producing this new reality show and it seems there are a lot of similarities in terms of structure. Here's everything we know about the show so far.
What is Baking It?
Baking It is a holiday event series where eight teams of two talented home bakers compete with their most delectable savory and sweet edible creations.
Three opinionated real-life grandmas, who happen to be fantastic bakers themselves, will be the judges critiquing each of the creations. They'll get to decide which contestants win the competition and the cash grand prize.
In their press statement, NBC said Baking It "will evoke a joyful and comedic spirit at a time of year where we come together to honor our traditions and indulge in excessive baked goods."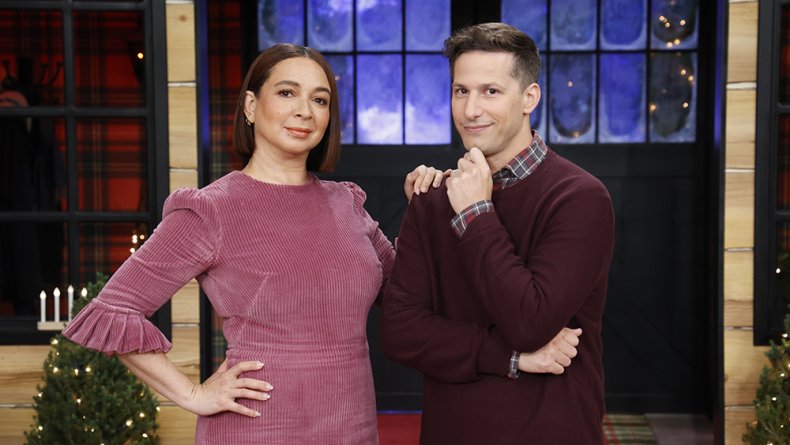 The team behind Baking It
Amy Poehler, who co-hosts Making It with Nick Offerman, is serving as an executive producer for Baking It, and she's recruited two comedy friends to host the new show.
Andy Samberg and Maya Rudolph have experience hosting television shows but this is the first time either of them will present a reality competition series. Samberg announced his new role as host on The Tonight Show Starring Jimmy Fallon.
Alongside Poehler, Nicolle Yaron, Pip Wells, Kate Arend and Dave Becky serve as the other executive producers.
Samberg and Rudolph both have other projects coming up too. Rudolph is set for a starring role in the movie Disenchanted, the sequel to the 2007 movie Enchanted. Meanwhile Samberg is lending his voice to the new Disney live-action movie Chip 'n Dale: Rescue Rangers—Samberg will voice Dale alongside John Mulaney's Chip.
When will Baking It air?
Baking It is scheduled to air this holiday season on Peacock. The competition series will have six episodes before the final airs in the build up to Christmas.
There is currently no release date announced for the series.
NBC and Peacock announced three more shows picked up by the channel at the same time as Baking It. Top Chef Family Style is a family culinary competition hosted by Meghan Trainor. American Ninja Warrior Junior was confirmed for a third season, pitting young athletes against the world's most iconic course. Peacock also announced they've ordered Below Deck Down Under to series, which will take the Below Deck concept to Australia for a look at the staff's inner-workings on a super-yacht.
The season finale for Poehler's current competition show Making It airs at 8/7c on NBC on Thursday, August 26.