'Brooklyn Nine-Nine': Why Season 8 Will Be the Last Ever Season
Brooklyn Nine-Nine will come to an end following its eighth season, which starts airing on NBC from Thursday, August 12.
The beloved police procedural sitcom was saved in 2018, when NBC took the show 24 hours after Fox canceled it and sparked outrage from fans.
After three seasons on its new network, showrunners revealed in February that it would be concluding with a final, shortened 10-episode run.
In a statement made on Twitter at the time, co-creator Dan Goor claimed it was a "difficult decision" for them to make, but one they felt was the right one.
He explained: "Ending the show was a difficult decision, but ultimately, we felt it was the best way to honor the characters, the story and our viewers.
"I know some people will be disappointed it's ending so soon, but honestly, I'm grateful it lasted this long."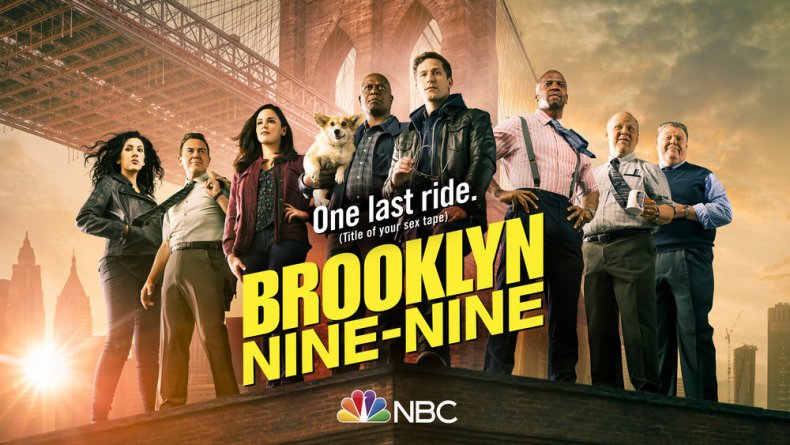 Why Is 'Brooklyn Nine-Nine' Season 8 the Final One?
2020 was a difficult year for most, but for the cast and creative minds behind Brooklyn Nine-Nine, events like George Floyd's killing by police officer Derek Chauvin made them reevaluate what they wanted to do with the show.
Andy Samberg, who plays Detective Jake Peralta and is also an executive producer, told People in July 2020: "The writers are all rethinking how we're going to move forward.
"[Everyone is] discussing how you make a comedy show about police right now, and if we can find a way of doing that that we all feel morally OK about? I know that we'll figure it out, but it's definitely a challenge."
Terry Crews, who plays Lieutenant Terry Jeffords, also spoke about how Floyd's death and the Black Lives Matter movement has reshaped the show.
In a conversation with Access Daily in June 2020, he said the writers decided to scrap scripts for four episodes they had already written following recent events.
He explained: "We've had a lot of somber talks about it and deep conversations, and we hope through this, we're going to make something that will be truly groundbreaking this year.
"We have an opportunity, and we plan to use it in the best way possible."
Goor's statement about the show coming to an end also suggests that he, the cast and crew were keen to go out on their own terms, and give the characters an ending they deserved rather than be canceled.
Following Floyd's death, the cop comedy's cast and showrunner decided to donate $100,000 to the National Bail Fund Network in support of those protesting police brutality in the United States.
Goor announced the donation on Twitter, and urged fans of the show to also donate to their local bail funds if they could.
Filming on the show was delayed because of the COVID-19 pandemic, and production began in April 2021 until filming wrapped in June.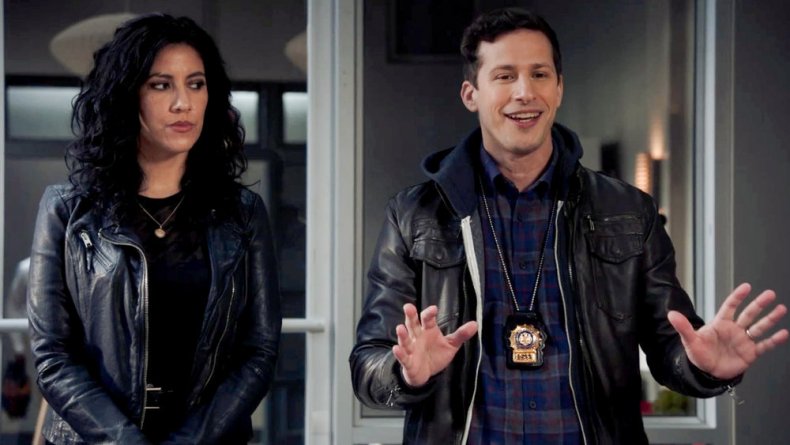 What Have the Cast and Crew Said About 'Brooklyn Nine-Nine' Coming to an End?
As well as Samberg and Crews, Brooklyn Nine-Nine stars Andre Braugher, Melissa Fumero, Stephanie Beatriz, Joe Lo Truglio, Dirk Blocker and Joel McKinnon Miller.
Fumero, who plays Sergeant Amy Santiago, shared her thoughts on the show coming to an end when filming wrapped in June, sharing a picture of her lot badge on Instagram.
Alongside the photo she shared an emotional post, writing: "8 years ago, @beezus218 walked me, @stephaniebeatriz & @chelsanity to get our pictures taken for our lot badges.
"Something about that moment made everything really real—we actually made that pilot, it actually got picked up, we actually were about to shoot a whole season of this incredible show on this lot with this amazing cast that I was loving more and more each day.
"Filled with so much excitement and nerves, Chelsea said something that made me laugh right as the photographer clicked the camera... and that moment was predicative of what the next 8 years would be like.
"Each day was full of laughter, of excitement, of nerves, of confidence, of elated exhaustion, and of beautiful friendship & collaboration."
Crews shared a side-by-side photo of himself on the show via Instagram when they finished filming the season, and he wrote: "FROM THE PILOT TO THE LAST DAY OF SHOOTING, March 21st, 2013—June 10th, 2021.
"What can I say. Been in tears all day. 8 years with this wonderful cast and crew. The highs, the lows and everything in between—but we made it.
"I'm so thankful for the fans who kept us alive when we were dead in the water. We came back stronger and better— all thanks to your love and support.
"I will miss Terry Jeffords because he IS me. The NINE-NINE will live on forever in my heart and in the hearts of millions of fans around the world.
"Terry loves yogurt, Terry loves love—and TERRY LOVES YOU."
In his statement from February 2020, Goor gushed about the cast, saying: "I feel incredibly lucky to have worked with this amazing cast and crew for eight seasons.
"They are not only among the most talented people in the business, they are all good human beings who have become a family.
"But most of all, I feel lucky that we have had the best fans in the world. Fans who literally saved us from cancellation. Fans who fill us with joy."
Brooklyn Nine-Nine season 8 premieres on NBC on August 12 with two episodes.