Reward Offered After Several Pythons Worth Thousands Stolen From Pet Store
A pet store in Stockton, California is offering a cash reward after three thieves allegedly stole snakes worth thousands of dollars on Sunday.
The men visited Carter's Pet Mart at around 6:42 p.m. before they allegedly walked out with several expensive ball pythons, valued at over $1,400.
According to Carter's Pet Mart, the men took the snakes and entered a truck after leaving the store.
"They entered the store around 6:42 Sunday evening, grabbed the snakes, and got into a newer model 4-door Ford truck," wrote Carter's Pet Mart online.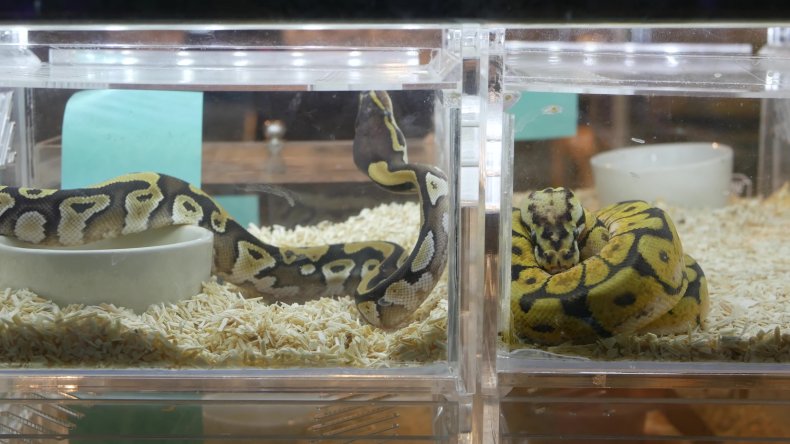 Images shared by the store allegedly show the three men on surveillance footage, walking out of the store with the snakes.
"They were walking around for a bit, went over to the locked animal cages, broke the lock off on one of the tanks where one of the high ball pythons are individually stored, each grabbed one and walked out," store owner Ryan Carter told ABC10.
Carter told the publication that the ball pythons are valued between $1,400 and $2,000.
Unfortunately for the store, this isn't the first incident of expensive theft it's faced in recent months. Carter told ABC10 that it's actually the sixth theft from the store just this year.
"As of lately we've just had quite a bit of theft,'' Carter said. "We had an exotic bird that got stolen not too long ago that was worth over $6,000, that luckily we were able to get back."
The owner said that he has made plans to increase security but is pessimistic.
"There's new systems coming with better locking and new bird units that are coming that have better security," he said.
His worry, however, is that thieves will continue to get away with stealing pricey animals from his store, with methods of getting around seemingly all security measures.
"It's unfortunate, we've done a lot to prevent theft," he said. "We installed security, we've everything locked up, but if they want something they're going to try to get it at any means."
Carter's Pet Mart is asking anyone with information to contact ryan.carter@carterspetmart.com and is offering a reward of $500 for anyone with information leading to the return of the snakes. Information about the incident can also be reported to the Stockton Police Department.
In 2021, two women were arrested in Texas after allegedly stealing a dog worth around $11,000 from a Petland Woodlands store.
According to staff at the time, the women asked to see a French bulldog before grabbing the dog and running out of the store.
Newsweek has contacted Carter's Pet Mart and Stockton Police Department for comment.