Ballot-Stuffing Videos Are Going Viral in Russia
While Russian President Vladimir Putin celebrated a record election victory, dozens of clips purporting to show ballot stuffing and voting fraud raked in hundreds of thousands of views online in Russia.
Putin claimed a sweeping triumph in Sunday's vote as final results showed he won 76.6 percent of the vote, his highest-ever result. In the absence of any established opposition or a strong presence of independent observers, the president is set to take another six-year term in the Kremlin. Election officials even reported that despite the uncompetitive race and Putin's lack of participation in many campaign activities, the turnout actually increased by a few points since the vote in 2012, to more than 67 percent.
Related: Putin's video of Russia's next-generation nukes actually used 10-year-old footage
Thanks to a handful of webcams mounted at polling stations as part of a government-sponsored scheme, many Russians beg to differ with the results. In one clip that has well over 300,000 views on YouTube, two officials working near a ballot box wait for a voter to cast his vote before tentatively checking that nobody else is coming, then taking turns sliding papers into the box. The footage, taken in the suburban town of Lyubertsy, outside Moscow, according to the Golos observer organization, prompted an angry reaction from a group of suspect social media accounts all created in 2017, which have been dismissing it as fake.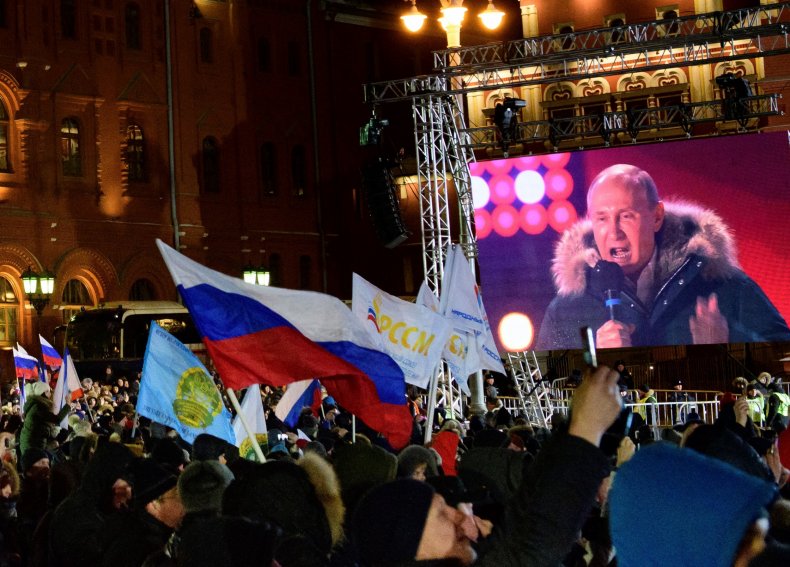 Similar videos from polling booths across the country purportedly show more ballot stuffing. Footage emerged from areas ranging from the far-eastern Primorye region, to the center of the country, in Siberia's Kemerovo region and the Ural mountain region of Sverdlovsk, to the Belgorod region, which straddles Russia's border with Ukraine and the southern Dagestan region, an area most often hit by voter fraud.
Besides Golos, the BBC's Russian Service, prominent Putin critic Alexey Navalny and concerned citizens posted similar clips online. Many were sourced from the state-run Nash Vybor live-streaming service that the state telecom company runs, but it is only accessible by users with a Russian ISP address. How common the ballot-stuffing incidents were in the election as a whole is hard to estimate, but Golos claims it had received word of almost 3,000 reported violations on polling day, albeit not limited to ballot-box stuffing. There were reports of coercion of voters at polling stations, violating the premise of a secret ballot, obstructing observers and improper media coverage.
The Electoral Commission has so far acted on only a handful of reported violations, annulling results in seven districts nationwide, the Interfax news agency reported Monday. Among them was the Lyubertsy polling station that went viral online. Russian authorities acted in a similar way during the last parliamentary elections when, despite thousands of reported violations, the Electoral Commission confirmed only a handful of instances of voter fraud.